I'm not going to front. I have never been to the Kingdom Day Parade. The times I thought about going I got this response from my bourgie black girfriends, "That's real ghetto Browne, let's just do brunch."
This year I decided I was going, but then I decided I wasn't because I had gotten drunk the night before.
Then I got hungry and my boyfriend refused to come with me to get food (because he was hung over,) so I had to go by myself. On the way to get a croissant I saw the 740 in the distance. It was 10:45 am, the parade started at 11am, but since the Compton Christmas Parade started late I assumed that maybe CPT would also be in effect at the Kingdom Day Parade.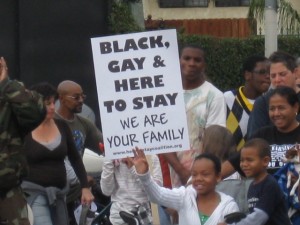 I hopped on the bus, but not before I had a conversation with a guy named Mohammed.
"That bus saw me," said Mohammed (he had just missed the 40.)
"Yeah, they are assholes," said me.
"That never happened in New York," said Mohammed.
"Well, a 740 is coming and the MTA is on regular schedule," said me.
"Where are you on your way to?" said Mohammed.
"The MLK Day Parade," said me.
"Me too!!," said Mohammed.
He then went on to tell me that he taught martial arts and that I should come to his class, so that he could teach me to incapacitate a 300 pound man (I didn't tell him I already have that skill.) He then started talking about god. As you know I'm not a big fan of organized religion. He said if I had a problem with god we better end this conversation right now and waited for my response, so I paused and asked, "Can I take your picture?" He said, "Sure."
Then we had to stop talking because I'm not into god, but not before he asked me if I wanted to buy a CD to help the lonely wanderer cause.
I said "No."
I didn't want to give him my tainted secular money. What if there is a god? I didn't want to get him in trouble.
On the 740 I met a woman named Noba. She had long dreads, like mine. She had a scar on her forehead. I had seen her around downtown LA. She told me she had brain surgery and was originally from Dallas, Texas. She said she had a lot of hope with JFK being President and then she was there when he got assassinated. She was a little girl, but she said it made a great impact on her life. She told me she was writing a book. There are so many writers in downtown LA.
I got off the 740Â at Normandie and MLK and followed the people with chairs.
When I got to King and Western it was packed. This is a huge event. It is a nice event. I don't even like the word ghetto, but whatever that word means or implies this event was not that.
I noticed that while there were lots of high school marching bands and very local political groups, but all of the big politicians where nowhere to be found. I assumed they were all at the Inauguration in DC. Almost all of my African-American friends are in DC right now.
As I sat and watched the Black Greeks; the Kappas, Omegas and the Deltas I wondered what would happen to them…the upper-middle class African-American person that follows the path of success, at least the definition of success as defined by corporate America.
An upper-middle class black person never talks loudly. An upper middle class black person never gets mad. And an upper-middle class black person with any sense never brings up race. You wouldn't want to be one of "those" people. And upper-middle class black also doesn't play basketball. In fact the upper-middle class black person brags about how bad they are at it as well as dancing and any other activity of the "wrong" kind of black people.
How you talk in public, how you act in public, what you wear is all very carefully thought out, you think about what you are all the time, but you never, ever bring it up.
I long ago got thrown out of the "right" kind of black girl club for drinking 40s, being drunk and disorderly and calling people racist one too many times…but I still get to go to meetings on a guest pass.
You don't complain about being the only black person in school. You don't go home to your parents and tell your parents about the little girl who asked why your hair looked like pubic hair or told you that you feet had something special that made you run fast. You are an example and one of the privileged few and having a few jokes made about you is minor to having a cross burned in your front yard. And if someone is making jokes about you it meant you are not trying hard enough to fit in.
"Maybe you should take tennis lessons?" a mother of an upper middle class black child who complains.
In the past that part of success often began within the church and Black Greek organization, but with Obama as President who seems to be more secular will the path for the young African-Americans be a Harvard Law Degree and to use terms that are more palatable to the mainstream?
I know lots of my African-American friends who will be future leaders seem to be going that way anyway, but there is still racism and classism. And who is going to address that directly, at least who will address that directly who wants to gain a level of success?
I don't want to take away the idea of what Obama means, but I do wonder what will happen to poor black people, poor Latinos, poor white people, poor Asian people?
Obama seems squarely focused on the middle class.
Obama is going to mean to a lot of people of color that we no longer have to depend on the base of the working class people of color in order to rise to great heights. There is no need to care about them at all, if anyone really cared about the anyway. Poor people regardless of race seemed to always be a project for people on the ladder of the traditional view of what is viewed as success. And with Obama as proof we know that they are going to vote for us and support us anyway as long as we are not actively vile to them.
My African-American friends who were Greeks and moved on to become attorneys, doctors, businessmen and businesswomen who were part of Jack and Jill and who grew up in the exclusive hills surrounding black enclaves or in white neighborhoods of various major cities I wonder about them. Yeah racism will never be over, but now will it be a complete abandonment of the people who are viewed as "ghetto" or "eastie."
Well at least it will be ok for us to play basketball now…
by Browne Molyneux
 
"Master Sergeant Vernon Waters: See, the Black race can't afford you no more. There used to be a time, we'd see someone like you singin', clownin', yassuh-bossin'… and we wouldn't do anything. Folks liked that. You were good. Homey kind of _____. When they needed somebody to mistreat, call a name or two, they paraded you. Reminded them of the good old days. Not no more. The day of the Geechee is gone, boy. And you're going with it." From a Soldier's Story.