I met El Random Hero for breakfast in Boyle Heights the other day. We had some business to discuss and since I would be coming across the river to his neighborhood in Boyle Heights,
I asked him to suggest a place to meet…….
"There's a place that I've been meaning to go to on First Street near Cummings,….people have told me it's good", He suggested.
That was good enough for me. Trying out restaurants on the Eastside is one of my favorite hobbies. I mean, for me, exploring the Eastside is like going to Disneyland. Albeit a Disneyland with Liquor stores, and where the Fairy Princesses are a lot more Nalgonas.
Anyway, I got there a little bit early so I could walk around and explore for a while. This is another one of my favorite pastimes and I always find it interesting to discover how areas on the Eastside have changed, and in many cases, how some places have remained virtually unchanged over the decades. Personally, I am drawn to older buildings, brick façades, turn-of-the-century architecture, and vintage signage. To me, these are the faded reminders of history and life from past eras. I love all that, and this strip of 1st street was wonderful in that sense.
Other people may enjoy looking at the modern high rises and new developments in this city. But, I can always be found lurking in back alleys and peeking through fenced-off ancient walkways and imagining things that happened at that spot 80 years ago.
As I walked west on 1st Street I imagined all the Red Car Trolleys in 1943 coming through here, wild with crazed servicemen eager to kick some Pachuco ass. I made my way towards the Mariachi Plaza. It looked to me that the MTA Gold Line was near it's final construction stages. I wonder how the Eastside will handle all this?
I walked by the old "Mitla Café", triggering some childhood memories. My Dad used to frequent El Mitla back in his Friday night, end-of-the-work-week borracheras. I was just a little kid, but I remember my Dad saying that everyone called "El "Mitla"= "El Zovaco" (the under-arm) named after the bar's distinct aroma.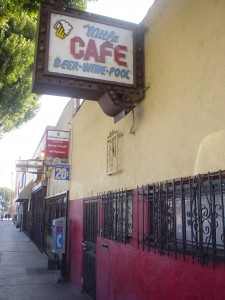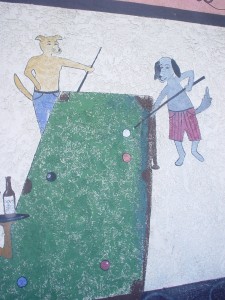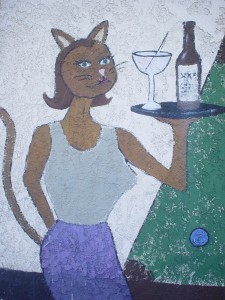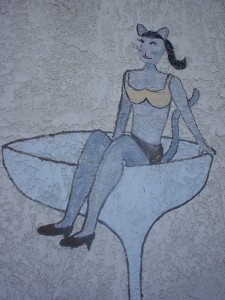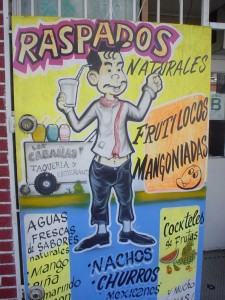 So then I walked past the Billiard Hall that I'd be afraid to ever go into because around here, if you're not a regular you'll definitely feel it from the locals. I've also found that there are certain public meeting spots on the Eastside that reflect generational divides. You'll find places where all the Viejos and Veteranos hang out while the younger crowds and the working stiffs and women, aside from family gatherings, don't socially intermix too often.
I made my final run to meet El Random Hero as I hurried by the Casa Del Musico, Apache Tacos, Birrieria Jalisco, the Mortuary and the LAPD Station.
Arriving at EL SOL RESTAURANT, I walked in and found this quaint Xmas Wonderland Village still on display in the middle of January.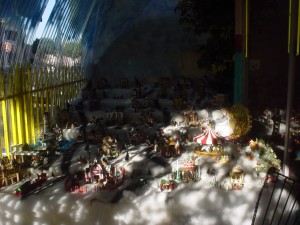 While waiting for Random, I ordered a Licuádo de Fresa. It arrived looking frothy good, topped with a light sprinkle of cinnamon. Nice touch! It was delicious too. Not too heavy, not too sweet.
The Huevos A La Mexicana I ordered were excellent. The blend of Eggs, fresh chopped Chile Serrano, Onions, Tomatos and Spices was delicious. The dish included a nice side of scalloped papitas (not too greasy) and some unspectacular beans. Overall, the portions were generous and tasty. I also ordered a couple of "hot cakes" which were OK but nothing to rave about by this Pancake connoisseur (snob). I'll definitely go back there for some satisfying, home cooking –like Mom makes style Mexican food, in this spectacular Eastside neighborhood.
My brunch partner, El Random Hero appeared to be enjoying his meal as well. Read his review of EL SOL RESTAURANT right here:
~ "El Sol, from what I can tell has been there for quite sometime and it's one of those restaurants that I always pass by, but never bother to go in and try it out for what ever reason. That being said they strawberry milkshake I had, topped of with cinnamon was just right. Not too sweet and not sour at all like at some other places that give you shakes with fruit that isn't fresh anymore. The menu consisted of staple Mexican food dishes and nothing out of the ordinary so I decided to go for something safe, Huevos Rancheros. Unlike El Chavo, I enjoy them every now and then and I've had them prepared and served in a variety of ways. At El Sol, the eggs were served over the tortillas over easy and smothered in cheese, sauce, green peppers and nice big chunks of onions. The side of beans and tortillas weren't amazing, but they didn't suck either. They definitely give you a nice portion because I didn't even finish the whole thing, but then again I didn't leave a lot on my plate either. The decor of the place also gave it a nice vibe that made me feel welcomed and not alienated like at some other places that try too hard *cough * La Parrilla * cough * It's definitely worth a trip and I'm going back there for sure. Anyone want to join me?"
As we left, we walked over to check out the Pan Dulce displays in the back of the restaurant before making our way outside. We took care of more business among the historic First Street façades before I had to reluctantly leave the Eastside for my Westside digs.
As I drove west, I watched the noontime crowds begin arriving at Al & Bea's.
EL SOL RESTAURANT
1949 East First street (Just west of the tunnel)
Boyle Heights 90033
323-261-4524
By the way, If you ever find this truck I saw parked on First Street that day,….it's not mine.