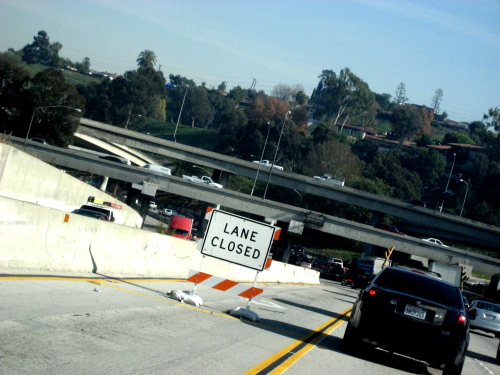 Carpool lane entrance closed on the eastbound 10 freeway. When did that happen?

Botanitas is an ongoing feature bringing you stories and news from various sources, upcoming events and other bits of ephemera that might be of interest to LA Eastside readers. Suggestions welcome!
Click below for the year's first edition of Botanitas: info on jobs, health, and other stuff that you may or may not find to be helpful.
Storycorps
Tell your secrets on public radio!
StoryCorps is an independent nonprofit project whose mission is to honor and celebrate one another's lives through listening.

By recording the stories of our lives with the people we care about, we experience our history, hopes, and humanity. Since 2003, tens of thousands of everyday people have interviewed family and friends through StoryCorps. Each conversation is recorded on a free CD to take home and share, and is archived for generations to come at the Library of Congress. Millions listen to our award-winning broadcasts on public radio and the Internet. StoryCorps is one of the largest oral history projects of its kind, creating a growing portrait of who we really are as Americans.
I was shocked to hear they're parking the mobile booth in East LA! Grab a burrito at Lupe's down the street and then go spill the beans, I mean share your story.
Location

The MobileBooth will be located at the East Los Angeles Library, 4837 E. Third St.,
Los Angeles, CA 90022-1601.

Reservation

Reservations open on January 15th at 10 am PST. More reservations will open on January 30, 2009. We expect a high volume of calls and reservations online. To assure you have an opportunity to make a reservation, we encourage you to call 800-850-4406 or make a reservation online as soon as they become available.

Phone: Call 800-850-4406
I would highly encourage LA Eastside readers to participate in this project.
Jobs!
I'm including this because I know a lot of people are looking for jobs right now and they are difficult to find. Perhaps this is too far in the future but it doesn't hurt to plan ahead.
The US Census Bureau is currently testing for census takers. My inside sources have told me the trick to taking the test is to complete the sample test given on-line. There are 26 questions and the jobs will be offered to those with the highest score. Many test sites are conveniently located at your local Los Angeles Public Library. Call here for more info: 1-866-861-2010
Eeeek! Protect yourself!
Chlamydia and syphilis rates are rising:
Rates of the sexually transmitted disease chlamydia are climbing in the U.S., and rates of syphilis — once on the verge of elimination — rose for the seventh consecutive year, the Centers for Disease Control and Prevention said Tuesday in its annual report on STDs.
Read more here.
Mexican Radio
(h/t LA Observed)
Sometimes LA Eastside commentor and everyone's favorite OC Mexican, Gustavo Arellano is getting his own radio show on KPFK. I've always enjoyed his OC segments with Larry Mantle on KPCC, looking forward to hearing him on a regular basis over the airwaves.
Tuesdays: 4:00-5:00 PM on KPFK 90.7