Ji Chou 己丑-Year of the Ox-新年快乐
It's the Lunar New Year's Eve and here in Lincoln Heights, the normally dark houses are lit, the front doors are open, the altars are decorated and the smell of incense wafts through the streets. The firecrackers started up around 4pm. They are not so numerous as in years past when the rat-tat-tat seemed to go on endlessly for days ahead of time and the acrid smoke drifted in the windows. Perhaps US customs is much stricter with checking for illicit cargo or maybe many of the Chinese and Vietnamese families have moved on to the easterly suburbs such as my neighbors who recently moved to Rowland Heights.
I imagine in the houses, families are exchanging baskets of goodies, peach branches, oranges, tins of cookies and small red envelopes filled with crisp new bills. My best friend in high school was Vietnamese and I was always touched by the gifts she'd bring my family and I during the New Year's season. This year, I ventured down to Chinatown (see photos below) to buy my elderly Chinese neighbor a small New Year's gift. Despite neither of us speaking a mutual language, we communicate through hand gestures and smiles. Sometimes I will print out notes through Babel Fish in simple Chinese when I need to warn him of one of my loud parties. Mostly though, we admire each other's gardens and go on our way. This is one the reasons I think Lincoln Heights is so special, Chinese and Mexican families living side by side in a mostly harmonious way.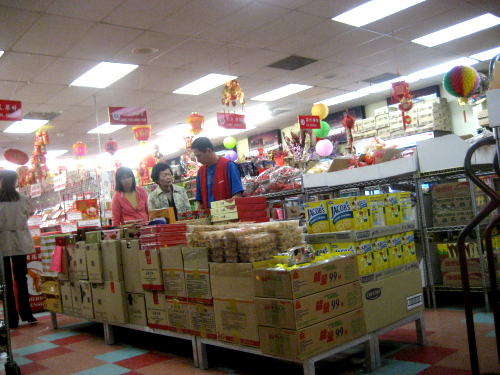 Shoppers in Chinatown perusing the display of cookies and sweets.

One shopper having a difficult time choosing.
To all of our celebrating friends, families and readers:
Gung hay fat choy!
Xin nian hao!
Chúc mừng năm má»›i"!
Happy lunar new year!