For the last three years, I have been walking and sometimes jogging around Evergreen Cemetery with my Harley by my side. In fact, the only reason I even started the 1.5 mile walk around the cemetery was to get Harley some exercise because a tired dog, is a happy dog. So for those of you too lazy to actually go and walk around the cemetery, this is your lucky day. Strap on your running shoes and follow the black labrador down the jogging path…
 
Say hello to my not so little best friend in the world, Harley Quinn. Yes this 100 lb, cute as a button dog saved my life during my crippling depression. She was a gift from good friends and as soon as she came into my life, I developed a real sense of responsibility, understanding and direction. She also taught me what it really means to have an animal in your life. Course I naturally love animals anyway, so everything worked out perfectly. She has her dog license and everything, in fact I might take her to get blessed in April. 
      
 This is Lex. This jug headed kid is the newest addition to tag along in the walk. Because Harley can't live where I'm at right now, she stays with Lex and her mom Brooklyn at my other friends house. I don't feel too bad sometimes because all three of the dogs keep each other company and they have a yard to run around in, but that's no excuse for not walking your dog regularly for at least 45 minutes. Lex is about 10 months old so he's still learning how to properly walk without lunging at people or other dogs. He's getting the hang of it, but he still slips up every now and them.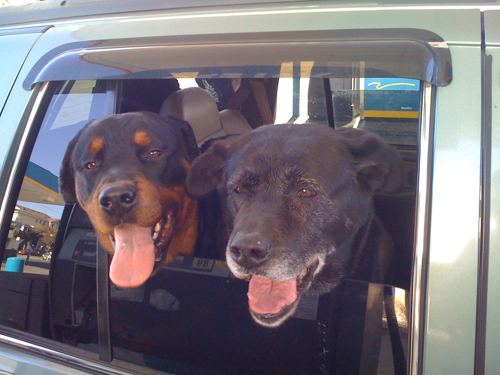 Brooklyn is going on 13 years(human) and it shows. I try to run or jog, but I can't because Brooklyn just can't keep up, she's old. She's only had one litter of puppies and only Harley and her sister Shadow survived, the other's passed away sadly. She doesn't really do much of anything besides eat,sleep and poop. She's a cool dog and real mellow, but she keeps the other two in check.
The walk around evergreen has turned into a ritual of sorts over time. I get to my friends house, greet the dogs after they settle down, clean and refill their water bucket, brush them if I can find the damn brush and put their leashes on. From there we make our way to the path and depending on weather conditions, I get so see some beautiful sights and captivating scenery along the way. Part of the walk is me relaxing and thinking about whatever it is I'm freaking out about that day. Mostly school, life and yes girl drama.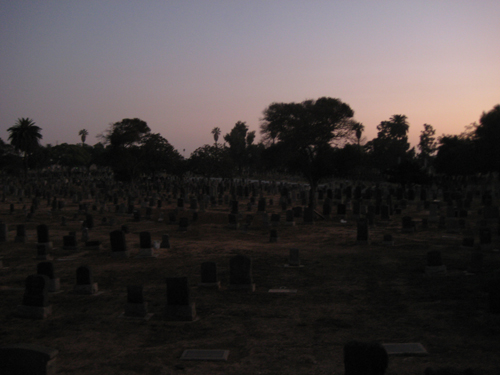 Depending where you start, I walk clockwise beginning on Cesar Chavez, you can get a good view of the whole cemetery and all the graves there. To this day, space is still available and they cremate bodies everyday. Funeral cost range between $565 – $1,600 depending on what services a person opts for and how fancy the casket is. The tombstone cost extra. Cremation runs between $290 – $6,100 again depending on services and ash container. Did you know that if you wanna see the cremation you gotta shell out an extra $325 during the week days and $475 for a Saturday and $575 for a Sunday ? Add another $150 if you want your ashes thrown out to sea.
The path has most of it's traffic during the summer, between four and dusk. The latest I've walked around with Harley was around 11 p.m. and I loved the quietness and solitude to be able to think and enjoy myself in such a public space. Of course the majority of people walking are friends and family just talking a stroll and airing their dirty laundry for everyone to hear. Ohh man I have heard soo much drama passing by women talking about sancho and what not. I keep my thoughts to myself, but every now and then I find myself being a counselor to friends who join me on the walk and need someone to talk to about their drama. I don't mind lending my ear out, in fact I'm glad some of my friends value this about me, I may not have the best advice, but damn can I listen.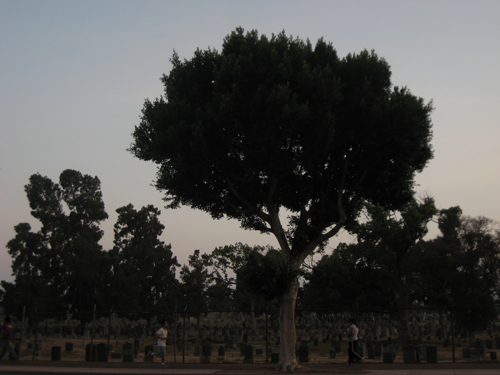 The other time when I'm not too lost in thought or listening to a friend tell me how unfair their parents are or how their bf is an idiot, the scenery really helps relieve stress.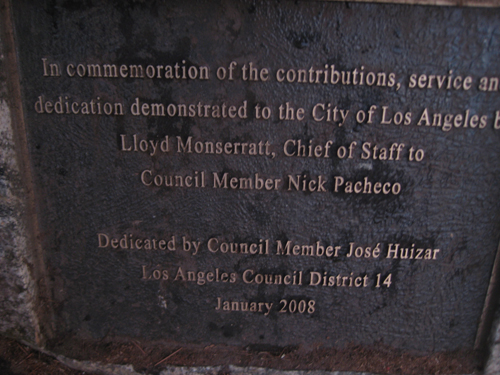 This is a picture of a plaque that was put in on Cesar Chavez and Lorena. The funny thing about it is that the rock and painting above it had the exact date of when they where dedicated. Those dates were like two weeks ahead of schedule, I think they got antsy and thought no one would notice, pero no con taban con mi astusia !!!!
I haven't been there in a LONG TIME. I walk by it almost everyday, but grabbing a burrito de carnitas would defeat the purpose of the walk now wouldn't it ?
The bright lights and sounds of cars coming from El Mercadito. People driving by in cars stare at me because I'm walking three big dogs with ease and they can't keep their tiny, puff ball of a dog from barking it's tiny head off when it sees my dogs. Recently they added drinking fountains, one for people and one for dogs, on Lorena and on First street. I would have included a picture, but I seem to have misplaced it. 
One thing you a lot of is people selling their cars. since there's soo much foot traffic it's the perfect place if you think about it. There's all sort of cars for sale and on certain days it almost turns into a car dealership. 
Since construction of the rail began and it started making its way through the Eastside, the First street section of the jogging path was closed off to the public for more than a year. I myself just crossed the street and continued on. One problem with this closure was that some people aren't very bright. They insisted on walking next to the fence, which puts them in immediate danger of getting hit by cars passing by. Sometimes people would take their kids with them and put them in blatant danger just because they couldn't cross the damn street and walk on the other side.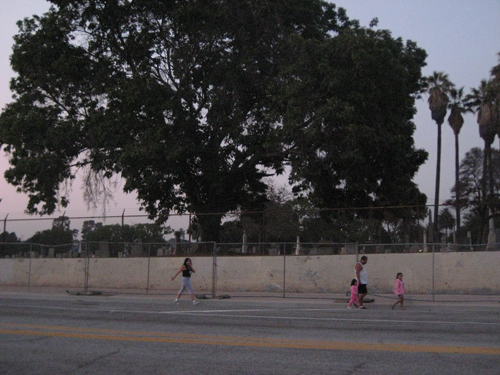 Thankfully the construction is finished and they opened up the path again. It felt kinda weird not having to cross the street anymore since I got use to it.
Sometimes you never now who might show up. On any particular night I run into people, we walk and talk and then split when we get to certain spots. That's my friend "yesca" walking Harley. She was jogging that night and after I scared the crap outta her we walked and talked about her boyfriend being an insensitive jerk, for a minute there I thought I was talking to my X :-P.
Work is still going on for the rail, but most of t takes place inside. There's a security guard posted there 24/7 making sure no one goes in. 
That about does it really. In the tree years that I've been walking around the cemetery, nothing strange has happened, although there was this one time…I did see a dog and a couple of chickens wondering around once. The cemetery is pretty historic and it houses the bodies of L.A.s first African American fire fighter to die in duty and the people who had streets named after them all over the place. Browne and Bustard even took the time to come to the Eastside to check it for themselves, that's how great it is. Here's a link to names listed to reside in the cemetery. The cemetery has way too much history that I don't even know myself. I encourage everyone to take the time to go to the cemetery and take a walk for themselves to see how great it is. How knows, you might end up seeing some "Random" guy walking three dogs at the same time. If you do, be sure to say, "Que honda!"