Back around the time I attended Griffith Jr. High School in E.L.A., I recall that Hickeys were all the rage. A sort of Red Badge of Dishonor if you will. Some kids would wear them proudly,…
others would face the anxiety of trying to hide and cover them up to avoid the often dire consequences of the "bust", and all of the judgmental finger pointing associated with coming to school "marked". More often they were seen as  "The Mark of Possesion." Among my peer groups I'd hear about the various emergency remedies to be used should you need to get rid of them in a hurry, these included:
• The cold spoons
•    Ice packs
•    Heat packs
•    Massage
•    Cover up with make-up
At that age, a hickey could make or break someone's reputation. To some, they looked "dirty" and "cheap". Others wore them proudly, (including the full "necklaces" and the oh so naughty one's you couldn't see but were told about) and they were also proven to be damning telltale evidence of infidelity. The cause of many an adolescent fight and break-up. The scandalous details later becoming the stuff of school hallway "chísmes" to be whispered at recess.
We boys often heard lurid tales of groups of girlfriends practicing their hickey skills on each other during clandestine slumber parties. The mere thought of such escapades drove us out of our dorky minds.
These days, I don't see them around as much. Have they faded into the taboo practices of the past?
Or do the younger generations keep this Love Vampire legacy alive today? I wonder.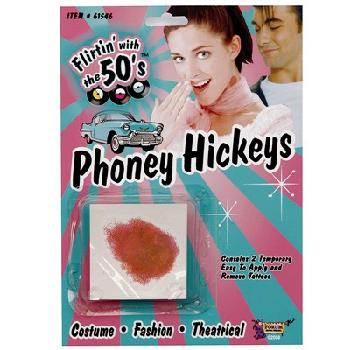 Want some "Instant Coolness?" stick a few of these on yourself, get a funky haircut, pay for some tattoos, and start telling everyone you live on "The Eastside".