I see beauty in most things, like dark, lonely, trash filled streets. I am not scared I explore it and find the uniqueness of what it is or what it once was. Graffiti and trash can be art if you want it to be, I guess it depends on who looks at it. I taken many strolls around the city and seen great streets that boom during working hours and are left dead at night.
Lots of photos if you all do not mind after the jump…
My latest concrete adventure was walking in and around the Warehouse District in Downtown LA. Specifically around Olympic Blvd after it switches over from Ninth St down to Alameda.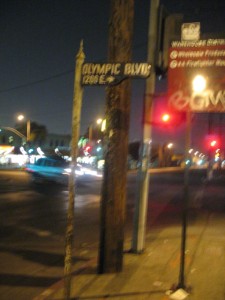 This Olympic Blvd sign is really cool and old looking, check out the sharp spear on the top of the pole, it also is a much shorter street sign compared to more modern ones.
The Produce Market is located in the heart of it all right off  Olympic and Central. I walked and drove around the area plenty of times but I wanted flick some gems for all to see.
The sun is setting on 10th St and Central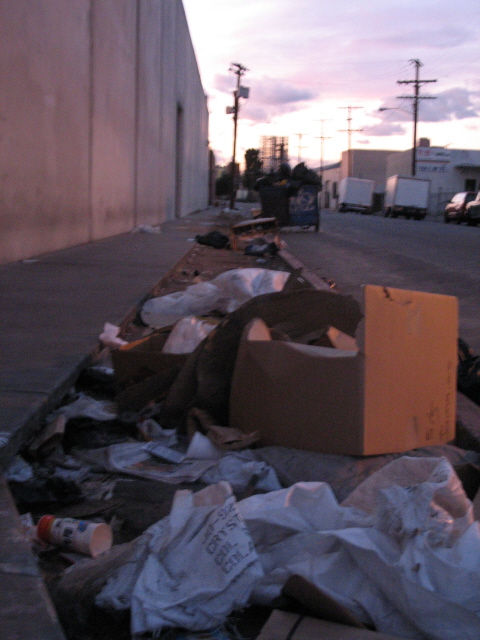 10th  St is usually filthy after work hours, there is usually a lot of empty produce boxes and trash from the  daytime crowd.
Incarcerated  trash on 10th St.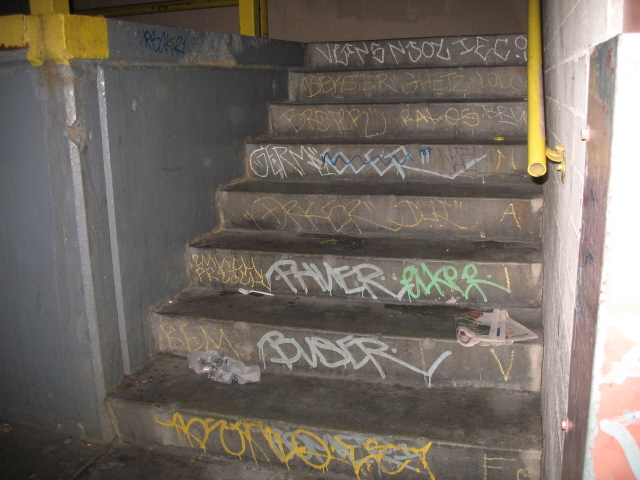 Staircase full of fonts.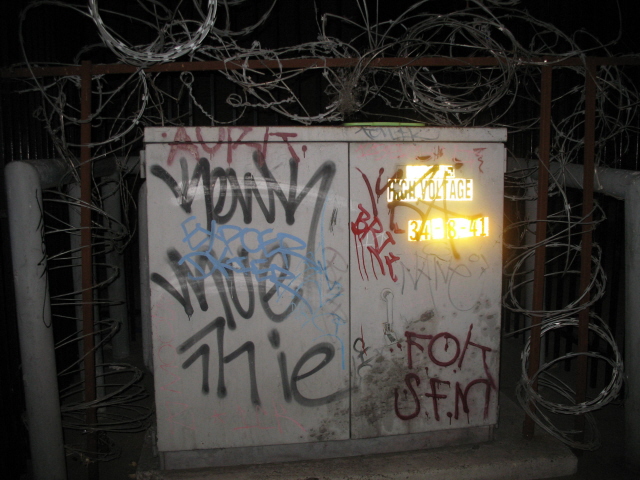 This shitty electrical box on Kohler St is well guarded by an enormous amount of barbed wire not to sure why, maybe the high voltage warning but it do not seem to stop people from peeing on it.
I am sure most people have noticed while passing down Olympic, the colorful produce and pinatas decorating the store fronts right before Central. I never really had a chance to walk in the midst of paper mache and street cooking but it was quite the scenery when I did.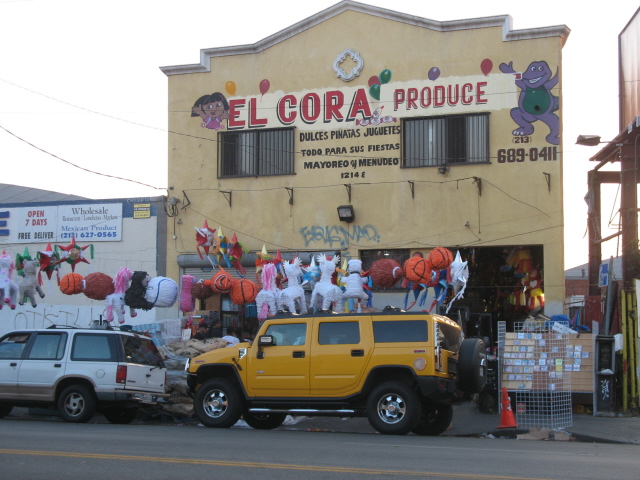 I see someone got themselves the worst car ever!
The three days I came here the place  was a full house, lots of people busy shopping for pinatas, ollas and other stuff also buying food  from the variety of street vendors posted up.

Lots of jars of cueritos (picked pork skins) it must be a popular item. I am not going to lie even though they look disgusting they are tasty with lemon and Tapatio.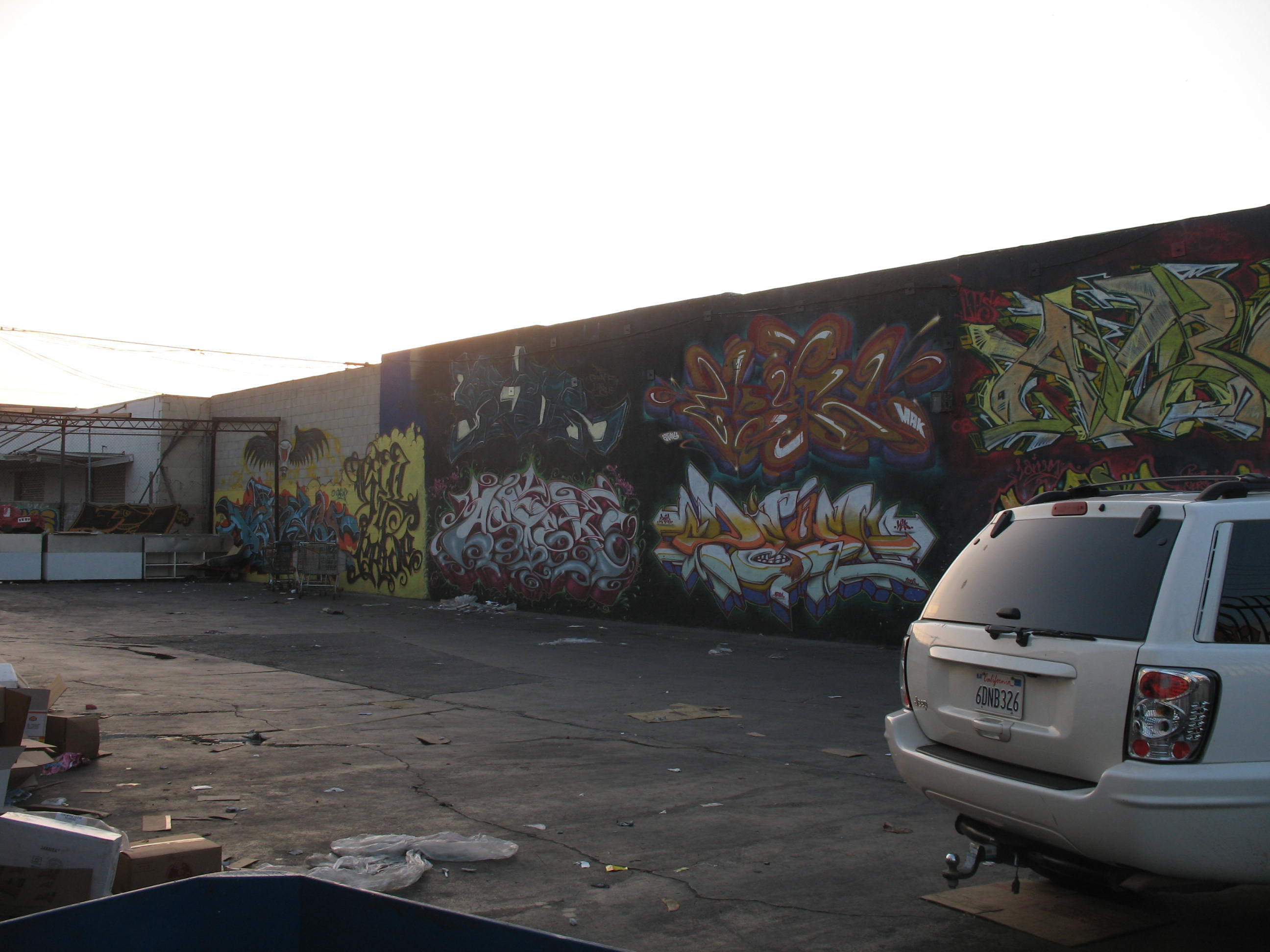 In between all the chaos a couple of fellas managed to get a permission wall in one of the parking lots of the pinata party. Good work guys!
More boxes left behind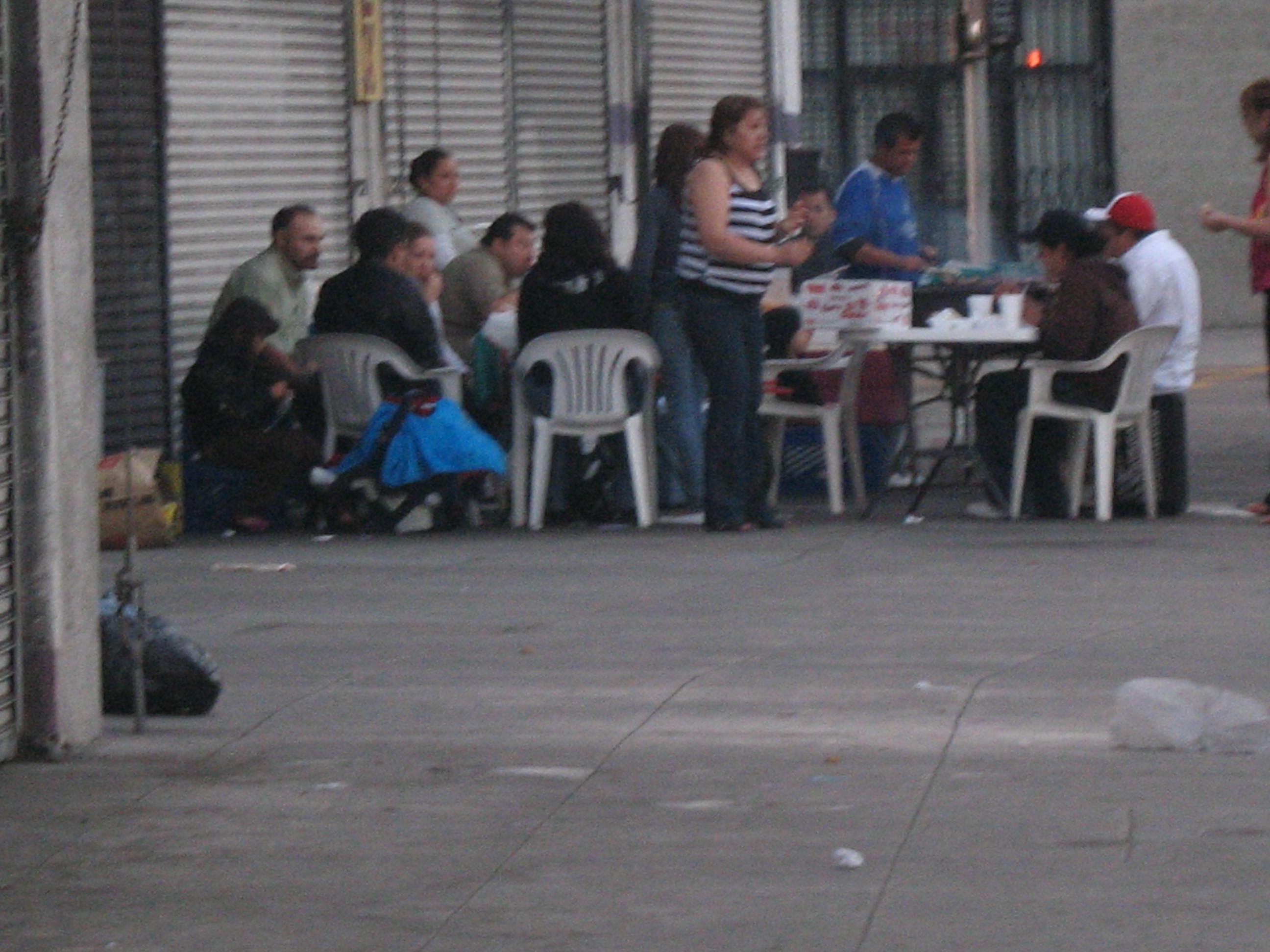 This Taco stand sets up on the corner of Stanford and Olympic, but it looked like a backyard family party to me everyone is happily eating together. Bring your sillas it's all good here!
As the sun sets the area is still active.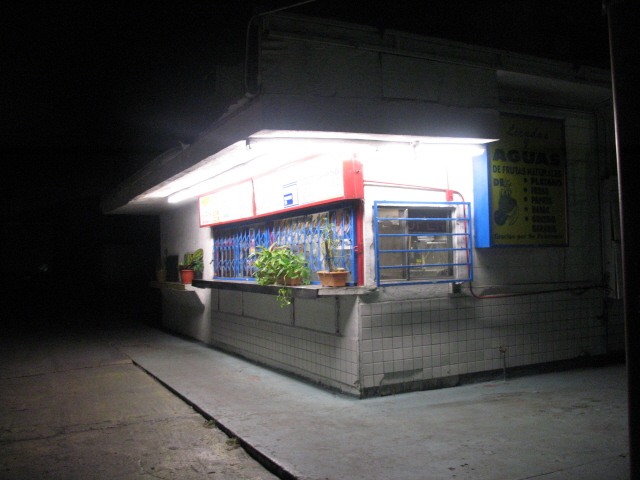 I would have never noticed this little food joint driving by, it is hidden behind more pinatas and iron gates. It was open in the day but closed when I took the photo. If anybody is interested in eating there here is the info.
1210 E Olympic Blvd.
Los Angeles, CA 90021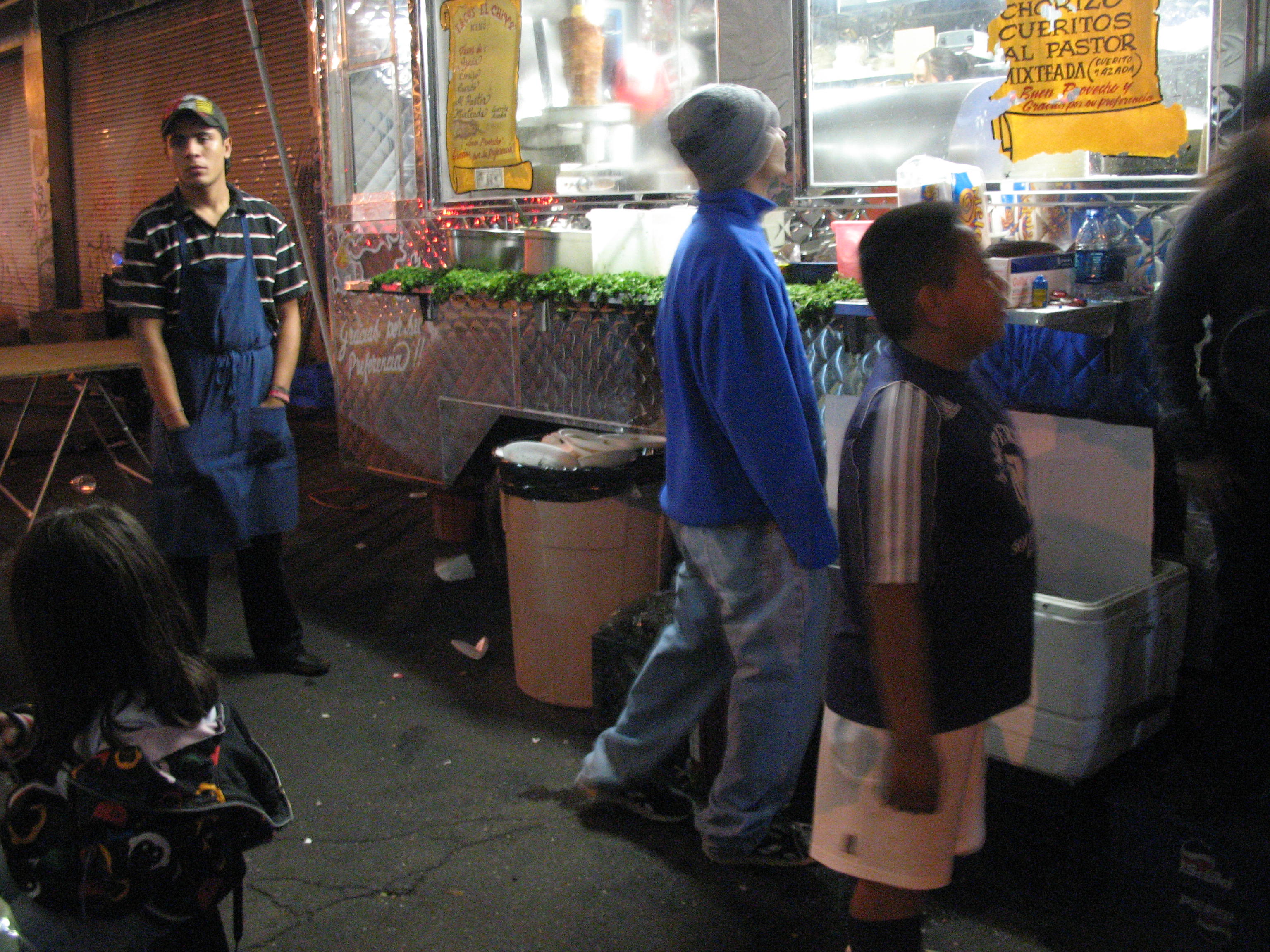 More food and a couple of kids deciding what kind of tacos they want.
Some of the shops are now closing leaving the roll-downs a  target for  writers.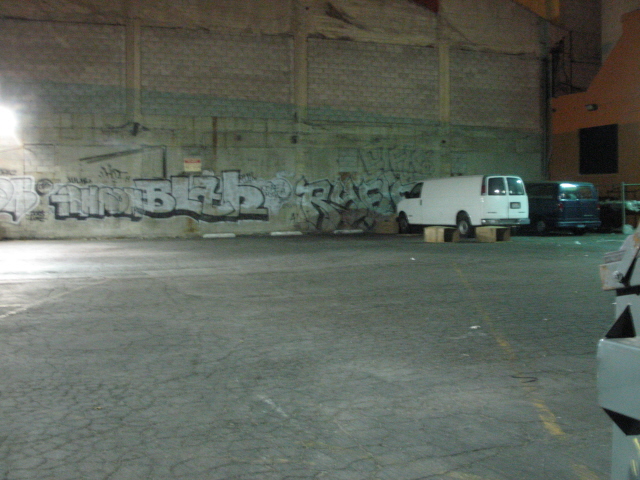 As I headed towards Skid Row I saw a parking lot with illegal graffiti and more cardboard boxes. If anybody is looking to move there is boxes galore around here please do not ever buy cardboard boxes reuse reuse! (Unless there is a bunch of crap in them)
The area kept calling me so I went back a few days later but this time on  Olympic below Central; let us see what is in store now.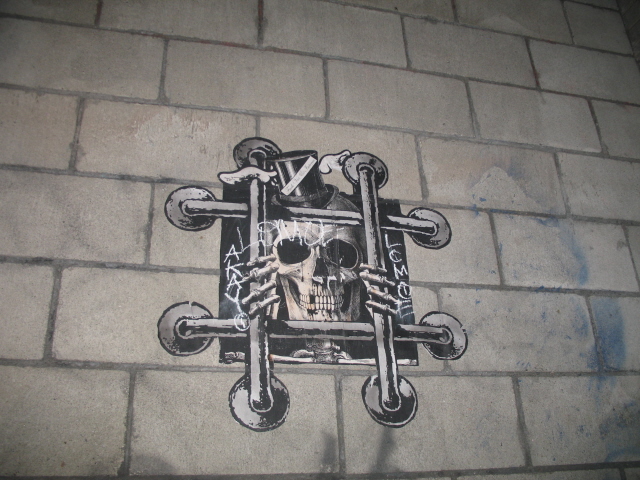 A cool wheat paste on a cylinder block wall off Long Beach Ave.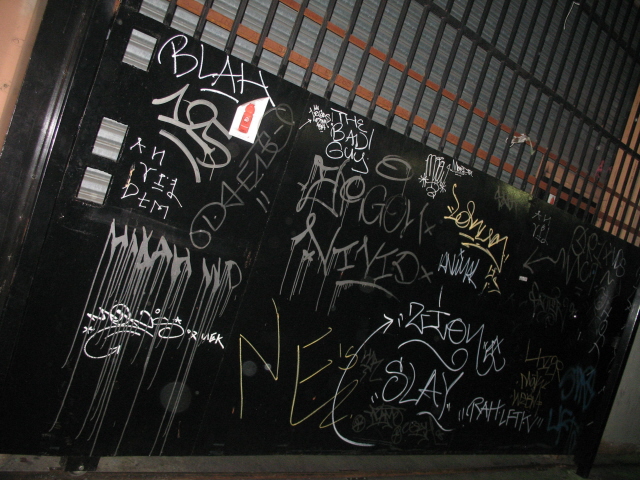 Tags, tags, everywhere!
All the right stuff to pump you up sold here.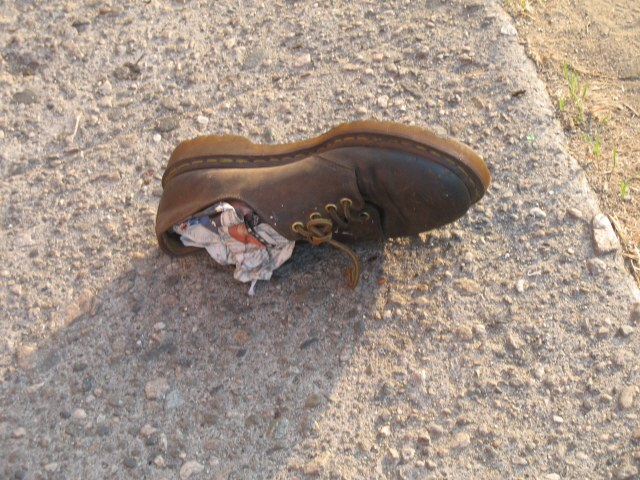 I think Malandrino lost his shoe.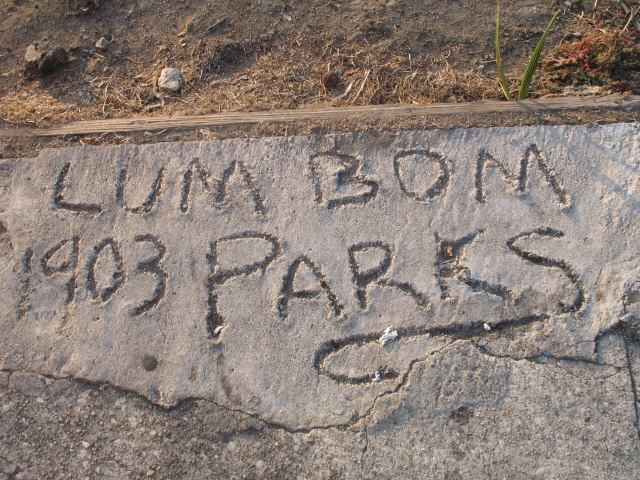 I spotted this old cement scribble dated 1903 could it be?  It was not the address either since it was located on Long Beach Ave and  Olympic, if it is genuine it sure is a true landmark.
You cannot miss the sight of Sam's Hof Brau
1751 E. Olympic Blvd., Los Angeles, CA 90021.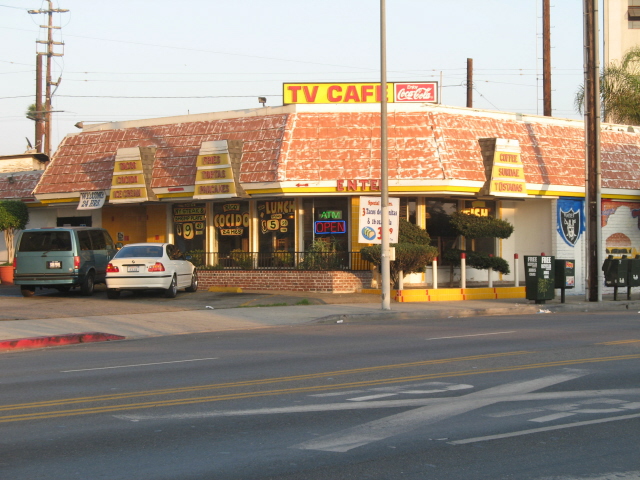 The T.V Cafe at your service 24/7
1777 E Olympic Blvd.
Los Angeles, CA 90021
(213) 624-1332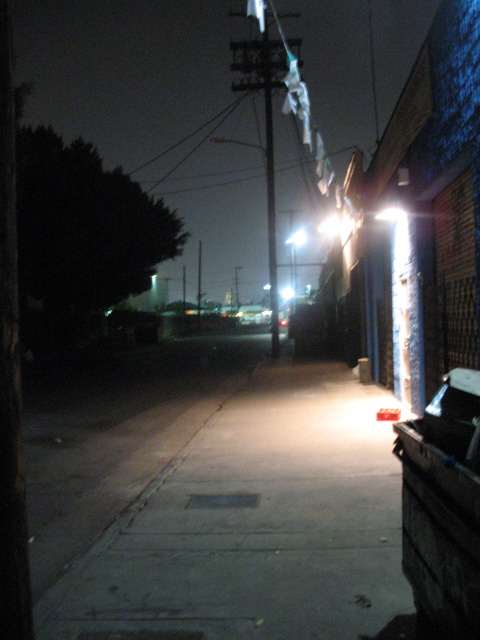 This area might not be so glamorous but that is the charm of a the real streets of Los Angeles that intrigues someone like me. You never know what interesting thing one might run into, and many  times all those cool parties you go to are located right around here, so enjoy!
Peace