Botanitas is an ongoing feature bringing you stories and news from various sources, upcoming events and other bits of ephemera that might be of interest to LA Eastside readers. Suggestions welcome!
Click below for announcements on historic department stores, East LA mangers, peregrinos, unappreciated California cities, music my dad made and a gathering of people who might have some good ideas.

From Lincoln Heights: New Life for Frieden's
I got a call from Don Jose the other day with some excellent news. He and his wife Francisca will continue to operate one of the last independent department stores in Los Angeles but this time as owners! Join them this Saturday, December 13 as they inaugurate the new incarnation of one of Lincoln Heights' oldest businesses.
Don Jose's Department Store (formerly Frieden's)
2619 N Broadway
Los Angeles, CA 90031
323.255.0713
Self Help Graphics Holiday Events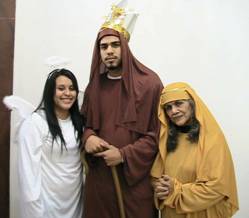 Holiday Craft and Print Fair
Saturday December 13 & 14 from 12-6pm.
A holiday bazaar featuring wares by local artists and vendors.
"O Little Town of East LA"
December 7 – December 28, 2008
Curators: Victoria Delgadillo & Leslie Gutierrez Saiz
"Come take your photo in the manger with Jesus!"
Self Help Graphics & Art
3802 Cesar E. Chavez Avenue
Los Angeles, CA 90063
(323) 881-6444

Posadas in Cypress Park

Even though I'm not of the religious persuasion, I've had lots of fun at Posadas celebrations in Mexico where I've been treated to endless tamales, shots of liquor and massive amounts of dangerous fireworks. Also, it's cool to have a group of people singing at your door that you get to be all mean to and then turn 'em away. Pobre peregrinos!
Perhaps this Posadas celebration in Cypress Park will be just as enjoyable or maybe it will be like this one!
We are inviting everyone in the Northeast Los Angeles area to our sixth
Annual Posadas Celebration located at the Los Angeles River Center on
Saturday the 13th of December from 5 to 9pm. We will have tamales and
champurrado from La Morenita Bakery in Cypress Park and also pinatas for
the kids. This is sponsored by the "Friends of Cypress Park Improvement
Association."

New Bookstore/New Book
I mentioned this book awhile back after I checked out a copy at the Book Expo. This reading is being done at Stories, a nicely put together bookstore and cafe in Echo Park.
Stories and Process Media
present a party for the book
Frezno
December 12, 2008
7-10pm
at
Stories
1716 Sunset Blvd.
LA, CA
Chicano Rock! The Sounds of East Los Angeles
I saw an abbreviated version of this well researched and produced film at the Los Angeles Archives Bazaar. In a Q&A with filmmaker Jon Wilkman following the screening, he explained the difficulty in finding outlets and distribution for his film. Thankfully, PBS realized the importance of Chicano Rock! and gave this film the recognition it deserves.
From the KCET website:
The vibrant history of Chicano rock music, from such pre-rock influences as Lalo Guerrero and Don Tosti, who brought Latino style to boogie-woogie, swing and jazz, to Ritchie Valens ("La Bamba") and the influential roots-rockers of Los Lobos.
Sunday, December 14, 9:00pm
CHANNEL 28 (KCET)
An interview with Jon Wilkman and author Anthony Macias on KPCC's Airtalk can be heard here.

First Annual Los Angeles Anarchist Bookfair
The buzz is in the streets, everyone is heading down to South Central to hobnob with crusty and classy anti-authoritarians in a library-like setting. There will be lots of books to peruse, workshops to participate in and plenty of people watching. If you get lost, look for the kids in black with lots of patches.

Los Angeles Anarchist Bookfair
Saturday, December 13, 2008
Southern California Library for Social Studies & Research
6120 South Vermont Avenue, Los Angeles, Calif. 90044
Have a great weekend! I'll be celebrating with soy tacos and homebrew!
-chimatli