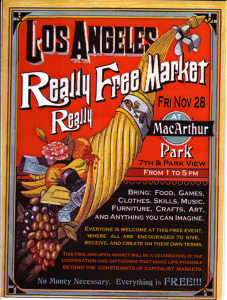 Don't let not having money bring you down. All you need is love AND you can still have a Happy Holidays with stuff, maybe not new stuff, but free stuff (continues click more…)

Friday (the day after Thanksgiving which has been traditionally been called Black Friday) at MacArthur Park (7th and Park View) on November 28 the Really Really Free Market will be taking place. It's entirely free. You bring stuff, you get stuff or you can just get stuff or you can just bring stuff. You don't have to work at UPS or the Post Office this year to get your gift giving on and besides they aren't hiring this year, you know because of the economy.
So come to the Really Really Free Market this Friday and give the gift of re-gifting to a stranger or give the gift of giving to yourself, because its free, but remember thinking about yourself is how you got into this mess in the first place.
You can give stuff, but it's the Really Really Free Market open your mind up to what giving means, concrete stuff isn't the only thing that is valuable.
Browne Molyneux