I had written this serious post about crap you already know. Coupons, going back to school, roommates, moving back in with your parents and then I thought of something. We're in La La Land.
Image is EVERYTHING!!!
This is why so many of us get in a hole in the first place, so I decided to give you advice on how to survive economic harsh times, yet keep your rep firmly in place. Being eccentric and bat-shit crazy always sounds better on paper than just poor.
If you are going down the economic ladder, do it with insane style!!!
One thing you can do is join a cult. Cults are always accepting new members. And many cults have a crash pad. When you have no money you isolate yourself from your friends and family anyway, so you're ripe for a cult. Yeah you might have to do animal sacrifices, but if you aren't a vegetarian this won't be a problem and also there are animal friendly cults that just sacrifice people, though those kinds of cults are harder to find. With a little bit of research you can parrot all kinds of things that seem crazy, but it's room and board and maybe a little gardening. If you've ever done time in the Catholic church with the Holy Water, Ash Wednesdays, child molestations and weird costumes how much of a stretch is this really? Just remember to not drink the Kool-Aid, because all of that alien stuff is kind of like all that heaven stuff in Christianity.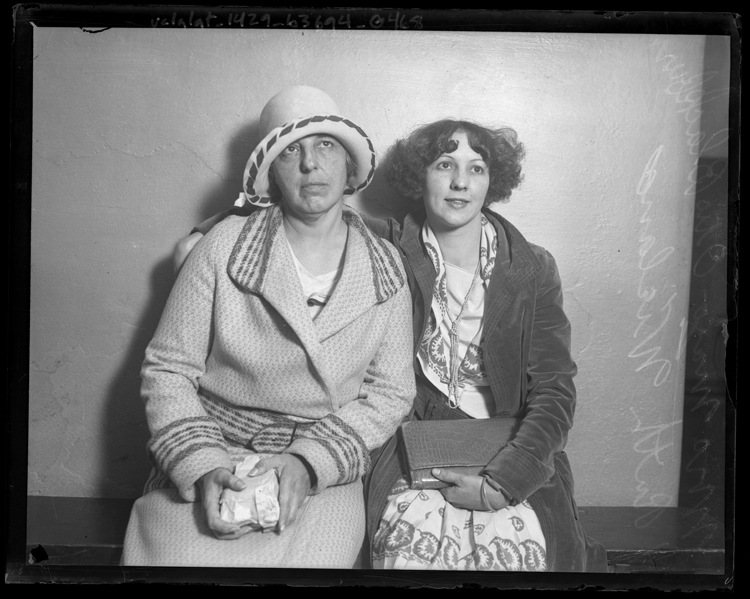 Mary Otis cult leader in Los Angeles in 1929. Image from UCLA Digital.
Another thing you can do is get arrested. Lots of famous people have done jail time, people like James Ellroy, Tim Allen, Malcolm X and even Martha Stewart and you know what? They all did ok. In jail you get three squares a day. You can also dabble in same sex relationships. It'll be just like college. Remember lesbian until graduation? You can experience that all over again. A jail cell is about the size of a dorm room. I think they even have drugs and intra-mural sports in jail.  In addition to the social components of jail you also get health and dental care (so in some ways better than college,) but the most important thing you get is street cred and good stories. That's priceless. That's something you won't get moving back in with mom or dad. And in California if you get convicted of a felony after you have served your probation you can still vote. That's pretty important, so go out there and rob some people. Don't kill anyone. You don't want to be a senior citizen when you get out. Being old is not glamorous.
Now say the cult and jail thing are a bit too hardcore, that's ok. I am all about giving you various bat-shit crazy options. There is always the green thing. Yes, you can be green. You can sell your car and all of your earthly possessions or rather say you did, because actually all of your stuff got repossessed and say you've found a new path. Your minimal lifestyle won't look poor; it will look eco!!! You can take up insane cycling, become vegan and only subsist on humanely prepared birdseeds. Yum!!!  And sounds very healthful, doesn't matter if it is healthful. The only thing that matters is what it looks like. Chances are you will end up looking anorexic, which signifies to anyone in LA that you're not poor, but a person who possibly has a firmly rooted in the middle class disease. All the better, being mentally unhealthy is a positive quality in Los Angeles. I suggest all of you newbies develop some kind of interesting neurosis all kinds of networking opportunities will pop up. By the time this economic crisis ends you'll be ready to rejoin the darkly lit bar scene with a new appreciation and you'll be able to be self-righteous. "I went on this personal journey and reflected on blah, blah, blah…" In LA being self-righteous is a requirement for hanging with the pseudo progressive assholes that hold the key to all kinds of business opportunities. In addition when the smoke clears you also have the option of opening a yoga or pilates studio. That's what everyone who gets fired and goes on a personal journey and can't get back into the thing they really want to do when they moved to LA from the middle of hell does.
H/T to Bearsnecessity for the image.
Whoring yourself out is another option. Are you young? Do you look young? Are you amoral? Great, being young is more important than being attractive. And being amoral is a requirement for detached sex for money. If you find yourself young and in dire straits and without the burden of a puritanical moral compass find yourself a sugar daddy or sugar mama. Times are never hard for rich people and rich people (men in particular) love paying for young people to have sex with. Their significant others no longer want them touching them, because in general the kind of person that marries a rich person only cares about the money. Sex is hard when you are taking large amounts of medication for the many mental disorders you tend to catch when you are rich. This is a boon for the young, desperate and amoral. Find an older person with money, make them feel important and they will give you money. And if you are friendly, positive and naked enough, you have a pretty good chance at getting a free apartment out of it. Usually a pretty nice one. Of course to a rich person the place may be a dump, but to you a cute free apartment in Hollywood is a mansion. Don't get all philosophical about it. Keep in mind this is a job and that the deal can end at any time and you will get old. I suggest if you take this path you ask to borrow large amounts of money and put it into a saving account or use it to start some kind of small business or a cult. Oh and this probably would be a great thing to blog.
I hope this helps. Being poor doesn't have to suck if you give it the right spin. Hell, being poor doesn't even have to be poor it can just be a lifestyle choice. People like throwing that choice word around, so my use of it is entirely appropriate.
by Browne Molyneux