I saw Ruben "Funkahuatl"Guevara read this at an event at Teocintli. I caught up with him afterward to introduce myself because never in my life have I heard my home be described with such love and respect. I told him him how much admiration I had for his writing and he encouraged me to do it myself. I have yet to get around to it but reading his writing always makes me wanna start writing something. Even if it's just for me. The following is from a piece he did for the L.A. Times magazine in '06. it was about the different heights in L.A. I remember when he was explaining this to me that Lincon Heights was left out for some reason.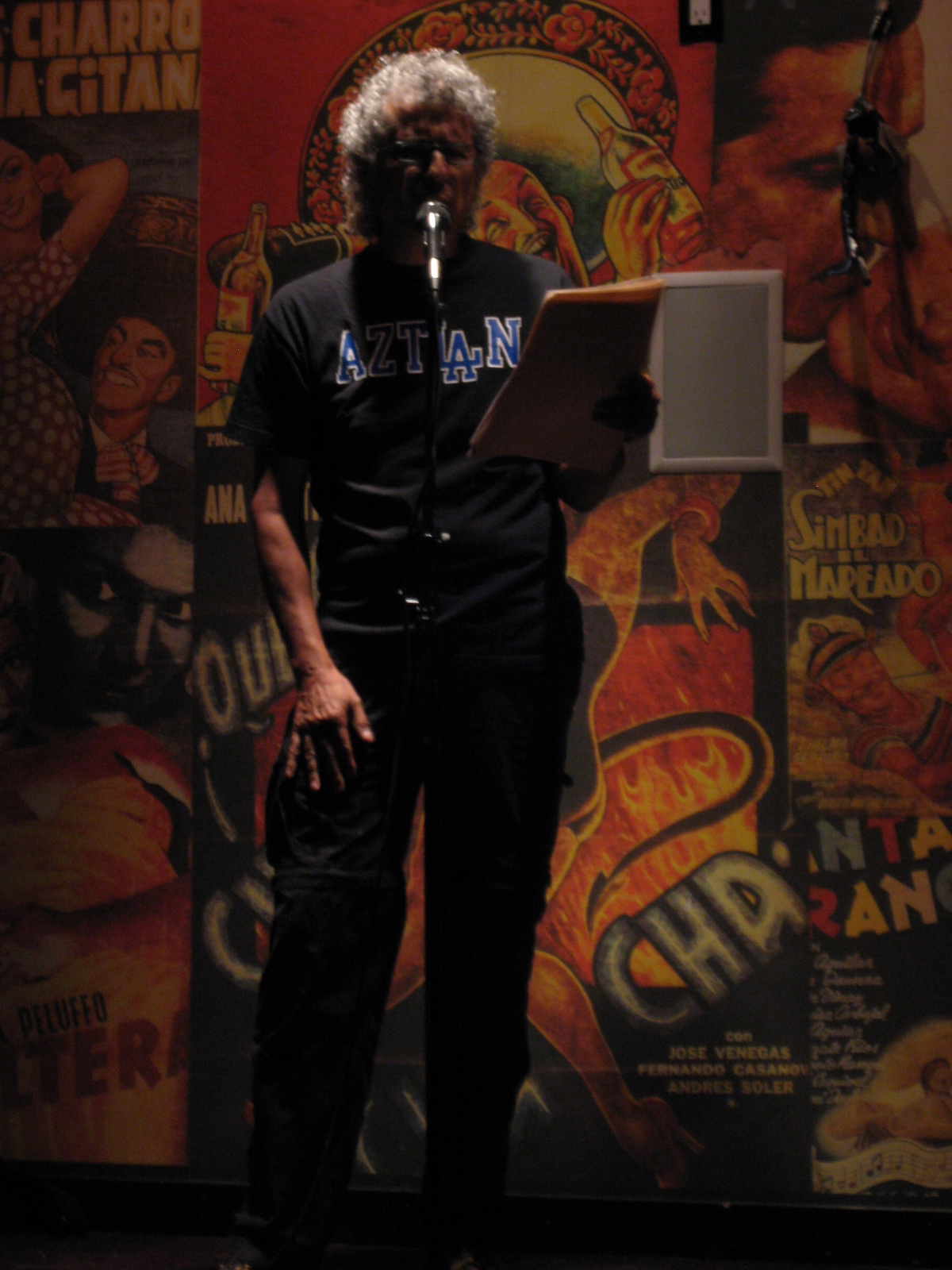 ~ Funkahuatl doing his thing at Eastside Love ~
Boyle Heights
'Ta-maaa-lehhs! Ta-maaa-lehhs!" The strolling sidewalk vendor wakes me with sweet memories of my youth as the neighborhood rooster joins in, welcoming the day.
"Dos de pollo!" I yell out, thanking my ancestors for inventing the tamale, beautifully symbolizing the body and heart of humanity. That is my breakfast in Boyle Heights.
Afterward, I walk to the corner of Mott and Cesar Chavez to pick up the morning paper, and I hear the pachuco boogie of Lalo Guerrero from the '40s, the Eastside Sound of Thee Midniters and Cannibal and the Headhunters from the '60s, and the punk of Brat and Thee Undertakers from the '80s—all of them linked by mariachis serenading at quincea–eras and endless wedding dances.
The Paramount Ballroom (now Casa Grande), home to these legendary performers, was, and still is, the epicenter of Eastside memories. Heading west on Cesar Chavez, I stop at the Bahia, a restaurant where the cooking recalls my dear grandmother's love.
I hear rockin' sounds coming from the Ollin Music Conservatory as I pass a 24-hour pawnshop, a wedding chapel, a punk boutique, a tattoo parlor, a health food store and a Chinese restaurant. 
At the corner of Soto and Cesar Chavez, the heart of "East Los," presides the mural "El Corrido de Boyle Heights" by the East Los Streetscapers.
Months ago the mural was tagged beyond recognition. What disrespectful idiocy! But, on this day, a miracle: Painter-muralist Paul Botello is faithfully restoring it.
Guevara ~ I used to live on Boyle Avenue, named for Andrew Boyle. In 1858, he bought a parcel of the land that had been the 1781 Mexican settlement called El Pueblo de Los Angeles, and built a home on what became this avenue. After his death in 1871, his son-in-law, William H. Workman, subdivided the area and named it Boyle Heights. My Boyle Avenue apartment was down the street from Mariachi Plaza, where I hired mariachis for my son's first birthday party. (Easy to do, but not cheap. They don't play for beer like garage rock bands.) Also on Boyle is the International Institute, founded in 1914 to help Russians, Italians, Mexicans, Chinese, Japanese and Jews get established. Its mission reflects the neighborhood's distinction as Los Angeles' most multiethnic community from the '20s through the '50s. Now I live on Pennsylvania near Mott, surrounded by elegant Victorians and humble homes, some with frontyards of cactus, chickens and corn. Gentle, strong people, inspiring murals and music mix with a turbulent social history that includes the forced "repatriation" of Mexican Americans in the '30s and the unconstitutional incarceration of Japanese Americans in the '40s. Hail Marys, Buddhist chants, Jewish prayers, gospel hallelujahs, oldies, hip-hop, corridos and rancheras—they all lift and carry broken spirits, memories and dreams. My barrio speaks truth as it sings of love and betrayal. And, if you listen closely to its tenacious, fragile legacy, its scarred heart touches you, and heals.