So its been a while since I've ventured into bloglandia. A ton of stuff has happened.
First and foremost, like I mentioned before, I went on vacation to Puerto Rico.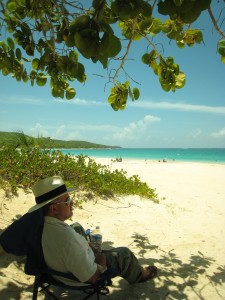 It was beautiful but I know for sure I am not a tropics guy. Hot and humid is not for me.
I did try to catch as much Olympic volleyball as I possibly could on vacation and when I got home, LOVE ME SOME VOLLEY BALL!
If I were to go back it would be to kick it in Cuelbra a small island next to PR. (for extended vacation pics and story go to pachucoville)
As soon as I got back the new semester started at CSUN. They enrolled a record 4,000 something Freshmen. Usual numbers were 2,500, but since there is an average 60-65% drop out rate by Junior year, and because of the recession, gas prices and the overall sad state of things I think the university thought they should bring in more Frosh to make up for even higher drop out rates in the future.
I got all freshmen course this semester and they are too cool. They are open to putting down the iPod and learning about the historical era they are living in. I hope I can keep their interest and not scare them too much.
With "Featuring the Lights and Sounds" we have been having a great time. The Power Tools panel / b-day party was muy cool.
16 years of the same thing every week can be a bit … but come on, it's all about the music, free music, free parties and great peeps I get to meet and kick it with. THANK YOU.
R and I rode in our second People's Ride and introduced her friend to Midnight Ridazz proper like.
I didn't watch any of either conventions, but yes I also think Palin looks like Tina Fey!
Found one of my favorite people online and he's blogging like a mad man!
Today I learned about the Particle Accelerator and I'm scared. They can create a black hole and our planet can be sucked into it. It might trigger earthquakes or other phenomenon. OR it might make a whole in our dimension and allow stuff from other dimensions to come into ours a la The Mist.
Overall I learned that bloglandia will not collapse if I don't get to my Google Reader and read everything. It's sort of a relief. Now I need to only worry about that Particle Accelerator!