Oh look, that newspaper subscription I keep meaning to cancel has put out a new magazine. Hmm, maybe this time it'll be a little more reflective of the larger Los Angeles and stop being so Westside Provincial? Haha. As the cover says: Dream On!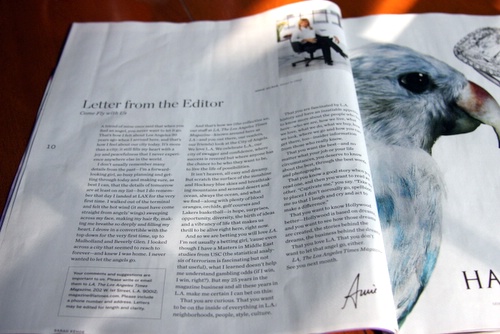 I had a fresh cup of coffee, a toasty bagel, and an open mind as to this "new" magazine when I read the first sentence from the editor: "A friend of mine once said that when you find an angel, you never want to let it go." ??? Lady, your friends are crazy. Then: "I walked out of the terminal and felt the hot wind (it must have come straight from angels' wings) sweeping across my face, making my hair fly, making me breathe so deeply and filling my heart." Lady, yer crazy. BTW, those were probably the Santa Ana's, and if air is getting into your heart you should see a doctor. Furthermore: "That you want the best-and no matter what your job or your life circumstances, you deserve to know about the best, through the best words and photographs." Wait, you're the Editor? Those certainly weren't the best words. And so forth: "Take me to places I don't normally go, spellbind me so that I laugh and cry and act to make a difference." Trust me, I'm already laughing and crying. Y pa' cabarla de chingar: "That you want to know Hollywood better-Hollywood is based on dreams, and you want to see how those dreams are created, the stories behind the dreams, the business behind the dreams. That you love L.A. That you don't want to let that angel go, either." Wow, what a wallop of drivel. Are you gonna tell us about your dreams to become a famous ballerina that's a veterinarian by day?
This mag is not looking so good.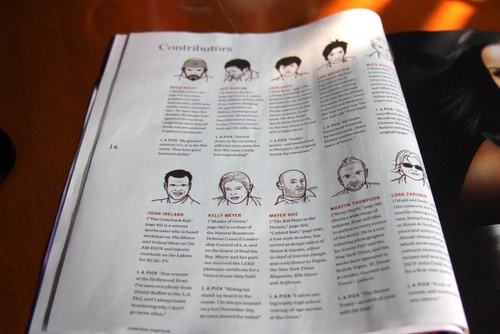 Come on now, you could have at least aimed for some diversity in your initial publication, no? Three bios mention "fashion", three others mention "House & Garden", and two dudes are into sports. I think we know where this is headed.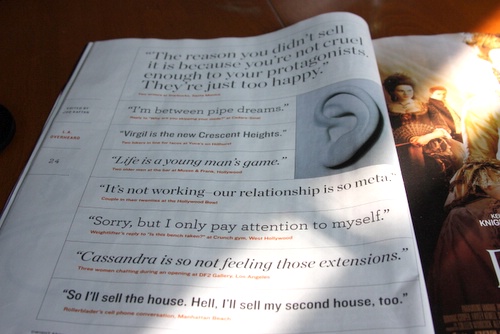 I don't get it. Now if you threw in some lines about WD-40 in storage and chi-chi's a poppin' then maybe it'd have some cultural relevance.
50 pairs of shoes yet not a single sighting of huaraches, a Payless special, or cantunflas. Just a lot of roach stompers.
Yet another list of items to consume. Look people, if you're reading free magazines to develop your sense of "style" then I can honestly say your life is fucked. Just throw in the towel now, cuz you ain't got nothing going on.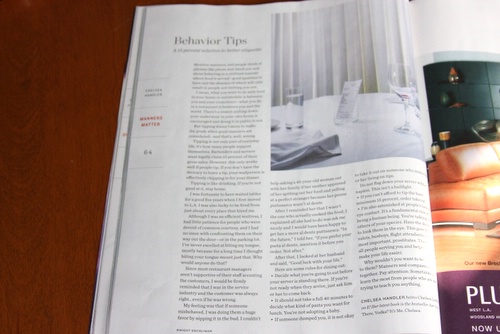 All grown up yet you still need tips on how to behave. Spare the rod and spoil the child, err, adult.
That whole white after labor day is ridiculous: it's never okay to wear white.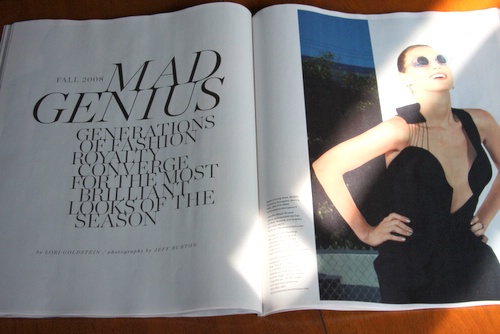 Oh jeez, another spread on fashion? Am I the only one that finds these completely boring?
Of course, those into fashion also tend to be into celebrities. Yawn. Maybe I should have read this at night when I was ready to fall asleep.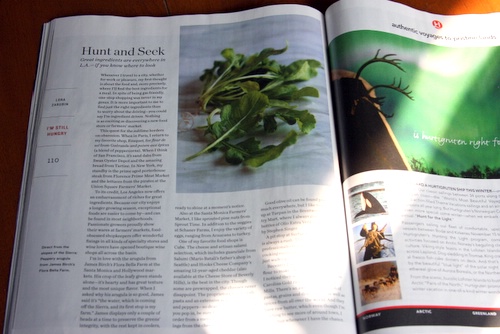 "Great ingredients are everywhere in L.A.- if you know where to look." Naw, really? Great work there Sherlock.
A story about an equestrian program in Compton. And it only took 122 pages for the mag to get outside of that limited LA.
A few pages over and we are back to irrelevancy: how to cook for your pinche perro. "I also learned there are things Izzy-or any dog for that matter-should never eat: grapes and raisins…cooked animal bones…acidic fruits…spicy seasonings…regular chocolate…anything with caffeine; animal fat…macadamias and walnuts…and mushrooms, onions, and corn." JAJAJAJAJAJAJAJAJAJAJAJAJAJAJAJAJAJA!!! This is a magazine for crazy people.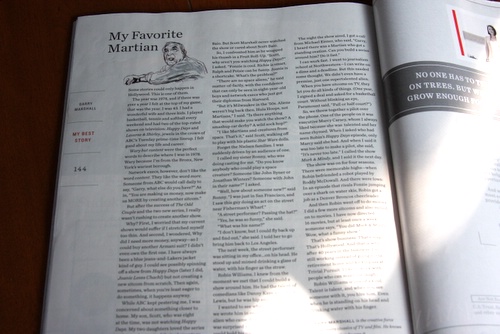 Some sort of Hollywood story about Mork. Nope, don't care.
This mag is not going on my must-read list. I suggest they change the name from LA to "Our Town" or "Our Lil' Corner." Yeah, maybe I'm out of touch with the interests of the average Angeleno but if those interests include dreams, angels, "Hollywood", crap to buy, and fashion shoots, I'll stick to what I know.
Ay Ta.