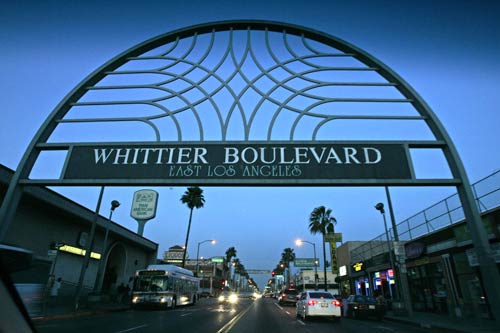 Those of us close to E.L.A. and who know it first-hand are likely to view with pride the more positive aspects of our communities and recognize the successes rather than dwell on the failures. Nevertheless, we seem to perpetually suffer from dismal public perceptions that tend to focus on the negative. It's unfortunate, but those perceptions are not likely to improve anytime soon among the "haters". These prejudiced opinions do often perpetuate a cumulative "bad rap" that most of the community has to constantly struggle to overcome.
As with most communities, there is more to E.L.A. than what's perceived on the surface. Some people will not attempt to discover the positives here when they don't even care about the place to begin with. Therefore, I tend to give very little consideration to biased and narrow minded views such as those you're about to read. I've never believed that trying to live up to other's people's standards was a path to self-improvement anyway.
I came across this actual thread on the City-Data.com site. It seems that recently, a Peruvian gentleman living in Las Vegas by the online name of "Bubba" posted the following question to the message forum: I've copied and pasted the comments as they appeared.
I need some information on moving to East L.A.
(Los Angeles: income, work)
Kidpsych replies:
NO-NO-NO-NO-NO
I have a right to advise you, as I grew up in the area, and live about 15 minutes away. Absolutely not. If you have no alternative then consider the following nearby communities in order: Eagle Rock (LA 90041); Alhambra; Pasadena; Highland Park (LA 90042); Montebello.
The school systems are really horrendous, no exaggeration. The private parochial schools aren't really any better in ELA. Look into Charter Schools if you must. Truly, if you can avoid it at all costs, especially if you have a child. You won't be there two days, before you regret your decision.
EscapeCalifornia comments:
Has the threadstarter actually been to East LA? Why would anyone intentionally move TO a slum unless it was the last place on Earth they could afford to live?
Frcal comments:
Grant it, living in ELA can be a challenge. I also grew up in the neighborhood bordering Monterey Park. A lot has changed over the years. Our family home is still there as a rental and it is not easy to maintain for obvious reasons. I am so far removed from the school system however, a mentioned web site on this forum can assist you to determine which way you'll go. Should you have your heart into moving into the area, do so with caution and an open mind of the many cultures and crimes you'll come across. Consequently, living in LV you were most likely exposed to similarities however, I don't feel they may have been as evident as you'll see or be exposed to on the streets in ELA. I'd stay east of Atlantic Blvd, north of Garfield if I were you. Try toward Alhambra or toward So. Pasadena area if you insist around eastern LA areas. Try southeast of LA toward the Lakewood area. Go with caution and be safe.
Rosomane comments:
I could be wrong but you'd be hard pressed to market Peruvian cuisine in East LA – it's Mexican (i.e.illegal alien) and chollo. It's also considered the bad side of town on account of the gangs, crime and poverty. Don't bring a child into that atmosphere. It is not, as I understand your impression has been, a neighborly low income latino community – there is alcohol abuse, drugs, firearms, domestic violence, abandoned cars, stray dogs, illegal aliens, felons, generations of gang membership and all the symptoms of urban decay. Private schools? who can afford them in that area? Beware of the pollution levels in the poorer parts of the city, that is often where the railroad yards, chrome plating shops, slaughter houses, dumps, junkyards, etc. are located and fewer parks and playgrounds.
You might be better off in the San Fernando Valley where there is a large population of Peruvians (as well as other latinos). Last I counted there were at least 15 Peruvian restaurants in the valley. There are lousy schools and there are great schools in the valley; there are also alternative, magnet and a wide variety of private and religious schools. The City of San Fernando might be just what you're looking for, although Pacoima, Canoga Park and Panorama City have all the problems of East LA and are to be avoided, ditto for Van Nuys although parts are OK. Sylmar might be worth looking into.
If you can swing it, get out of LA and the LAUSD altogether and look into Burbank, Montrose, Glendale/Pasadena areas (and their superior school districts). Any way you look at it, it is expensive here to live, you'll have to pull in some serious money to send a kid to private school and live comfortably so if you can select the best school district you're ahead (and will be paying taxes for it anyway). Good luck!
(Bubba the threadstarter then replies):
Yes I have been there several times, and I have NEVER had any trouble or problems whenever I was there
Bubba
D5069 comments:
Bubba, many of these replies are from outsiders looking in and you shouldn't base your decision just based on these answers.
It is true that there is a large gang problem, however, it does not mean that it is necessarily dangerous. If you don't cause any problems or do anything to provoke a gang, they will leave you alone. I have family that has lived in East LA for over 30 years and not once have they had a crime committed against them.
If you feel that you can be a good role-model for your children, then by all means move there. Good luck wherever you move.
RobE comments:
Monetbello is relatively low crime:
Monterey Park has a big Chinese community and is fairly low crime:
Good luck. I hope your Peruvian cuisine is a big hit.
Bubba replies:
Thank and I agree with you, The area that I live in here in Vegas is very dangerous, but nobody bothers you and just live their lives. But if you want trouble you can find it you know?
Thank you very much for your post, thank you
Bubba adds:
First of all…Thank you for the information,
I do know that the population of East L.A. is high Hispanic population, that does not bother me at all, My wife is from Peru, my son was born in Peru, I personally lived in Peru for almost two and a half years, where I studied Peruvian cuisine, of which I cook now as I am a Chef. The low income part does bother me a little, but not too much, I have visited East Los many times and the people (the hard working people of East los are great!) It is the criminals that bother me. I believe there is a lot potentail in East L.A. and I would really like to be apart of that, that is why I am seriously thinking of moving there. The other issue that bothers me is the education situation I do have a son, Is there any good private schools in the area, or no?
Are the public schools there that bad?
Thank you again Vicman for your reply sir….
Bubba
Gato 1959 comments:
ok I here every one talk about east los angeles I'm from or use to be from frist flats gang and lived in the project's from 1960 till 1984 it was hard cause we had to whatch tv on the floor cause of the drive bys and it was always that way but pico gardens are goneand aliso village hhere my big brother was killed thank god my kids came out good I live in the medwast now with my grankids and people see my tear drop tattoo and they ask what dose it means I dont say anything but it sad that kids out here see movies about ELA want to be the same they even claim north and south and dont know what it stands for and thats sad cause its nice out here
neenee99 comments:
I don't live anywhere near the E LA area. I would check out the crime blog on latimes.com. It's called the The Homicide report
Don't believe that just because you mind your own business and are respectful that you are immune to violence. It happens all the time in Los Angeles, mistaken identify, wrong place at the wrong time. If you live in a high crime area, you are at higher risk of being a victim of a violent crime, just because of the geography. With a child, please consider those statistics.
I know you want to do the right thing and building up blighted communities is a noble idea and sounds great in theory. And I totally agree with you on that and think that urban flight is definitely hurting our inner cities that have great potential. The bottom line are you willing to risk your family's safety to do it?
I would think you could find a nice house in the Vegas area for the same price as an old house in a bad area here, around 450,000? Anything for less than that is going to be in a very dangerous area here.
You won't find much anywhere in LA proper for less than that. Good Luck!
Prgm 2000 comments:
Greeting from the Northwoods of Wisconsin!!! You seem to know East L.A. !! I am writing a book that take place in the area. I need info! Where would a young girl go to college? Where is a major University, close to East L.A.
Wildgift comments:
I'm not an ELA resident, but from relatively nearby, and go there a sometimes. I've also lived in areas people considered dangerous, but really weren't. If you're looking for Latin American culture, there are vast stretches of it all across the east and south sides, and much of it is lower-middle-class to middle-class. If you want to be closer to ELA, Montebello is good, and some of their schools rate well. However, know that these are areas with high levels of immigration, and consequently, relatively low test scores.
East LA is tricky – it's got a lot of problems. Some are simply due to poverty, but other problems are due to the way the prison system lets parolees out into the community. (The same goes for some other communities in LA County, btw, so ELA is not the only place.) You get gang fights, drive bys, and a lot of other stressful events. Even if you're not involved, it can be stressful to deal with hearing a spray of gunfire every month.
One side effect is that the schools (Garfield and Roosevelt) aren't going to work if you want your kids to be competitive for the better colleges. They lack enough students taking Advanced Placement classes, and resources get directed toward raising NCLB test scores. The administration (and district) focus on sports, so there's good spirit, but… do the math. If you have smart kids, putting them on track to go to Garfield or Roosevelt will be risky, unless you are a really hard-core education-oriented parent. I've heard of many success stories, but, these were children of, to understate it, elite or genius parents. These kids' parents were already teaching in universities, the arts, activists, writers, etc. or combinations thereof. If you're not already in line to teach at Cal State or UCLA :-), be aware that getting a quality education will require effort. If you already fit that elite profile – it's almost better to be in ELA than elsewhere because you'll get to hobnob with these folks.
All this said, Boyle Heights, Lincoln Heights, East LA are not as rough-and-tough as Westlake or South Central. There are a lot of really interesting streets, like Woods, and nice areas like Belvedere and Eastmont. If you go farther away, there are some really nice areas in El Sereno, Lincoln Heights, Highland Park, all over really. Some of these areas have decent high schools with good magnet schools – the numbers bear it out, threre's good and bad, but very little in the middle, and if your kid is struggling, he's ass-out and will probably drop out. It's very Dickensian — like a Tale of Two Cities.
Doomed comments:
east l.a my neighborhood! there are a lot gangs in east l.a its where it mainly started! this aint a neighborhood for noisy people if your noisy your in for some trouble. dont go down any alleys dont go to any park after sundown. if you see someone throwing up gang signs or tagging on your wall or house i suggest you let them be if not theres going to be some action! dont look at a gangbanger wrong either. expression on your face is a big thing! there some dope parties out there. but you in for some good taco stands!
The one comments:
is this what outsiders really beleive about the east side? anyhow, yes! visit for yourself and figure out what works and what doesnt. simple as that. i love east LA. cant wait for the gold extension premier!!!
(..there's more to the thread. See the whole thing if you still need to- at):
http://www.city-data.com/forum/los-angeles/48984-i-need-some-information-moving-east-6.html