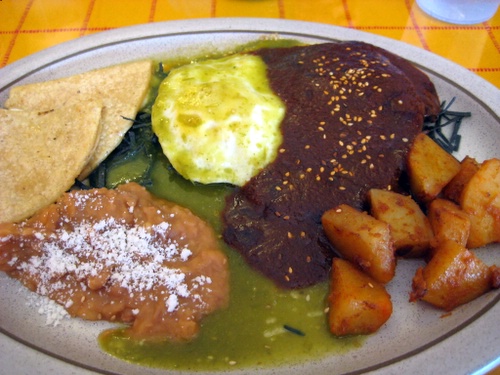 I'd been to this eatery maybe a year or so ago, when it was simply called La Tia and they were trying to specialize in tamales (no doubt to compete with the Eastside institution next door known as Tamales Liliana) but the food was just okay and it seemed like they were still getting things in order. About a month ago a friend told me that they now carried "all kinds of moles" and that it was under new ownership. Could it really be the same place? Only one way to find out!
I'm glad we decided to go back, because this place left a stunningly good impression after just this first return visit. The picture above is of their Desayuno de la Casa, which is fried eggs over fried tortilla strips, which must be their version of Huevos Rancheros, a plate I've been known to favor. But they douse it with the slightly sweet house mole and a green tomatillo sauce, and as many already know, mole works well for breakfast. Plus they throw in a quesadilla de maiz made with tortillas hechas a mano, an unexpected put perfect accompaniment to a breakfast meal. I should mention this plate was only $6, that ought to make you sit up. My non-professional assessment is that it was pretty fucking delicious, I briefly considered licking the plate but I controlled myself since I was amongst the mannered public. Damn them.
My companion had the oddly named "Indios al Balcon" which are basically the nopales con huevos. Notice again the side of quesadilla, what a great idea. This plate also got a thumbs up. Out of the pic, a basket of warm handmade tortillas.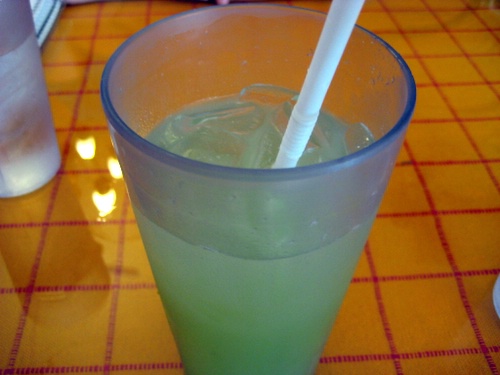 Agua de pepino (cucumber) is an often overlooked agua but it's one of the most refreshing ones you'd be lucky to find. El Huarachito usually has a great version of it, but the folks here at La Tia upped the ante by combining it with melon (which I assume is honeydew) for an amazingly perfect beverage.
We also ordered the guacamole as an appetizer which was overpriced at $6 and came after we got our main plates. And it needed salt, which is easy enough to fix. Once we were on the road we realized that we were accidentally overcharged about $3 for our meal, it happens. Nonetheless, I highly recommend you check this place out, they certainly care about the food they serve.
Moles La Tia 323.263.7842
4619 E. Cesar Chavez Ave
Los Angeles, CA 90022
www.moleslatia.com
PS. Here's a pic of their mole list, sorry if it's hard to decipher. You can have the moles over baby cows, Bambi, or Patos, that's kinda unique but I still say boo, hiss to all that, let the animalitos go!