I was going to go to the SiteLA's (SiteLA is a Quicksilver marketing campaign) Heya party on Friday, August 22nd.
The transportation event sponsored by Toyota??!!!! I know. How could I NOT comment on that? How can I NOT make fun of SiteLA (I've got nothing to lose I'm not in Quicksilver's demographic. Black girls don't surf.) I think it's fab that inspired people who are getting nonunion wages to make a very long commercial are doing inspiring things, but come on.
On Friday evening I was going there to make fun of the "random" coolness (and get free beer,) but then I got an email with a bit from Tina Dupuy.
Tina's writing on the SiteLA topic had gone way above and beyond what I could now do and since I'm not a hack, I decided to give it a miss.
I will just link and send her article anytime someone brings up SiteLA and how I'm "really" missing out.
I wanted to feel something real this weekend, so I decided to go The Southern California Library in South Central. They were having a book sale. I thought it was going to be the normal book sale, you know lots of old weird guys and crappy books, but no this was the best book sale ever.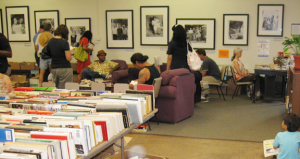 I took the Metro 204 to get there.
There was a DJ, fruit, limeade and one of the best book collections on urban development, ethnicity, ethnography, transportation, Los Angeles and just many other topics that I'm very in to.
It was an endless supply of books.
It's times like this I wish I had a bike trailer.
One gem of a book I picked up with "Los Angeles" by Morrow Mayo. At the time this book was released you could tell it was a big deal. The publisher was Alfred A Knopf and the author, Morrow Mayo was getting regularly published by Harpers and the Nation in the 1930s.
I assumed that for his time, he was a pretty liberal guy.
I was shocked with the sentiments of this book. A book written by a progressive. BusTard (my partner in crime) began reading it on the bus and got a bit nervous and put it away.
"What the hell is wrong with you," me.
"I can't talk about it now," BusTard.
"Is there something wrong with the book? It's very beautiful," me.
We had unknowingly purchased a piece of racist LA literature (but still informative.)
How were more "conservative" people thinking, if this guy was liberal? I guess I could ask. Some of those people are still alive and making policy. Ok maybe not (that sounded pretty dramatic though.) Not many 100 year olds making policy, but they may have been alive 15 years ago.
From the chapter, Enter the Gringo:
(People who decorate their writing with sarcasm should probably note that this Mayo guy pretty much invented no depth LA sarcasm, note the no depth line.)
Mayo in referring to the people who first lived in LA before white people came.
"These petit Asiatics, nested on the ground. They subsisted mainly on acorns coyotes, snakes, grasshoppers, and grub worms. When they ran, they galloped. They had no writing and no hieroglyphics; they sowed not, neither did they herd. A hundred unintelligible "ooh-ahs" comprised the whole vocabulary of the Shakespeare among them. Their few simply artifacts, on exhibition today at the Southwest Museums, were all of the Stone Age!" (page 16)
This passage pretty much states the people were too stupid to farm and too stupid to come up with a language, nice…in his prologue he actually comes right out and calls the indigenous people of LA stupid.
Now while this person may have been being sarcastic and may have been liberal for his time do you think this individual viewed descendants of these people as his equals?
Hipster racism was created in the early 20th century by artists and writers who were trying to help, scary. I guess people of color had (or have) two choices as roles; a tool or a lap dog, which is the better option?
"A lap dog. Definitely a lap dog." BusTard, white guy.
The first newspaper, in the Los Angeles that we (or rather I) know, was the Star.
It was printed in English and Spanish. And back in the late 19th century San Francisco hated us (LA) just as much then as they do now and pretty much for the same reasons. Though now they pretend it is for more lofty do-gooder reasons.
"I am settled in the conviction that unless we succeed in being detached, the time will soon come when our feeble voice will become eternally silenced by an unnatural, unhappy, unprofitable, damnable and irrevocable…" People of San Francisco (of the Herald to be exact) went on to say, "A large proportion of them (Latinos) are so exceedingly dark complexioned that it requires an expert to detect the difference between them and the Indians, and they are but little removed from the black race." (page 32)
Nice. This isn't the author's attitude. This is just how it was.
Mayo is actually showing a part of LA that I always knew existed, but the proof of it was hard to come by. This book hasn't been reprinted I want to know why. I think the why has a lot to do with people trying to hide the truth.
I think this is why I have problems with SiteLA and marketing companies, because they try to hide the truth or change reality into something that is not real. They want to the truth to be easy to sell.
I like print, because you can't erase it. In the world of online you can just click a button and you can erase the truth for the average person. The average person just assumes what they put into Google is the end all be all. There isn't any chance of stumbling upon what you don't know exists.
I hate marketing companies masquerading as blogs, art collectives and random thoughts of any kind.
Marketing isn't art.
Morrow Mayo –
– Los Angeles, it should be understood, is not a mere city. On the contrary, it is, and has been since 1888, a commodity; something to be advertised and sold to the people of the United States like automobiles, cigarettes and mouth wash.