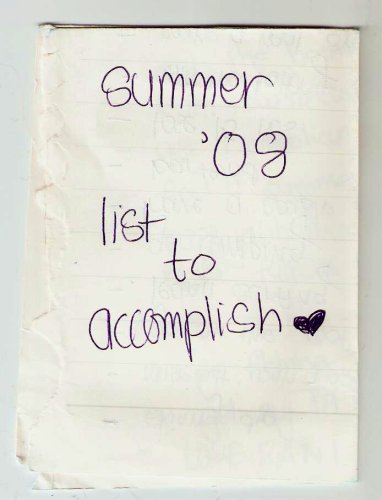 "Summer '08, List to Accomplish" a short novel by Fulana DeTal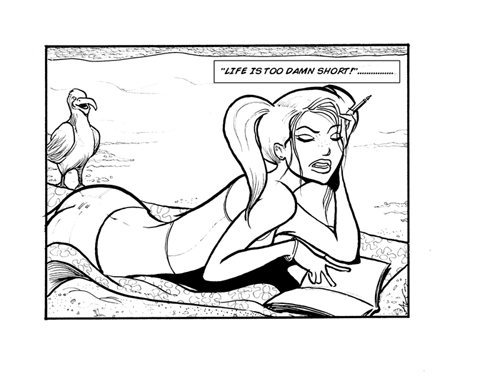 It was already July, and I could tell that this summer could suck like all the rest unless I put my mind to some serious changes in my life. I rolled out of bed despite my ass begging to stay put, and threw what I could grab into my purse. I had two bus tokens left and two minutes left on my cell phone. 2+2=4. 4 means the #4 bus westbound bus. I was going to the beach!Two hours later I was feeling the hot sand of Santa Monica scorch my toes. I sat on my towel, pulled out a notebook and made a list titled: "Summer '08, List to Accomplish". The salty breeze felt good on my face as I looked up at the blue sky, the waves looked like little hills looking to be climbed. I had a sudden urge to swim. Reality slapped me down. I had neglected to pack a swimsuit. I looked down at my list." Life is too damn short", I said aloud. A skip and a splash later and I was neck deep in green, salty water, naked as a fish. I was so happy with myself, giggling uncontrollably as I made my way back to the beach. Wrapping myself up in my towel I was basking in the thrill of my impromptu Skinny Dip, when a smooth male voice next to me whispered: "Hola, Quieres Cojer?"
I turned to face him, he was cute, but he deserved the bitch slap I was about to inflict upon his disrespectful ass. As I raised my hand, he suddenly went soft, "No, no", he stuttered, "Dije COMER, traes hambre?" I realized the salt water in my ears had impaired my hearing as I looked down and discovered he was holding a to-go box from "Pollo Campero" and he was actually inviting me to join him for lunch. I smiled at him my sweetest smile and we sat there and chatted for who knows how long. His name was Rani. "Ya es tarde", he said, "Yeah, It's getting dark", I replied.
"Do you have to go now?" he asked. "No". He excused himself, and returned shortly with two paper bags. He handed one to me, then touched his to mine.
"Salud!" he smiled, as we took long cold drinks of Corona.
It must have been close to midnight when I remember coming up for air and
drifting into consciousness, back from the dreamworld of his passionate kisses. We were still on the beach, alone now, save for the pounding surf and the encroaching sand fleas. "I have a house on the beach, we could go there", he said invitingly. (Later I found out that he was actually a day laborer working on a beach house while the owner was away, but why spoil the mood). I picked up my things as he took my hand.
The next morning, I woke up and found him standing over me. "Mira, look what I've got for you". I gasped as he pulled out a long beautiful surfboard. That morning he taught me how to use it. Later, as we sunbathed on the roof of the house, he suggested, "Oye, let's have a party on the beach tonight". "Orale!" I squealed.
He had invited some Paisas over, and that night we lit a couple of bonfires and huddled around like we were camping. The party got good and I played the bartender for a while. We played spin the bottle and I got hooked up with some blond beach bum that crashed our little Pachanga.
"Hello, I'm Matthew", he slurred. "Oh My God", I said to myself, it's Goddam Matthew McConaughey, the actor, Holy Shit!" "Listen, he said, my casting director is looking for somebody just like you, have you done any acting before? Are you SAG? Are you free for about six weeks?" I was on Cloud-9. My mind could not handle it, I jumped up, threw all my clothes off and shrieked, "Let's Skinny Dip!"
Minutes later, everyone was naked and dripping wet by the bonfires, Matthew came face to face with me and looked deep into my eyes. "I'll need you on the set at 6:00 a.m. tomorrow morning, can you make it?", I nodded. "Can you get a new dress?" again, I nodded. "One more thing, are you sitting on a bear cub?" puzzled I answered, …"No", "Then get a Brazilian", he barked. "Do you need some cash?, Drugs?, a place to stay?, just call me" he added as he gave me his card. It sounded like the ol' "Champagne Trick" but what the heck.
My mind sailed in away in the land of fantasy and I thought I saw a bunch of guys dancing on the beach. They seem to be floating on the sand. They took my hand and I thought, ""This can't be happening, this is the JabbawockeeZ crew, I'm dancing with the JabbaWockeez crew"….. "No!" I cried, I have to go! I have an audition in the morning!" As I began to run, I could hear Rani somewhere calling my name. "Fulana! Fulana!". But I couldn't stop "Goodbye, Rani1", I cried out, "You will always be my summer love!" I kept running. My future depended on it. At the bus stop, a little man was selling Donuts and Lotto tickets.
I bought one plain glazed and one Quick-Pick. I fucking won $350,000. Right then and there. Just like that. It seemed like I arrived in Echo Park in a matter of minutes. Time flew like a Pedos in the wind. The Sun was coming up, and little golden ripples appeared on Echo Park Lake, not a single lotus blossom in sight. I stopped near the edge where a tweeker was fishing. "Here", he said, and he handed me his fishing pole and lit a cigarette. "Do you want a tattoo? I do tattoos.", I looked at him for a long moment. "Sure", I said. "Write 'Rani" on my left Nalga".
A few days later, I was having Huevos Rancheros at a little dive in Lincoln Heights. I was a rich movie star now, but I still liked to keep it real. Digging through my purse for a big tip, I discovered my "Summer of '08 List to Accomplish". I laughed and laughed again. I walked out and tossed my list to the wind. "Mission Accomplished", I yelled out. I got into my Escalade and drove off. As I looked in the rear view mirror, I noticed a weird, tallish, vegetarian looking dude in a plaid shirt stop and pick up my old list from the pavement.