Going down the street of my neighborhood is a daily routine. I skate/walk up and down everyday whether I'm coming/going to work or I'm on another of my misbegotten adventures in L.A. Everyday I see the same cars and houses and everything is pretty routine and bland.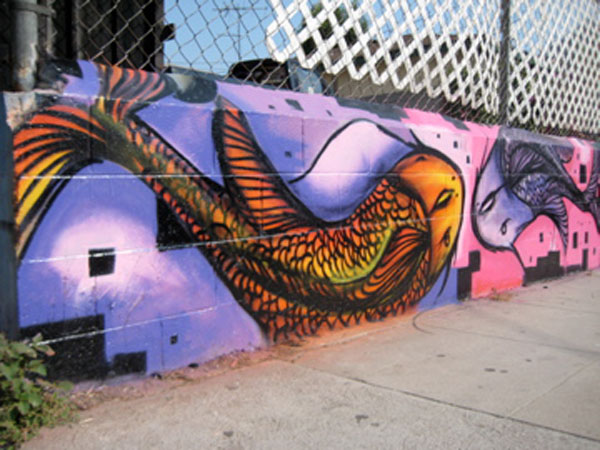 Needless to say I was surprised the other day when I say two talented graffiti artist taking up their spray cans to paint something across the street from where I live. The bright colors and beautiful koi fish swimming on the wall seem out of place, but they are welcomed over tagging any day.
I noticed the two artist working on it two days ago and waited for them to finish their piece before I talked to them. Part of the reason was because I didn't want them to think I was some cholo hitting them up for writing in their barrio. They're not part of a crew or anything, they just wanted to bring art to the neighborhood. While I was watching them work I talked to them and the home owner and asked them why ? I asked this question because it struck me as odd that graffiti art would be found this close to homes and that it was the the owners idea. The home owner said that she likes that kind art, "una palabra que falta en mi vocabolario…arte." She's seen it all around and here son is proficient in this style of art, which is why she asked him and his friend to do paint something. The idea to paint koi fish was because they love them.
Her family recently moved from Echo Park, where they lived there for 14 years, to Boyle Heights a few months ago. They moved because they couldn't afford to pay rent at the house they lived in…cough…gentrification…cough.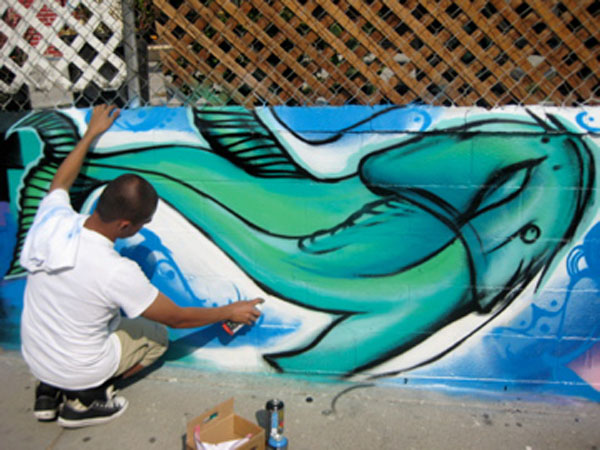 She said that art like the one on the wall should be seen more often rather than tags or gang writing on the wall. I asked her about it getting white washed or tagged on and she said that she hopes that others will leave it alone in good faith and respect for the work her son and his friend put in to it. I also realized that was the first time I ever talked to my new neighbor since moving in. We're all so self involved in our lives that sometimes we can't even stop and say hi to our neighbors. Now, whenever I see them pass by I wave and say hello or ask how their day is going. Suddenly, I feel like signing the Mr. Rogers song. "Won't you be my neighbor ?"