I was cruising along Soto earlier today, crossing my fingers that the Chavo-mobile wouldn't panic at the slight incline coming up ahead and throw me off yet again, when all of a sudden I see the sign above. The Tequila Warehouse was interesting enough but the smaller type that reads "Over 450 Beers In Stock" was the clincher. Could it really be? In Boyle Heights? Alto burrito, vamos a ver! I tied Rucio to a post and went inside…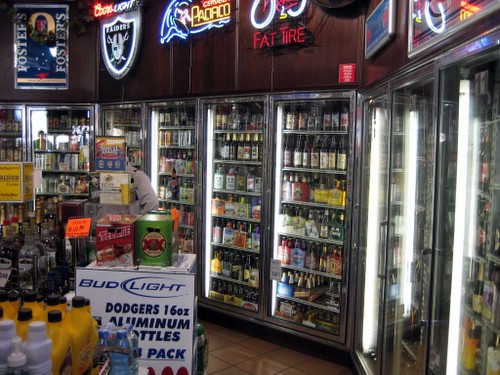 Whoa. I half expected to see mostly different sized bottles of the usual American Lagers that account for the bulk of beer shelf space on the Eastside but a quick glance proved that to be wrong. Yup, they have real beers. I didn't bother to count out the 450 but I'll take their word.
Belgian Ales and even Lambics, that's pretty amazing. I used to visit this shop many years ago when it was a conventional liquor store, but I like this version much better.
The last time I saw Tetley's in a can was on the tube in London, where a young English mother and her boyfriend were joyfully drinking and talking and laughing, no doubt due to the stash of cans they had in the baby stroller. It was a nice break from the usual pin drop silence on the Underground. Sadly, that practice was recently banned. I suppose once the Eastside Metro extension opens up I might get to see that again. Bring your paper bags ladies!
Revolution is intoxicating! I'm all for generalized overthrows but since I'm not a fan of hierarchies I refuse to drink this Che Beer swill. Now Anti-State Ale, that's another story.
Ramirez Liquor is known for their impressive collection of Tequilas, they even had a nice write up in the LA Times. I'll have to take a closer look at that wall next time.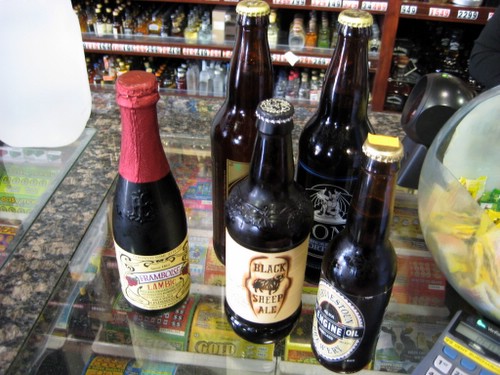 This was my loot for the day. The total came out to around $22, which was very reasonable for these beers. I got a business card from the friendly staff, and I was on my way.
Next time you're in Boyle Heights, make sure to check out the beer selection at Ramirez Liquor. I gave a palm full of Old Engine Oil to my donkey and he seemed to like the stuff, it certainly helped lubricate the old bag of bones.
Ramirez Liquor 323.261.2915
736 S. Soto St
Los Angeles, CA 90023