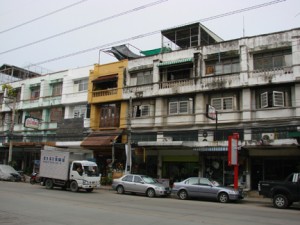 For the last two weeks I have been in Thailand and although this post is not about Los Angeles it still has the west invasion of the east flavor. Yesterday I was taken to Pattaya, a major beach resort and sex holiday destination for many Europeans and Americans but we were there to have tea with a friend. Our Pattaya colleague suggested we take a quick walk down the street to a gallery.
Walked in and was introduced to a retired British ex-patriot watercolor artist who had been in Thailand for six years and opened a gallery. The last two weeks I have been living in Bang Saen in a faculty condominum at Burapha University so i haven't had much interaction with westerners and certainly not the stereotypical ex-pat. Whizzed through the gallery and headed outside.
After snapping the above photo I thought it might be a good opportunity to ask the British fellow some questions.
(In case you didn't spot the 'upgraded townhouse in the long shot here is a close up – wonder who owns this)
I asked him what was the population of Pattaya and what portion of the population was ex-pats. His reply was Thais don't buy art, aahh ok. I told him I was not interested in art sales but some statistics as I had just finished reading a call for art which he was one of the judges with a theme of globalization and referencing ex-pat issues. He said he did not know the numbers but it was a big city with it's own mayor. A look through the Lonely Planet guide listed the population of Pattaya as 80,000 pretty small by Los Angeles standards. So all of this seems like no big deal but what really blew me away was his comment that there are lots of ex-pat living in Pattaya from all over the world. He said lots of Laotians and Cambodians come to the city for the sex trade or as day laborers. Hardly the same as an old, white British dude retiring from his gaming career and opening up a gallery. Didn't quite convey the thought in that way but did tell him I would not consider them ex-patriots. This put a bit of a damper on the social component of the visit.
We left and as we walked out a very large truck full of what could only be ex-pat construction workers drove by – too fast for me to snap a photo. We headed to the beach through the 'red light district". Lots of young men and women calling out to my male counterparts as to how handsome they were. Most of the bars were filled with old white dudes chatting it up with young Cambodian and Laotian "ex-pats."
Turning the corner I spotted this sign…