I visited council member Jose Huizars Boyle Heights office to talk about the memorial site and other issues around the neighborhood. Celina Mancia, a field deputy for the council member informed me that the site has been brought to their attention and they are taking the needed steps to clean up the site. She didn't go into details when I asked her what those steps are. It's the nature of the beast that they have to go through procedures and steps to make something happen and it's understandable that the process will take sometime. However, the process can be sped up the more people call in or visit the office to ask about the site and what's being done about it. If you read the post and want to do something like I do, call the Boyle Heights office or pay them a visit and inquire about the site.
I'm sure they'll tell you the same thing they told me, but by just calling you'll be letting them know that more and more people are actually upset about the sites condition thereby speeding up the process and making it one of their priorities. I also talked to Mancia about a cross walk on Fremont and Cesar Chavez near the Evergreen cemetery. I use this cross walk when walking my dogs. I have to use extreme caution at this cross walk because all the cars passing by don't slow down or even stop when I'm trying to get across. This is the same problem that was plaguing another cross walk on Fickett and Cesar Chavez. It took a petition and numerous people getting hit by cars to get a signal light put at that intersection. I myself saw a 10 year old boy get hit by a car right in front on me while trying to cross on his bike. When I brought up the cross walk issue up to her, she said that she will make public works aware of the issue, conduct test and figure out how to go about fixing the problem. A signal light or a smart cross walk were some ideas we talked about. Also I told them about some street signs with graffiti on them. 
I blurred the tagging to deny them any glory or attention. How did they get up there in the first place ?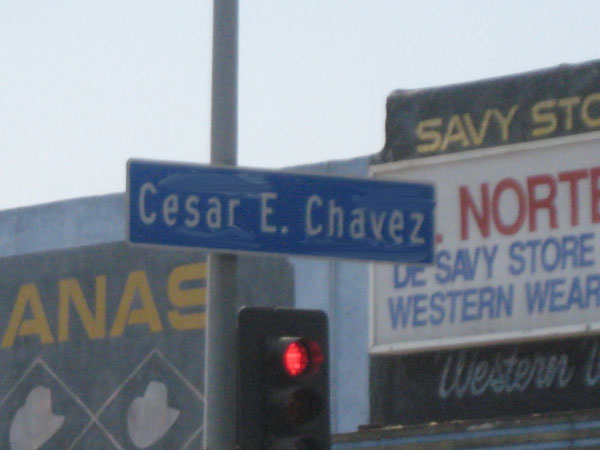 They assured me that the proper agency again will be notified and the problem will be addressed, in due time of course. That's why I'm going to be calling and/or visiting them at least once a week. I have a neighbor who gave me some advice as to how to go about getting things done. He would know because he's been doing it for quite some time now. I'll keep posting updates as progress is made, but for now please feel free to contact them and inquire about the site, graffiti or any other issues affecting your neighborhood. 
Location & Contact Numbers
City Hall
200 N. Spring Street, Room 465
Los Angeles, CA 90012
Phone: (213) 473-7014
Fax: (213) 847-0680
Boyle Heights
Meet with the Councilmember one-on-one, by appointment. Office Hours: First Thursday of Every Month 2pm-5pm
2130 E. First Street, Suite 202
Los Angeles, CA 90033
Phone: (323) 526-3059
Fax: (323) 526-3066
Northeast/Eagle Rock
Meet with the Councilmember one-on-one, by appointment. Office Hours: Second Thursday of Every Month 2pm-5pm
2035 Colorado Boulevard
Los Angeles, CA 90041
Phone: (323) 254-5295
Fax: (213) 485-8788
El Sereno
Meet with the Councilmember one-on-one, by appointment. Office Hours: Third Thursday of Every Month 2pm-5pm

4927 East Huntington Drive North, Suite 100
Los Angeles, CA 90032
Phone: (323) 226-1646
Fax: (323) 226-1644Â Â