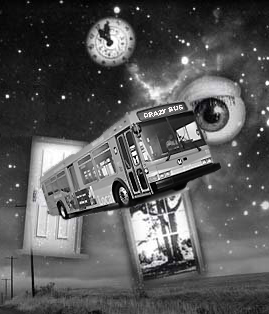 Riding the bus can be an interesting human experiment. A wide range of characters are obliged to inhabit and coexist in a confined space for a period of time, often with various degrees of harmony. But there is also an interesting dynamic that starts from the moment you enter this vessel of suspended discord.
As a passenger you are aware of your own space, but you also become aware of an organic, collective consciousness that embodies every rider onboard. For example, most passengers sit, presumably minding their own business, absorbed in their own worlds, yet, as soon as the one Crazy Person starts yelling, there is an instant group awareness and a tension that clicks on, heartbeats pound and sphincters contract. This is usually followed by a collective sigh of relief when the Crazy Person finally exits the bus, or the otherwise prolonged agony of being a prisoner on the bus ride to Hell. Also in the mix are the riders who seem oblivious to anything around them and those who seem to exist in a parallel universe altogether. It's almost fun to sit and imagine the personalities that lurk within your fellow passengers.
I'm the type that likes to jump on, pay quickly, and stumble as fast as possible to an empty seat. (I've got my "Bus Legs", meaning I can stand and walk while the bus is in motion- it's kind of like surfing)  and I'll usually read, look out the window, or if I'm feeling safe, I'll bust out the iPod. I'll move towards the exit when my stop is coming up and I'll hold the door open for anyone behind me. Once on solid ground I get out my handy bottle of Purell, (never leave home without it!) and slather my hands with it like the paranoid germaphobe maniac that I am. That's how I roll. Over time, in my bus riding experiences, I've noticed that there are many other types of bus riders and I've created a short list of types I've encountered,…
 Which best describes YOU?
When your bus arrives, you try to jump onboard before letting any passengers exit?
Counts out 125 pennies into the fare box?
Sits in the senior citizen/disabled seats and refuses to move?
Puts their belonging on the empty seat next to them to keep anyone else away?
Boards carrying impossibly large packages and squeezes into a tiny space between other passengers?
Sits completely defensive & tense and perceives everyone to be potential murderers, theives and rapists?
Sits way in the back with the taggers, weirdos and sociopaths?
Tries to board the bus by the rear door?
While riding Metro Station escalators, do you stand smack in the middle so that anyone else behind you who might be in a hurry cannot get by?
Holds loud, annoying conversations on their cell phone?
Throw the F Bomb loudly across the bus to your buddies?
Sprawl your legs across the aisles or onto other seats?
Have you ever been thrown off a bus?
Have your headphones on while singing aloud?
Have NO headphones on while singing aloud?
Think people conversing in foreign languages are talking about you?
Yes, bus riding in L.A. can have some rough edges at times, but once you adapt to it and make it work for your needs, you can't beat it. I know that the thought of actually being in close contact with real people, especially the dodgy ones, fills many reluctant bus riders with dread and keeps them in their cars, but hey, this city is filled with many strange and beautiful people and I for one, am willing to share my bus riding space with anyone willing to share it with me. It's the real world and I want to live in it just like it is. I can't imagine being a resident here in Los Angeles and living in a bubble.
Although, I must say that I'm very glad I don't happen to ride the bus in the African Congo where I'd have to worry about losing more than my IPod as you can see from this excerpt of a true account published recently in Harper's Magazine.
 
Penis Thieves of the Congo
"Wasiu, Bad Teeth told me, had gotten on the bus and sat down next to this woman. He didn't have a watch, so he asked her what time it was. She didn't know. Then the conductor came around and asked her for her fare. She didn't have that either. As she stood up to get out of the bus, she bumped into Wasiu.
 "Then," he said, "Wasiu Karimu felt something happen in his body. Something not right. And he checked and his thing was gone."
"Was it gone," I asked, "or was it shrinking?"
 "Shrinking! Shrinking! It was getting smaller."
And as he felt his penis shrink, Wasiu Karimu screamed and demanded the woman put his penis back. The conductor told them both to get off the bus, and a crowd closed in on the accused, not doubting for an instant that the woman could do such a thing. But as soon as she saw trouble coming, Bad Teeth said, she replaced Wasiu's manhood, so when the police took him down to the station, they thought he was lying and arrested him instead.
 
http://harpers.org/archive/2008/06/0082063