The shared protests of the Sandow Birk mural that will not be installed at the new Hollenbeck Station, as LA Eastside noted. Now according to Eastside Group Publications (EGP), both residents and LAPD's Hollenbeck Division want to know why the Department of Cultural Affairs chose Birk, and why the community was excluded from the selection process of qualified artists.
"Typically the process does not involves members of the community," said Felicia Filer, Public Arts Director for the Department of Cultural Affairs, at a community meeting held last week.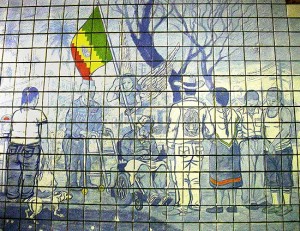 EGP reports the process began in 2002 when  Cultural Affairs and the developers for the new Hollenbeck Police Station discussed the scope of the project.   In standard operating art procedure, 5,000 bid applications were mailed to artists,  then 156 applications were reviewed before Birk was awarded the project. After a series of approval stages in front of City Council, Cultural Affairs, that also included meetings with the Boyle Heights Neighborhood Council, concerns were raised and according to EGP, were addressed before seeking approval from The Los Angeles Public Art Commission.
After months of public outcry, last weeks meeting was no surprise.  EGP writes on the responses:
"Your process is flawed," said community activist Monica Harmon. "You insulted and disrespected this community [Boyle Heights]. But this community is proud and I don't believe a single word the artist has said," Harmon said, referring to Birk's written statement read during the meeting. The artist did not attend the meeting because he was out of the country, according to Cultural Affairs.
"I find it perplexing to see and hear comments now that this project was realized without listening to the community or the police, especially coming from Hollenbeck, whose officers were consulted at length and whose requests were honored," writes Birk, who added he is confused by some of the comments regarding his artistic intentions and interpretations of the work.
<snip>
Hollenbeck Station's new police captain, Tina Nieto, said she supports the community and won't allow the mural to be installed as is at the station.
EGP also reports that District 14's Huizar plans to meet with Cultural Affairs and stated "It's unfair to waste $195,000 and not have a cultural component in the community. " he said, adding  "Boyle Heights has an enormous history and a brilliant future, this mural does not reflect that aspect. It has a gloomy feeling."
For those who know Birk's work, it is not far from what he's done before. Supporters of the mural include LA Eastside publisher El Chavo who wrote:
"It seems that when ignored communities get some attention they want it to be only "positive" or boosterism, as a sort of balance against the bad news of shootings and crimes that tends to be the main form of coverage. You need to have them both in order for it to be real, and from the little I've seen of the design and the description, I think this mural would have worked well in portraying the community. No doubt something safe and boring will be going up instead.
In this case, it may be a matter of a sensitive location, an outpost of distrust for some, requires a certain message.  It does bring up the question; Is the purpose of today's mural only  to represent a community as they see themselves? Just what is it suppose to say?