The first time I saw paintings from Cheech Marins collection was in April of last year at the Pico House. Up until that point I had never seen a collection of art that not only represented what I saw and recognized in my daily life, but it also made me appreciate and be proud of my culture and heritage.
Los Angelinos/Chicanos of L.A. : Selections from the Cheech Marin Collection features some of the best pieces in his collection and is now on display for the public at Los Angeles County Museum of County Art. To coincide with the exhibit, Marin and UCLA Professor and LACMA adjunct curator Chon Noriega participated in a discussion yesterday about his collection and the place Chicano art has now and in history.
The discussion touched on the impact the traveling exhibit has had in other states by breaking various attendance records at museums and galleries and also by gaining momentum and recognition. Marin explained how he started his collection in the '80s buying are whenever he could and even working and getting paid in paintings. After buying a few pieces, he noticed that the painters not only had the artistic and technical talent for painting but also "depicted the Chicano experience through all genres giving others a feeling of what it's like to be Chicano," said Marin. Chicano art wasn't considered to be on the same level as "mainstream art," which allowed Marin to purchase original masterpieces rather than reproductions building on his collection as he travelled for work.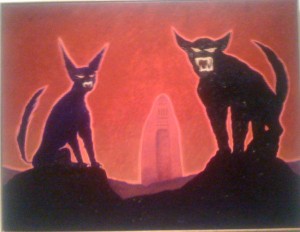 He also noticed the unfair balance Chicano art faced so Marin used his celebrity to raise awareness on the art and showcasing it where ever he could. He said the reason for this was because he knew Chicano art would have never been recognized. Three generations of art could have vanished like nothing, like it never even existed and that was something Marin helped prevent. Marin also commented on the fact that two Chicano art exhibits are on display at the same time at LACMA, something he never though he would ever see, but it also proves that Chicano art is gaining notoriety in the art world.
Marin also discussed and explain some of the economic issues that go with producing his traveling art exhibit and the way the system works. He said that because at the time when he was trying to put the exhibit together, the art wasn't recognized or treated with respect like other mainstream art. Companies and galleries stereo typed Marin because of his acting career and didn't take him seriously. To counter negative and dismal views about his reputation, he let the art speak for itself. He also mentioned that part of the reason it was challenging to produce a Chicano exhibit is because there isn't enough Chicano philanthropy. The people who donate generously to museums and galleries are the people who have influence into what will be displayed. He wants people who can donate that kind of money to help improve schools by funding art programs and supporting local museums and galleries.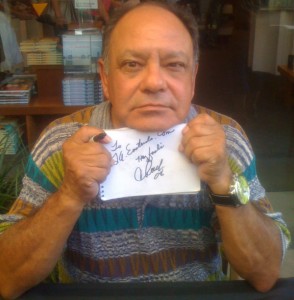 It really is a once in a life opportunity to see Chicano art from when it was starting out to what it has become now. I agree with Victoria in her post about another artist talk and her critic of the phantom sightings exhibit. Although it should be said that most of the artist in the phantom exhibit don't consider themselves Chicano. In fact, other artist that were asked to contribute passed because they didn't want to be labeled by their ethnicity. Another artist discussion will be held on Sunday June 29 at 2 p.m. with Chaz Bajorquez and Vincent Valdez, two artist in the Marin exhibit. One new addition to the exhibit is a brand new work by Valdez. (second image from top) The piece was inspired by the may day riots of last year and was commissioned by LACMA. The last day to see phantom sightings is September 1 and the Marin collection will be up through November 2. Admission is free every second Tuesday after 5 p.m.