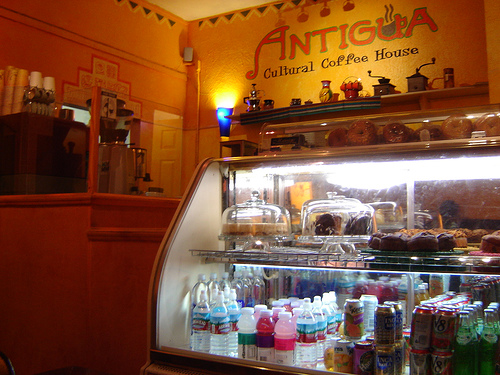 Sigh.
First Tía Chucha's Centro Cultural and Bookstore was booted from it's original location in San Fernando. The space is now reportedly a laundromat.
Now, Antigua Cultural Coffee House will close the doors of its El Sereno location. They're "getting evicted or just simply not being granted a contract extension." In three weeks they'll be gone… but never fear, their Cypress Park location will open later this summer.
Yancey, co-owner of Antigua, calls his coffee shop "the envy of the West side." I can't argue with that as evidenced by my reaction after my first visit in August 2006. Since then, I've found a coffee shop in Culver City where the owner notices when I haven't visited in a while. It's cool, but it's no Antigua.
I visited Antigua a few weeks ago for a monthly meet up with fellow Latin@ bloggers. The meetings are a fun time to just catch up, support independent small businesses on the Eastside and talk about current issues. The next gathering will be at Antigua on Wednesday June 18th at 7 pm. For more info, check out Eastside Scene.
If you've never been to Antigua or met a fellow blogger, you should stop by. I always leave the gatherings feeling that the trek from Westwood was well worth it.
Email announcement from Yancey, co-owner of Antigua after the jump.

I have good news and bad news, I'll start with the bad. We are getting evicted or just simply not being granted a contract extension, why? The property owners have decided they rather lease the complex to "another" group. "You have made this place into a happy socialist center"…and I quote was one of the comments from the property team. On the bright side, at least we're "Happy"…and for the "socialist" part I think they mean social, community and culture.

Either way, after 6 months of negotiating and shady false promises, they have decided to move along with another tenant. Really, there is nothing we can do but rant, kick and scream. I rather find solutions and respect the decision.

After all, Antigua Cultural Coffee House existed for 3 solid years and will resonate through Huntington Drive (Historic route 66) for the coming months, memories of this great community establishment will rise and shine throughout the day and night. We became the spot, the place where students and community members escaped their daily routine and network with others.

The home of hundreds of individuals who found a safe haven away from home. The perfect location to study and not fear being kick out by some maniac business owner, instead it was the place where you were acknowledged and praise.

The organizing center for immigrant rights, resource center for community events, meeting place, campaign semi head quarters for progressive candidates. Three student films where filmed on location and a pilot for HBO, LATV did a show here at Antigua! … Google Antigua Coffee House you'll see our accomplishments.

Poetry nights became comedy nights, somehow the dynamics intermingled to cause such an effect. The best darn gallery in El Sereno. The best and most beautiful customer base ever!

Antigua Cultural Coffee house became a household name, it was a destination. We were voted "Best" by some of the most acclaimed news agencies in the city, the envy of the West side, the pride and joy of the East side.

We are Antigua Cultural Coffee House. We should be incredibly proud of what we have built. We are the community leader of Specialty Coffee. And, believe me when I tell you, we are just getting started. We will overcome the difficult and humbling challenges we face, and will be stronger for it. You have my word on that.

We are the neighborhood entrepreneurial, we are the community service center, we are the conscious innovation, and we definitely reject the Status Quo.

We are the coffee that brings people together everyday to cultivate conversation and community.

WE ARE…. ANTIGUA CULTURAL COFFEE HOUSE…..

On a bright note, the Cypress Park store will finally open in the summer….I'll keep you posted on the date.

For the time being, our last weeks will be full of surprises and special guest musicians…

Lets celebrate the final countdown….we ask our hardcore customers to enjoy our last days and to spread the news to others. Three weeks left…..

-Yancey
Cross posted at Lotería Chicana