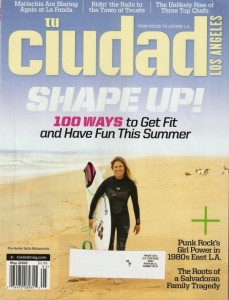 Tu Ciudad, May 2008. Never received the June issue.
According to LA Observed, Tu Ciudad, the magazine aimed at upwardly mobile "acculturated Latinos" (chuppies?) in Los Angeles has folded.
I have mixed feelings about the magazine's demise. In the magazine's first year, I really enjoyed the articles and their LA based coverage. Lately though, it seems like the writers and editors are all living in Brentwood or something because almost nothing in the magazine interests me. Each page was filled with mundane things I couldn't afford to buy and the articles were a bit boring. On the other hand, I did look forward to reading it for the occasional guest writer and because I enjoyed smirking and rolling my eyes at the people and businesses they were promoting. It was obvious they all ran in the same circles and worse yet, it seemed the staff rarely ventured over to the Eastside. I'm basing this assumption on their frequent exultations to Loteria Grill. There are at least four restaurants in Lincoln Heights alone better than that bland cuisine. Well, Tu Ciudad you made a decent attempt, but in the end I bid farewell to your good idea/bad execution magazine!
Anyone else shedding crocodile tears for Tu Ciudad?
Hmmm, I wonder what will happen with my subscription?