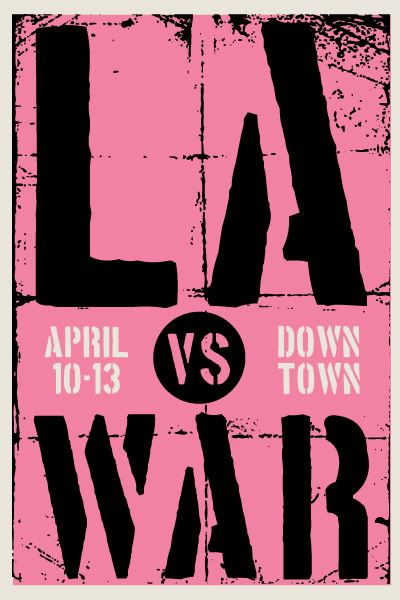 Salutations, LA Eastside readers!
LA VS WAR begins tomorrow and its a great way to unite all kinds of Angelinos(though eastsiders will have a shorter commute).
Sure, some of this will be like preaching to choir but hopefully some new folkalinos will be inspired. Bring your kids, your abuelitos, tus primos, or just yourself. Its gonna be good timers!
Here's the most current event info:
DATES and TIMES:
THURSDAY APRIL 10TH – SUNDAY APRIL 13TH, 2008 | NOON-11PM
LOCATION:
THE FIREHOUSE
710 S. SANTA FE AVENUE
DOWNTOWN LOS ANGELES, CA 90021
ALL AGES | FREE!
NOW IS THE TIME FOR YOU TO JOIN THE REVOLUTION.
 
WE ARE INVITING EVERYONE TO ATTEND THE LANDMARK EVENT "LA VS WAR", ON APRIL 10TH-13TH IN DOWNTOWN LOS ANGELES. "LA VS WAR" FOCUSES ON THE TRAVESTY OF A SENSELESS WAR NOW ENTERING ITS SIXTH YEAR, AND GIVES LOS ANGELES ARTISTS A PLATFORM TO EXERCISE THEIR FREEDOM OF SPEECH. HUNDREDS OF ARTISTS REPRESENTING OUR DIVERSE COMMUNITIES UNITE IN DELIVERING A UNIVERSAL MESSAGE OF PEACE AND UNDERSTANDING, AND OFFERING RESISTANCE AND OPPOSITION TO THE U.S. GOVERNMENT'S WAR POLICIES. HIGHLIGHTS OF THE FREE FOUR-DAY SHOW INCLUDE :
YO! WHAT HAPPENED TO PEACE?
THE LARGEST-TO-DATE EXHIBIT OF THE TOURING PRO-PEACE/ANTI-WAR POSTER EXHIBITION CURATED BY JOHN CARR.
HIT+RUN
LIVE T-SHIRT PRINTING ON EACH OF THE FOUR DAYS, WITH EXCLUSIVE ARTWORK ON EACH DAY BY GEE VAUCHER (CRASS), KOFIE ONE, RESTITUTION PRESS, ABCNT, MEAR, MARK OF THE BEAST, ERIC DROOKER, AZUL 213, KAREN FIOROTO, AMBUSCH, 3D (MASSIVE ATTACK), ENIK, ANNIE MADISON, GRAPHONIC AND MORE. DON'T MISS YOUR CHANCE TO GET YOUR HANDS ON ONE OF THESE POWERFUL PROTEST TS. BRING YOUR OWN GARMENT TO GET SILKSCREENED BY THE CREW FOR FREE!
MARK OF THE BEAST
SITE-SPECIFIC INSTALLATION OF NEW CULTURE-JAMMED LOGO SPOOFS… STICKING IT TO THE MAN HAS NEVER BEEN FUNNIER!
PEACE IN IRAQ PHOTO PROJECT
PROMOTING PEACE THROUGH AUDIENCE PARTICIPATION. GET YOUR PICTURE TAKEN AND JOIN THE MOVEMENT!
CREWEST GRAFFITI & STENCIL GARDEN
GRAFFITI ARTIST NETWORK UNITES FOR A LIVE EXHIBITION OF SPRAY PAINT ART. SPECIAL PERFORMANCE ON SATURDAY BY "UNIFICATION THEORY" FEATURING MAN ONE, OVERTON LOYD, GUSTAVO ALBERTO GARCIA VACA, FAVI RODRIGUEZ, VYAL, RITZY PERIWINKLE AND MORE!
UNIVERSAL PEACE ALTAR
A MEMORIAL TO LIVES LOST IN THE WAR BY OFELIA ESPARZA & SHRINE.
CENTER FOR THE STUDY OF POLITICAL GRAPHICS (CSPG)
ANTI-WAR THEMED DISPLAY FROM AMERICA'S PREMIERE POLITICAL POSTER ARCHIVES FROM THE PAST 50 YEARS.
DUBLAB + ARTDONTSLEEP
BRING TOGETHER LA'S HOTTEST DJS INCLUDING J.ROCC, KUTMAH, NOBODY, B+, FROSTY, CARLOS NINO, FLYING LOTUS, JUN, JEREMY SOLE, ERIC COLEMAN, SACRED, LADY SHA, TOKS, DAM FUNK, ABCNT, ANDREW MEZA, MILES TACKETT, SAMIYAM, MATTHEWDAVID, VALTRON, TAKE, ANTHONY VALADEZ, VIKTER DUPLAIX, AL JACKSON, TY G, ALFRED HAWKINS, RAS G, VALIDA AND MORE!!
LOST FILM FEST
VIDEO AND FILM CELEBRATION OF CULTURE JAMMING AND ILLEGAL ART HOSTED BY VJ SCOTT BEIBIN.
* PLUS ARTWORK AND HANDMADE CREATIONS BY INDEPENDENT LOCAL ARTISTS, AS WELL AS LIGHT INSTALLATIONS AND PROJECTIONS BY TODD LAZER.