Throughout the line, it seems like the stations are getting closer to completion. You can't tell from this pic but those info signs at the Pico/Aliso station are lit up and they read "Mariachi Plaza, next stop" or something to that effect.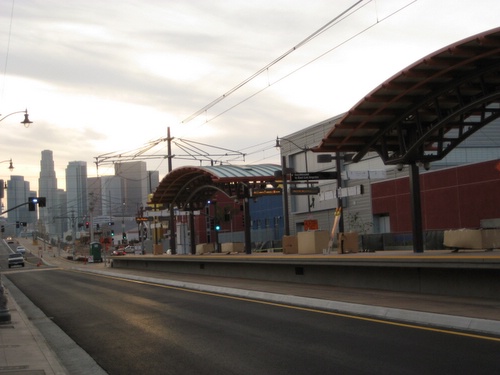 For some of us, Downtown (aka El Centro) lies west. East of Downtown = the Eastside. Really, not too hard a concept to understand. Unless yer some newbie to the city with a limited sense of geography.
One odd sign I've already noticed: the Eastside extension is a Southbound train! I'm sure this makes sense if you consider the part of the Gold line to Pasadena that goes North/South, but "Southbound to East Los Angeles" still seems a bit illogical.
Speaking of lack of logic, check out this google map which places East LA right in the middle of Mt. Washington. (Thanks to reader Graham for pointing this out!)