It's been a good while since I've done one of these. Come to think of it, I haven't really posted anything all summer. (I was too busy doing an internship) Well I'm slowly making my way back to bloggertitlan now that I have some extra time here and there. With that being said, there's a ton of great art shows and events happening this weekend that are worth a mention and a glance of your eyes. A lot of them people are already going to, but a little friendly reminder here and there doesn't hurt.
"The Forest Lawn Museum in Glendale presents "¡Adelante! Mexican American Artists: 1960s and Beyond,"a collection of works by an array of talented Mexican American artists, many who helped forge the Chicano Art Movement that began in the 1960's, as well as a number of the new generation of artists.  This extraordinary exhibit includes paintings, drawings, sculpture, and photography.
Influential artists who are participating in the exhibit include Judith F. Baca; Benjamin Botello; David Rivas Botello; Joseph Botello; Joe Bravo; Barbara Carrasco; Lupe Duarte; Yami Duarte; Ofelia Esparza; Paul G. Fuentes; Lalo García; Margaret García; Deanna Gomez; Elysa Gomez; Ignacio Gomez; Imelda Gomez; Yolanda González; Jaime Guerrero; Roberto Gutiérrez; Wayne Healy; Sergio Hernandez; jaxiejax (Jacqueline Sanders); Leo Limón; David A. Lopez; Pola Lopez; Los de Abajo Printmaking Collective; Heriberto Luna; Frank Martinez; David J. Negrón; Antonio Pelayo; Steven Botello Rivera; Bill Robles; George Rodriguez; Frank Romero; Shizu Saldamando; Steve Santillan; August H. Santistevan; Maria "Frances" Santistevan; John C. Santistevan (1974 – 1993); Melly Trochez; Patssi Valdez; Mark Vallen; George Yepes; ZANlovesEastLA (Rosanna Esparza Ahrens). The exhibit will run from Friday, September 9, 2011, through Sunday, January 1, 2012.  Admission and parking are free. The Museum is closed Mondays.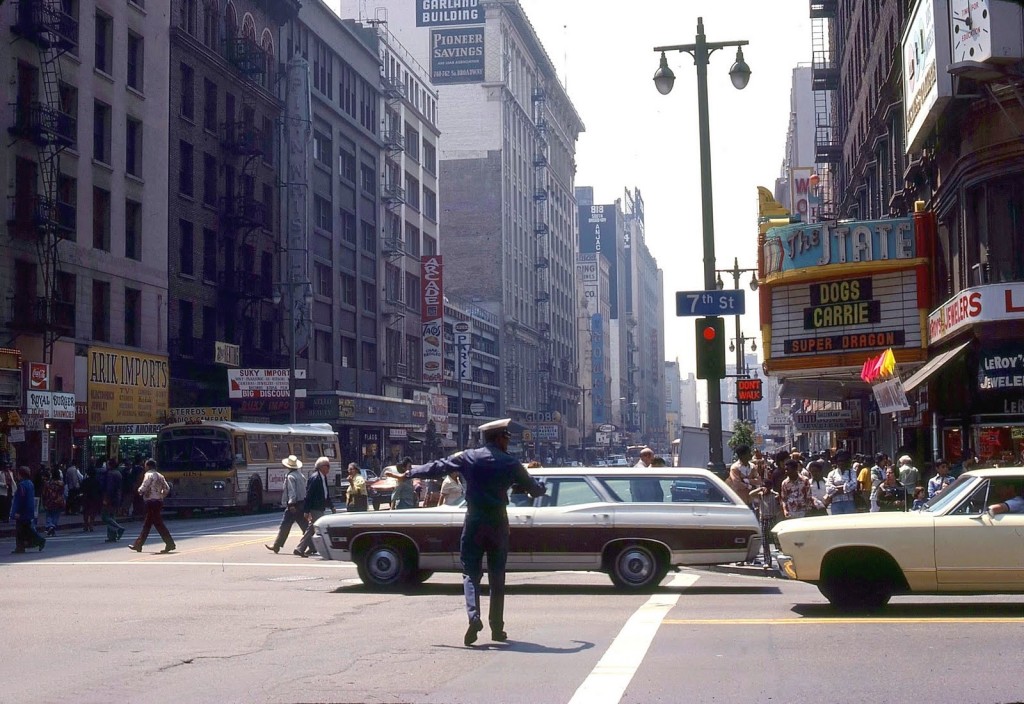 Historic Broadway sidewalk tours during the Downtown Art Walk.
Downtowners get another chance to visit Historic Broadway on Thursday, Sept. 8th, by participating in the Los Angeles Historic Theatre Foundation's sidewalk tours during the Downtown Art Walk. Participants will get to learn the stories of the largest collection of historic theaters outside of New York City and discover the secrets of the 1913 Morosco/Globe Theatre, now adaptively re-used as the 740 Club. Tours begin at 6:30,6:45 & 7:00 pm PROMPTLY from in front of the Tower Theatre at 8th and Broadway. And it's FREE! But donations to the LAHTF are accepted by the docents. THERE IS A LIMIT OF 50 PEOPLE AND IT IS DONE ON A FIRST COME FIRST SERVED BASES. Come join the LAHTF and learning about L.A.'s magnificent treasures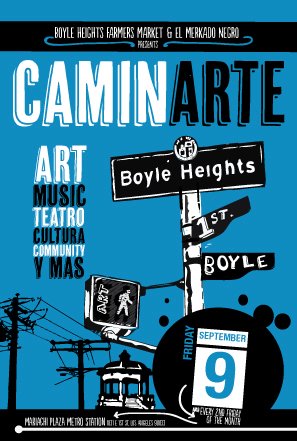 Join us every 2nd Friday of the month as we turn the Mariachi Plaza into an inter generational art gathering where artist can have a space to share, display and sell their artwork. Where community members can meet and greet, share and dialogue with artist as the aroma of food and the sound of music dance in the air. Friday, September 9, 2011 from 3 to 9:30pm at The Mariachi Plaza Metro Gold Line Station 1831 E 1st St, Los Angeles 90033
Featuring:
El Haru Kuroi
Chicano Batman
Mariachi Los Toros
The Union Station
Kristopher Escajeda
Spoken Word by: Evelyn Martinez AND Daniel "Grasshopper"
Hosted by: Xavi Moreno of Los POets del Norte
Art Workshop by: Alfonso Aceves
Live Silkscreenig by: Nico Avina
And Like Always DJ LIBRE and LORD MESHLEE bringing it to ya Heavy Duty stylee

LIVE MUSIC BY:
EL HARU KUROI~
LA CHAMBA~
ONLY $5 Before 10:30p + Friday September 9th, 2011
@ The M-Bar Boyle Heights + 1846 1/2 1st LA, Ca 90033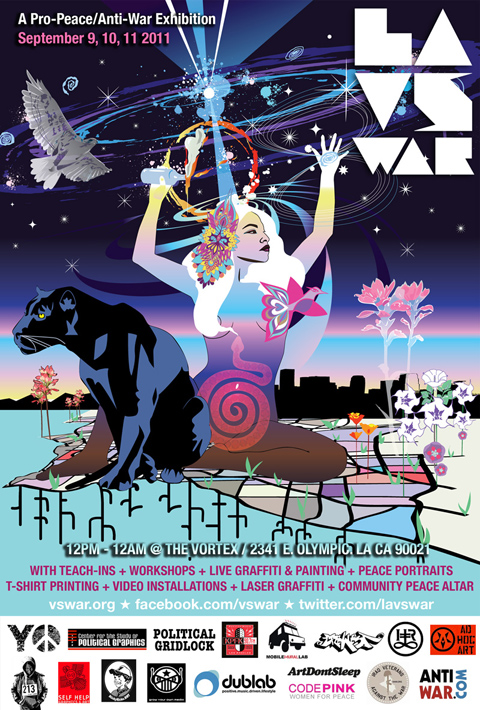 LA Vs. WAR II will mark the 10th anniversary of the September 11 2001 attacks with a massive group art exhibition and event taking place in Downtown LA from 9/9/11 to 9/11/11. Artists from LA and beyond will examine the questions: After 10 years of the Global War on Terror, where do we now stand as a nation? Is the world a safer place? Where does the Peace movement go from here? Click here for the list of artist, teach ins, and other workshops happening over the weekend.