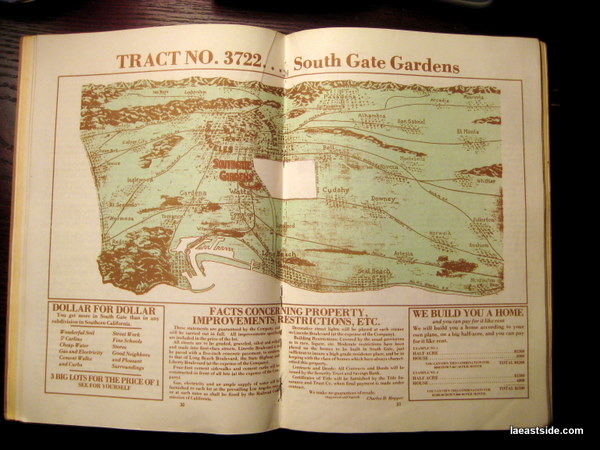 Click image to read the "building restrictions" reference to racial covenants

It's hard to imagine Los Angeles as it had been before we imposed this haphazard city upon it's landscape. The indigenous people of Los Angeles, the Tongva/Gabrielino (Great Chengiichngech! Which is the proper term?) had the right idea in regards to the local geography: small villages located near running bodies of water and plenty of nearby sustainable food sources, like wild greens, roots and acorns for foraging and small game like fish, deer and rabbits. Yes, they too altered their environment, but in a sustainable and harmonious way, what's sometimes called "paradise by design." I try to imagine this Los Angeles when traveling through my Lincoln Heights neighborhood (home to one of these original settlements): small villages surrounded by wild rambling vines of berries, meandering creeks and in the distance roaming bears scavenging and clawing up the rich clay soil while hunting for rodents. Unfortunately, the asphalt and concrete often suffocate my imagination and I abandon my daydreaming. Once in a great while though, my mind can conjure up the ghostly images of long-gone leafy green alisos and for a brief moment this supersedes the vista now taken up by beige stucco apartment buildings and car repair shops. I'm romantic like that.
I tried to use this same sense of imagination to see the southeast city of South Gate as the edenic, fertile plain described in the memorial booklet South Gate 1776-1976 a publication produced by the city of South Gate to commemorate their 1976 bicentennial. By the way, the 1976 date is a bit of a stretch, it commemorates European settlement. The official date for cityhood is 1918. Prior to 1864, the land had been part of Rancho San Antonio owned by Don Antonio Lugo (a mural depicting Lugo's Old Californio lifestyle can be found at 7141 Pacific Blvd. Huntington Park). Before Señor Lugo came riding in with his vast hordes of cattle, the area was called "Tibahagna" and "Ahau" by local indigenous people.

Even using my astounding powers of visualization, it's hard to imagine South Gate, this grid street city full of dusty industrial buildings, imposing power lines, cramped together cottages and never-ending thoroughfare traffic as a great silty flood plain yielding an extraordinary amount of fruits and vegetables on idyllic farms that stretched for as far as the eye could see. The farms didn't last too long though, the above South Gate Gardens promotional ad documents how they were slated to be replaced by housing developments for up and coming (white) middle class families to live with "wonderful soil, cheap water, gas and electricity, cement walks and curbs, street work, fine schools and stores, good neighbors and pleasant surroundings."
The city of South Gate is pretty familiar to me, my mother was a teacher at a local elementary school and I spent lots of time in the area including helping out at the graduation ceremonies. These chaotic parties were more like three ring circuses, in addition to helping keep the children focused enough to sing "Pin Pon es un mueñco hecho de carton…" I double-dutied as snack table security to keep señoras from filling baggies with take home food before everyone else got a chance to eat. Despite the fun and liveliness of these festivities and the charm of it's adorable children, South Gate did not impart an equally charming impression.  Perhaps it was the looming power lines that towered over the neighborhood on my drive home from the school often leaving me with a feeling of uneasiness, the density of everything or maybe it was because the conservative white folks that made up the majority of the residents until the early 1970s have been mostly replaced by conservative brown folks from Mexico (also notably from Cuba and Central America). However, doing this research has inspired me to look at this city with new eyes. Next time I head south, I'll remind myself the buzzing power lines supposedly don't cause cancer and somewhere down below the concrete is an edenic prairie, tainted by the toxins of a modern society, but rich in fertility nonetheless.
According to the commemorative booklet, the first house constructed in South Gate was the above Tope cottage at 8116 Commercial Place in 1917. Stucco, vinyl windows, decorative facade rock, and an imposing wall have obscured the original features of this historic residence.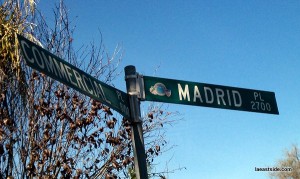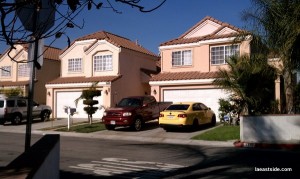 Maybe the current owners of the Tope Cottage were trying to keep up with the neighbors? This row of homes is right across the way.
Official history of South Gate along with a handy FAQ at this site.
Recommended book: My Blue Heaven: Life and Politics in the Working-Class Suburbs of Los Angeles, 1920-1965 by Becky M. Nicolaides. Excerpt from the book summary "As the citizens of South Gate struggled to defend their segregated American Dream of suburban community, they fanned the flames of racial inequality that erupted in the 1965 Watts riots." Oh!
For more information on Los Angeles' First Peoples, check out the excellent book, The First Angelinos: The Gabrielino Indians of Los Angeles by William McCawley.
To read more fascinating descriptions of the pre-European Los Angeles landscape  see the piece The Los Angeles Prairie by Paula M Schiffman in the book  Land of Sunshine: An Environmental History of Metropolitan Los Angeles edited by William Deverell and Greg Hise.