I recall not too long ago there was a victory in the true struggle to keep Elephant Hill, in El Sereno, an open and green space; but it was not until a few days ago that I ventured into those very hills. Having been a resident of El Sereno off-and-on since '94 it was about time. As a city-dweller I have often pontificated on the necessity of such spaces but like a city-dweller I did not necessarily visit them. Here is a photo diary of my hike through Elephant Hill (warning: this post is PHOTO-HEAVY).
The entrance to Elephant Hill is not but a few blocks from where I live. A GoogleMaps search actually calls the trails on the hill streets, though you'll soon see that there are not more than sun-baked mud trails. Here is the street leading up, on a bright Spring day: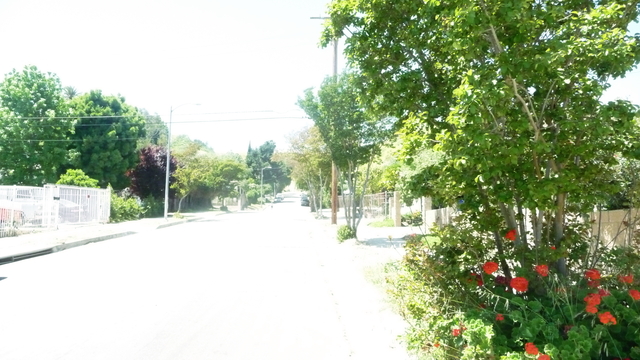 Probably one of the biggest reasons why most of us do not venture into the open spaces around us is shown here in its sidewalk death: TELEVISION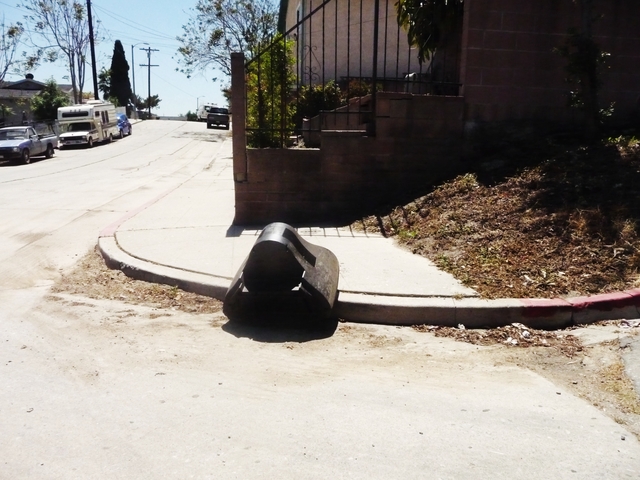 Just 10 years ago such a television would have been a prized item, but here it is set off like an ugly sweater you never wore. Such is consumer society.
The entrance to the Elephant Hill was guarded by a white cat, that probably went there to hunt lizards, birds, and whatever other little wild life we have yet. A book I read recently by J. Franzen ("Freedom") made much ado about how outdoor domesticated cats are a scourge on the wild bird population.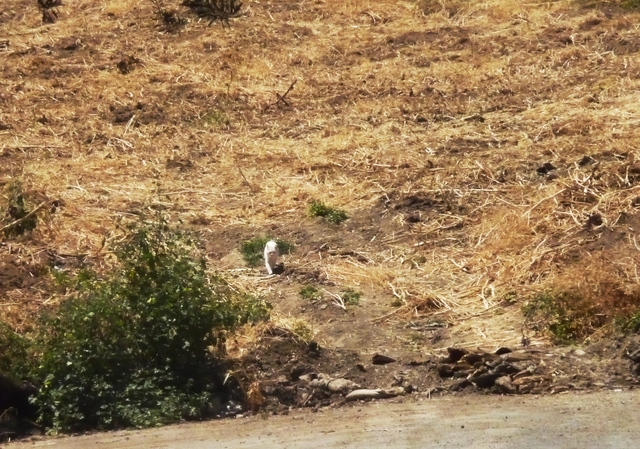 Just before this unbecoming trail head there was a house with a barrier of beautiful succulents. I only assume they are a barrier due to the fact that in this part of Los Angeles wildfires are not so much an affliction upon life as much as they are a part of it: just something else to ready yourself against.
It's pretty obvious that the city, or whomever "manages" this space probably makes use of tractors in the following photos: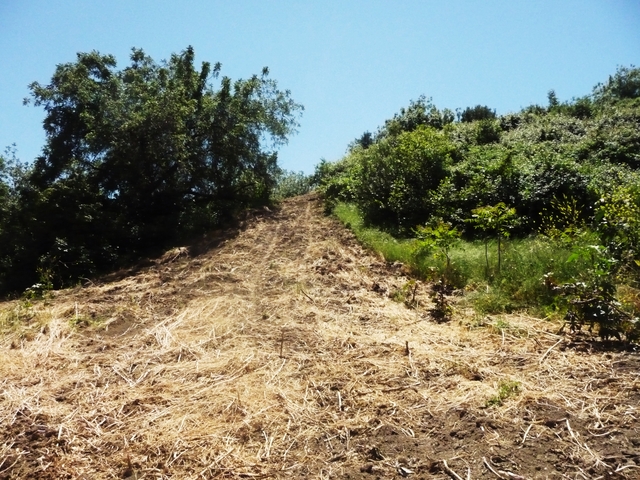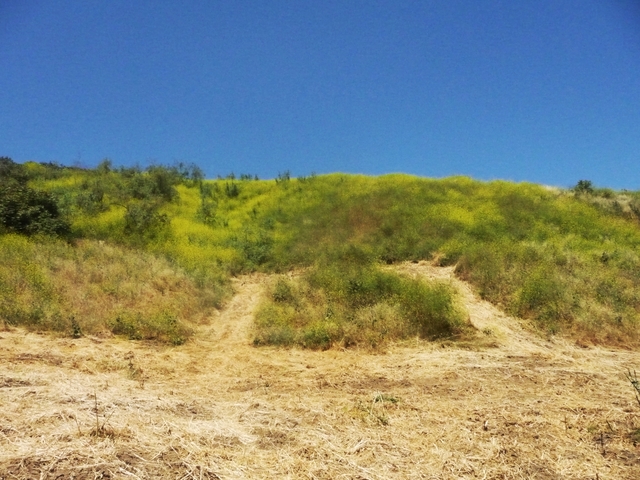 The following photo does not give justice to just how steep this hill is. The incline is easily over 45°, and the fact that it is not a well-pacted trail made it difficult to scale. Loose clumps of dirt and rock made it difficult footing:
Here is a snail that since a kid in Lincoln Heights I have noticed only keeps to the hills. I rarely, if ever find these snails in the valleys around the North Eastside. The large white stripes on their shell give themselves away: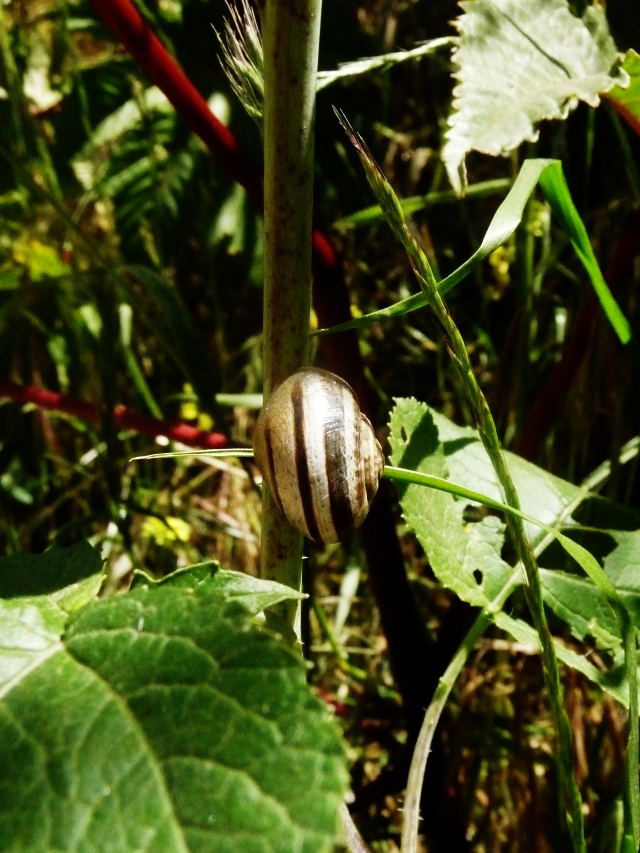 A book I recently read about "Great Historical Events" of Southern California mentions that Ladybugs, not native to North America, were actually brought over from Australia in 1892 to help with the scale insect problem affecting the orange industry. Here's one of the relatives from that importation:
As you would have already noticed there is a deluge of yellow flowers on these hills, which on a trip to Santa Barbara, were made known to me as Yellow Mustard. The wide-windowed cars on the Amtrak were accompanied by the narration of a volunteer-runned operation describing the wildlands about. Though they are not native to North America, but to the land around the Mediterranean Sea, they are nonetheless a frequent hallmark of Spring in Los Angeles.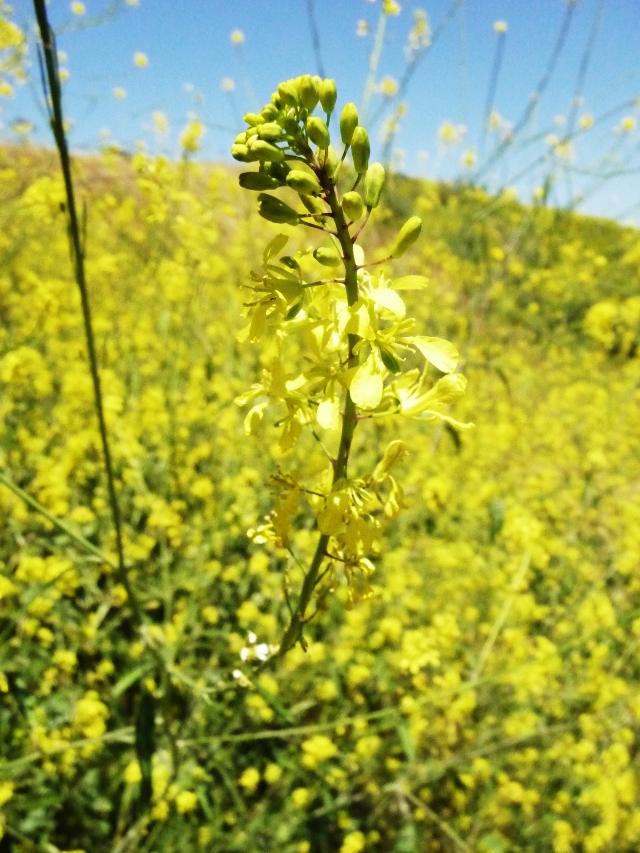 And here's a beautiful look back down the trail with Mustard on both sides:
And here's a view looking onto South Pasadena & beyond: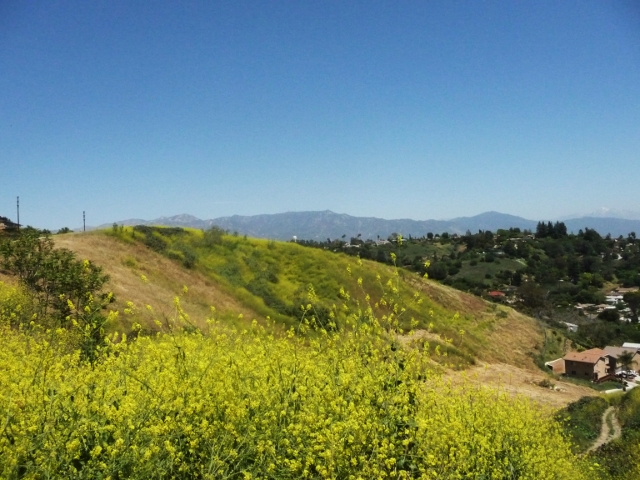 Wall of Mustard:
Another one of those gorgeous snail shells:
And here's a majestic view of Mt. Wilson Mt. San Antonio which still bears snow: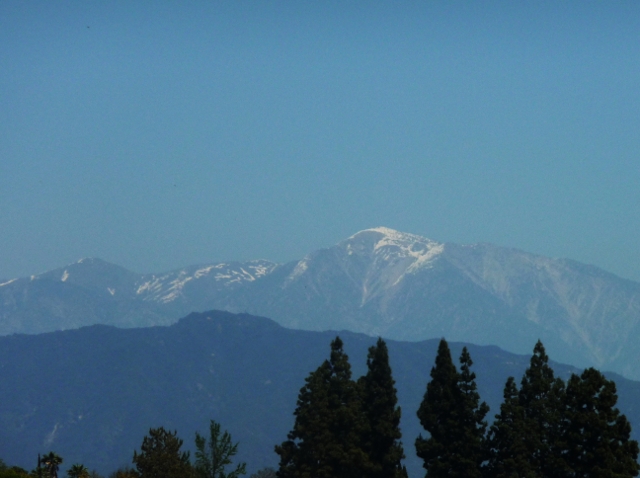 Once I got over Elephant Hill, facing west the view gave view to this:
As you see in the previous photo, the trail moves to the South and it is here where I discovered something strange: scattered longs nails & screws. Either they were somehow accidentally dropped or were put there to discourage off-road driving, I cannot be sure, but there sure were A LOT of them: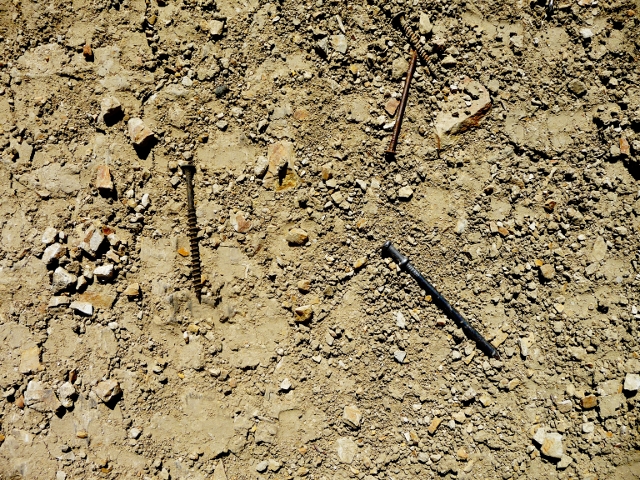 Most of the "wildlife" I came across were snails, ladybugs, or bees whose buzzing would almost deafen the city life below. But here I did capture one of the few spider webs I came across: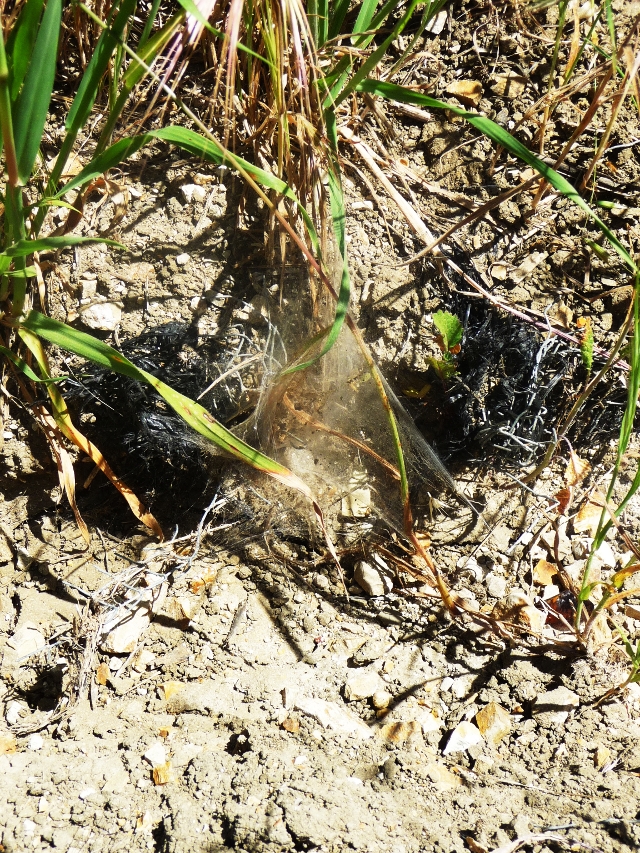 And with this next photo I caught one of the top predators of the hills of the North Eastside (besides the coyotes), mainly the Red-Tailed Hawk. It was difficult to capture as it swooped overhead, but I did get one half-decent photo. It even has a beer named after it:
Amongst the wildflowers I did see, I only caught a few of the State's official flower: the California Poppy. Here was one of the three I saw:
And here's a view to the South-West with an appearance by the iconic Downtown LA skyline: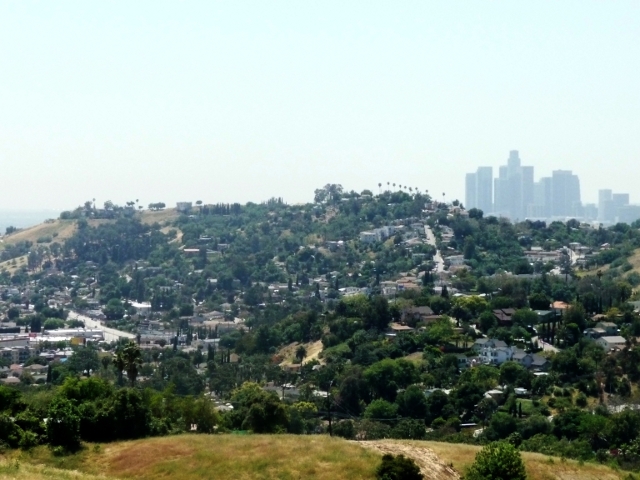 Another gorgeous view atop Elephant Hill:
And with that I bid this photo diary adios and heartily recommend you go and wander amongst those hills around you. Yes, much of our open spaces have been decimated of their original wild-&-plant life, but there is something to be gained which cannot be enumerated by dollar-signs. There once, after all, roamed grizzly bears in our midst.
UPDATE:
I returned with my special lady friend to the hills earlier today and it was quite a different scene. The incessant buzzing of bees was gone, probably because the flowers were closing up for the evening. I also spotted quite a few Pinacate Beetles, known also as the 'stink beetle.' Here's one: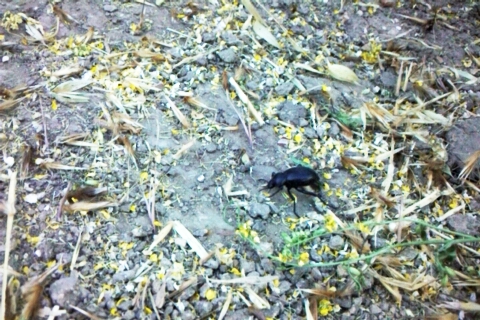 I also saw an armored beetle which I did not get a photo of, but here's a photo of one:
We also spotted quite a few rabbits. It was hard to count them because they kept criss-crossing the trail and reappearing. We also did see the oddest looking squirrel: looked like a mix of rat and squirrel.
And finally we saw this odd contraption, rusting atop the hill. Anyone have any idea as to what it may be?