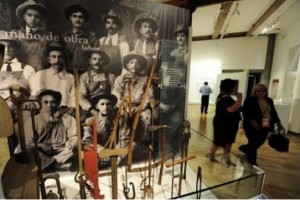 Saturday April 16 was the free community viewing of the long anticipated first Mexican-American museum in Los Angeles called La Plaza de Cultura y Artes, which is located next to Nuestra Señora la Reina de los Angeles church at Calle Olvera.
As a younger and inexperienced artist, one of my dream goals was to have my art displayed in a museum. I thought that would be the ultimate place where my ideas, voice and craftsmanship would be appreciated and cherished. I attended all the great museum exhibits–Van Gogh, Picasso, Tamayo, Siqueiros, Da Vinci, Kahlo, Warhol and so many more that I love— standing in front of their work (where they once stood), so hungry to see how they saw. Some of those artists were never even appreciated or successfully exhibited during their lifetimes.
Afterward, when a museum bought my work for a permanent display, instead of feeling accomplished—I felt like an oddity, a curio. I know it's the nature of me, as an artist—I'm never satisfied, always looking for the next thing. As a producer/curator, a job that was imposed on me due to the lack of opportunities for my art genre,  I enter every exhibit with a critical eye.
In truth, museums began as cabinets of curiosities and collectibles that turned into rooms filled with stuff, which people were willing to pay admission to see. All these museums started as personal taste collections that were cherished by those who had the resources to give them importance.  I am not sure this system has even changed.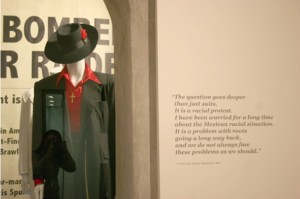 Anyone can see that the politicians and developers, who are sub-dividing LA to suit their personal aesthetics, have agreed that downtown LA has to be the hub of life in Los Angeles from now on. A museum dedicated to Mexican Americans, could have been erected in so many locations throughout the city, and still would have been effective. For me, Placita Olvera has always been that over congested bump in road (with no parking) on the way home to the eastside—yet here is where it was decided to plant La Plaza de Cultura y Artes.
Appropriately for a museum dedicated (in large part) to the spirit of Mexican and Chicano resistance in California—upon approaching the museum we were greeted by protesters who want La Plaza de Cultura y Artes to stop constructing over sacred Tongva and Californio burial grounds. That's what I love about LA.  This was a perfect act, in the most perfect place, at the perfect time and day. That experience really is priceless. Community activists agree that it is ironic that a museum intending to celebrate the histories and lives of long forgotten pillars of our past in California are now building over their graves. I think, Isn't that the premise of that movie Poltergeist? As in movie clichés, this issue has become a Mexican standoff.
Upon entering the gated area, there was a picnic table eating space, a station with a pyramid of individual bottled waters (not PC and bad for the environment) a bandstand featuring Very Be Careful and tents for kids' crafts. Not impressive to me—and something which fuels me even more to think of ways to change that samo-samo scenario in my future productions. I want to see something new. I want to be dazzled.
The displays inside La Plaza de Cultura y Artes are well crafted and actually visually interesting. Lots of flat screen computerized history lessons throughout, cool wall graphic signs (e.g. "The border crossed us" over a display), posters, pictures, a unique map cut-out of Aztlán with projected images changing over it (the best thing in here, I thought), display cases of period clothing, artifacts, letters, weapons, Pio Pico's wallet, a telegram from Marlon Brando to Anthony Quinn complimenting his performance in Requiem for a Heavyweight.
I thought I'd go to this museum and learn new things about our history. I was overwhelmed with the stories and notations from Chicano history 101, the same presentation format, the same people as subjects, the same historical context by the book and line by line. After any experience, I usually have to roll back my thoughts a notch, knowing that as an artist, I do not think like everyone else—because my job as an artist is to be constantly devouring data, mentally sorting and criticizing it. Proving new points of view from existing data is what writers, artists, historians, scientists, curators and social activists do. The mounds of factual information and ideas at La Plaza de Cultura y Artes, have their origins in the minds of those who have done the research, the analyzing and the writing. I do have to acknowledge that students and those not involved in the academic world, will find this museum very interesting and important. I entered at 1pm and got captivated until closing time (4 hours).
Well, a lot of my clocked 4 hours was spent socializing, because it was a Chicano Who's Who and their families. The guests that day were mostly artists and relatives of people in displays who did not make the cut for the stellar VIP opening earlier this month. Another thing that was time consuming was trying to figure out why some of the displays could not be heard. A group of us finally gave up trying to find the computer level settings. Then when my cousin found her picture in one of the Comisión Femenil displays (she was their 10th year president) she paused the computer to look at her youthful image further, but then messed up the stream and could not get it back to working right. They will probably get all those technical things worked out, hopefully.
The gift shop had some local artists' work (Yolanda Gonzalez, Jose Ramirez, and many others), shelves full of related historical books, as well as high end Mexican jewelry and crafts. I'm not much of a consumer and flipped over a few things in the gift shop that seemed highly priced to me, but like I said, I'm not a shopper. Willie Heron laughed as did I, when a man near us exited the gift shop through the emergency door, the museum attendant immediately rushed over and yet no alarm went off. Five minutes to closing, the staff smiled sweetly when they asked us to leave the gift shop. Even for us regular museum attendees it was hard finding the right exit door, since there is a maze of small rooms for each of the areas.
I'm sure there will be some hurt feelings by those who are not included in the displays and those who will contest what is now written on an official museum sign (e.g. a timeline stating that "Willie Heron started the Vex."). This is especially true in this city where the magic dust of wanting to be immortalized spills over from Hollywood and affects us all, from the frutero to the Mayor. Ah, now that I think of it, it was refreshing to not see an Antonio Villaraigosa narrated anything or his face plastered all over—-that really was an oddity. Instead, they took the Edward James Olmos route, with a Zoot Suit display of him being interviewed.
There is a story booth in the museum, a place where you can tell your own personal LA story (in a few minutes)—a visual recording for the museum. It looks like the "time out room" in reality shows where the participants spill their true feelings. The museum ended its historical linear tour with a middle school student photograph display (the next generation?). The student works were depictions of their own views of LA.
Consciously, when I go to the museum to see the artists I love—I do it to feel inspired, to bask in their techniques and sometimes to find a crafting error, which makes these immortals human in my eyes. I know that it's the work, the stories, the sharing of ideas, the dialogue, the courage, the baton passing, the dreams, the creativity, our humanity, the tortillas and frijoles that makes us resilient generation after generation, and is the really important thing.