On Saturday my two friends and I decided to go hunt for some new mariscos spots. For the longest our friend Don Bon was telling us about this truck near the old Lincoln Heights jail called, "milagros" he said that the shrimp cocteles were the best. Well that milagro never occurred because the truck was never found, and I had asked around a few times.  However, last weekend he suggested another truck which is called Mariscos El Rey del Mar. The funny thing is that it took us about 40 minutes to find it(we did not know the name at first). He said if we exit the freeway we would get off on 4th and it would be on State Street near a park. We did all that but we went to the wrong truck! we ended up by Hollenback park where there was another marisco truck. I was kind of suspicious about it because it was real lonely with no customers. I talked to the older lady serving the food and she said she was the only marisco truck nearby. My friend ordered the ceveche but I had to taste it before I ordered. First taste and I was not feeling it at all.  I knew after that we must of found the wrong truck! I still felt obligated to order so I got a taco de papa for a buck. After feeling defeated we called Don Bon again we all  felt like  we were definitely bugging him, but  he laughed and told us once again how to find the correct truck. Long story short we finally found it!
breaded shrimp tacos with creama, cabbage, garnish and lots of avaocado!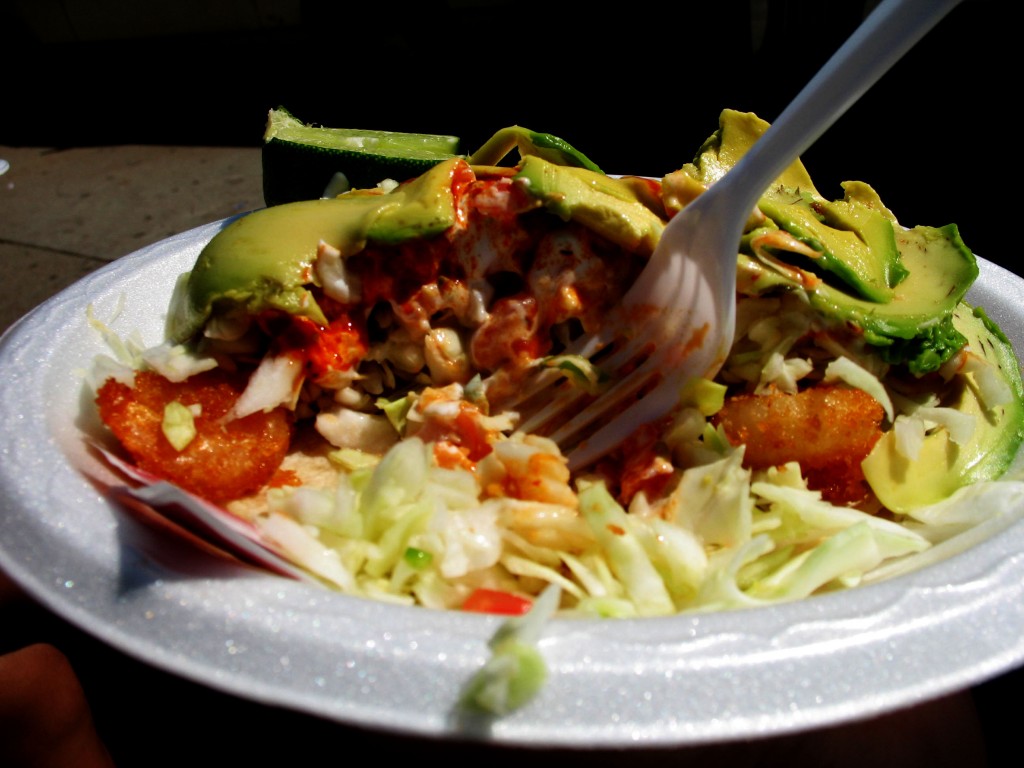 Dipping into the shrimp taco.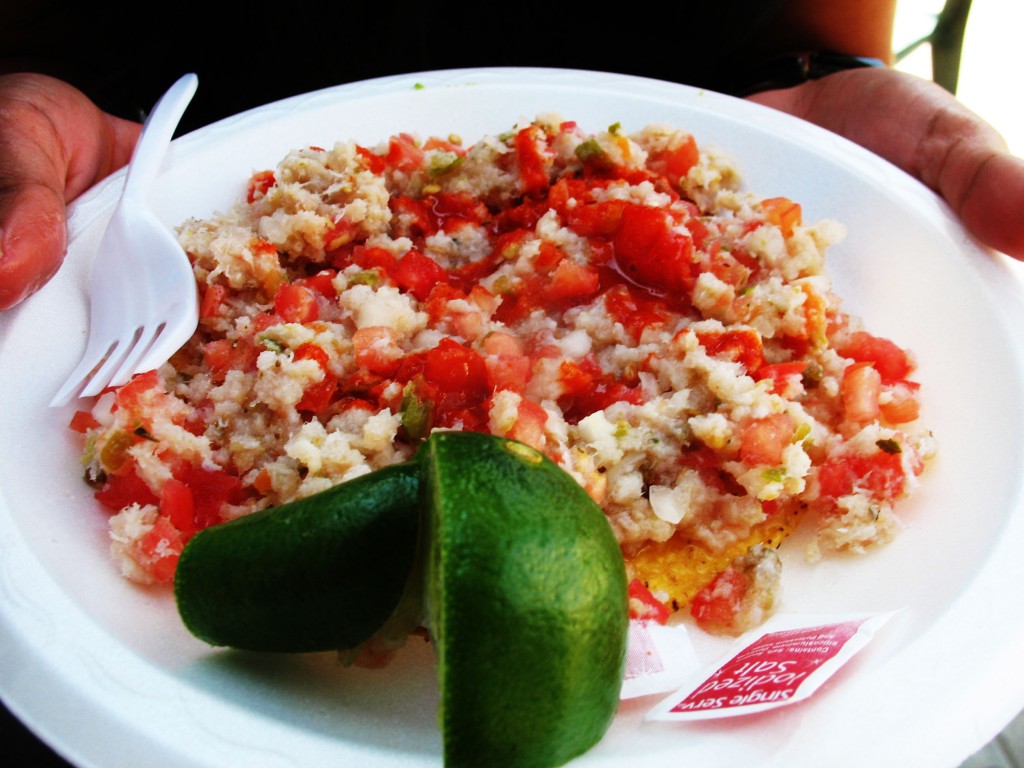 Okay here is my opinion on this spot. I really enjoyed the breaded shrimp tacos they were pretty amazing! I was so used to the fried shrimp taco from cuatro veintos that I was not sure if this would be just as good, but it is actually better. The fact that they were not greedy with the avocado is also a plus. The red snapper ceveche was also good, and unfortunately I did not try the shrimp coctel I will next time. Overall the shrimp tacos take the prize.
Location: 1900 Bailey Street Los Angeles, the cross street is State Street and it is next to State Street Recreation Center.
Hours: Mon-Sun 10 a.m-6 p.m.
Check out Don Bon Bon's Blog on Viva La Tranza