Our favorite eastside artist Sand Oner will be exhibiting this Friday, April 29, 2011.  This will be her first Solo exhibition, and what better way to represent her roots than to have the exhibition at Casa De Cultura Galleria" Mariachi Plaza in  Boyle Heights.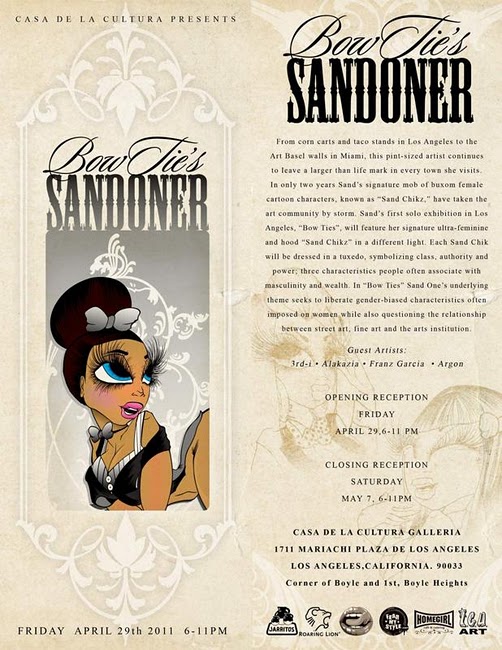 Press release

Sand One presents: "Bow Ties" Sand Chikz A week-long art exhibit showcasing the new works on mixed media surfaces by LA's youngest female street artist: Sand One. Los Angeles— From corn carts and taco stands in Los Angeles to the Art Basel walls in Miami, this pint-sized artist continues to leave a larger than life mark in every town she visits. In only two years Sand's signature mob of buxom female cartoon characters, known as "Sand Chikz," have taken the art community by storm.  Sand's first solo exhibition in Los Angeles, "Bow Ties", will feature her signature ultra-feminine and hood "Sand Chikz" in a different light. Each Sand Chik will be dressed in a tuxedo, symbolizing class, authority and power; three characteristics people often associate with masculinity and wealth. In "Bow Ties" Sand One's underlying theme seeks to liberate gender-biased characteristics often imposed on women while also questioning the relationship between street art, fine art and the arts institution.
Opening Reception:
Friday, April 29, 2011 6 p.m. -11 p.m.
Closing Reception
Saturday, May 7, 2011 6 p.m. -11 p.m. 1711 Mariachi Plaza De Los Angeles 90033 Corner of Boyle and 1st