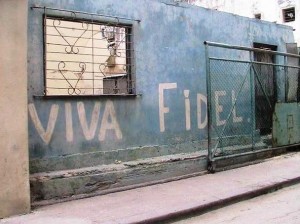 In 2008, a few of us took an illegal trip to Cuba for the Decimotercero Festival Internacional de la Poesia, a plein air annual poetry festival in Havana, Cuba. I say "illegal" because the US Presidents George grande y el chico, were sticking to the strict rule of penalizing US citizens [who traveled to Cuba without permission] with a $10,000 fine.
At that point many artist and musician friends had been going back and forth all this time, to visit and attend the historically rich music, art and cultural events sponsored by the Cuban government. Their stories made me salivate with desire to follow their footsteps. After all, we are not people to be held back from where we want to go, because of some ridiculous rules and regulations.
When some local eastside poets got invited to go to this poetry festival in 2008—I latched my wagon onto theirs. Calls were made to the Cuban festival organizers from Tijuana about accommodations, schedules, side cultural trips, todo—and we were all set. Hopping over, on one of Mexico's daily flights to Cuba still had its risks, because the US could request Mexico's flight manifestos where our names would be listed and we would be so busted. Ni modo.
I wanted to see Cuba before Castro died, before it changed into another commercial beach resort dotted with European style hotels. It could happen! So here are my photos. Photos I was too afraid to share with you on LAeastside in 2008—because I did not want to be caught for doing this supposedly un-American thing. My courage comes from Obama easing the penalties on Americans traveling to Cuba a few weeks ago and legitimate flights being organized for non-profits to go to Cuba from the USA on cultural exchanges. Yay!

Poets from all over the world gathered each day at a gorgeous cultural center in Havana, who's grounds and building looked like a wealthy estate, marble spiral staircase and all.  My traveling companion quipped, "There must be some angry family living in Florida, who got thrown out of here!"
Poetry was recited in everyone poet's native language—from South American indigenous languages to European: Spanish, English, Italian and French. You didn't have to know what was being said, because the intonation, rhythm and presentation translated its meaning.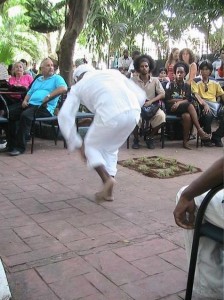 The festival lasted a few weeks with different venues, from small community spaces to the Havana Cathedral.  The Caribbean poetry evening began with lots of drumming and a traditional Yoruba spiritual dance blessing.
Of course, the poetry of El Caribe brought it home for me, as well as our eastside poets.  No kidding, our ELA orators were so captivating, that their faces would be all over the Cuban TV when we got to our hotel at night.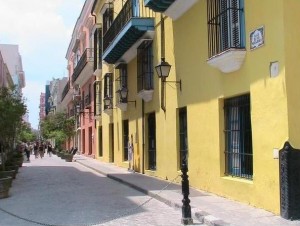 Old Havana is one of the most charming areas.  There is restoration going on to keep the original flavor and color of its colonial architecture and walking-only paver streets.  It is a bit touristy–but we got the most delicious coffee jolt there each day con panquesito.  There's nothing like a shot of Cuban coffee espresso.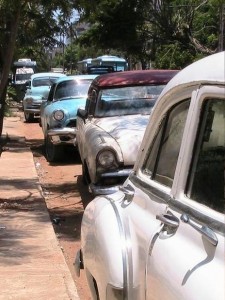 And. . . . it's true about the cars in Cuba being in a 1950's revolution time warp.  There are so many mid-century models cruising all over the place–you feel like you are in a car club's wet dream.  I took this picture walking to our bus.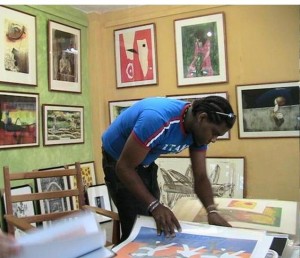 One of our stops was to a print studio, very much like Self Help Graphics.  It was a cooperative, where artists could use the presses to print and take classes on printing too.  Above is the print sales room.  Striking color and design aesthetics of the region distinguished these prints. They reminded us very much of Los de Abajo Print Collective work.
About 40 minutes outside of Havana, we visited a handmade book making studio.  They made limited editions of less than 100.  Since this was a government run artist studio,  we could only use Cuban money to make purchases . There is one currency available to tourists (especially Americans) and it is sold for a higher price than Cuban currency which is used solely by the Cubans and their allies.  Wouldn't you know that one of our ELA poets had some of the Cuban currency?  He must have looked local.  He bought us each 4  handmade, hand painted, intricate constructed, limited edition books for $1 each. Wow!  That's the type of artistic craftsmanship that only a government sponsor could support.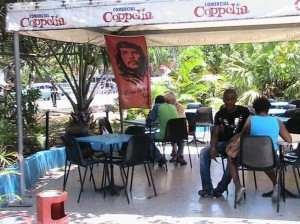 By one of the swanky hotels, where some of the poets stayed, not us though—there was this ice cream cafe.  Under the Che icon, we enjoyed our helado break.  Near our modest hotel, was a bus terminal.  Soon our ELA entourage discovered that they could score rum in containers that looked like juice boxes—inexpensively at that bus terminal. Each night, we sat on the hotel stoop, drinking rum out of juice boxes, while the poets performed personally on the fly.  Other hotel guests, some of the neighbors and hotel employees joined in our homestyle hanging-out each night.  We laughed, drank, met new friends, listened to poems and gossiped about who at the festival had hooked up romantically that day.
It was refreshing to see a country with no commercial signs, ads, bill boards anywhere.  No liquor stores, no grocery stores, no take out joints, no 99Cents Only places—-nothing that is about 'buying, buying, buying". You could actually enjoy the scenery without having to digest some sort of sales offering.  When those discrete beggars got close to you, they'd ask in a whisper "tienes caramelitos?"/do you have candy?  I was there, I witnessed it, I have my memories.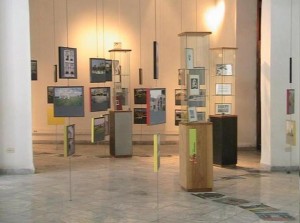 In Old Havana, in one of the government run galleries (in fact, this one above)—I exhibited my art work to some curious locals who looked deeply and thoughtfully at each piece.