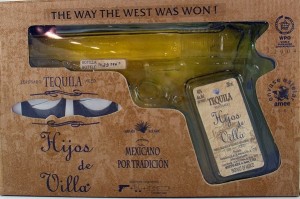 Maybe its me, but given the violence throughout Mexico with the Cartel wars and the fact that more deaths related to this war have occurred (28,228 since 2007) than in Iraq—is a gun to suck on really appropriate now? "Fun, guns, alcohol, liquor" are the actual search engine words for this product on-line.  I understand that this is a commemorative limited edition tequila, meant to celebrate the 100th year of the Mexican Revolution, meant to sum up who we are as the children of that revolution–but, as represented here,  is violence and aggression our only legacy?

I found other American blogs praising the coolness of this gun—"it's even better than the titty mug".  Some posed for photographs with the rifle version, giving their most menacing sneer. I don't know much about gun design, but this seems to be of a more contemporary style than of a 1910's type.  I know I am putting too much thought into this, but coming across a display of these Hijos de Villa Christmas gifts at Costco this week seemed downright insensitive to me.  It feels as offensive as the Mexican sleeping under a sombrero—since after 100 years of struggle to stand on our feet and not live on our knees we are reminded in the news and through products like this that our machismo culture is destroying Mexico everyday.  That this machismo violence is praised. To stick the dagger in deeper, this is not a product invented here, but is a creation right out of Jalisco, Mexico.
We are the commercial target of Hijos de Villa–because after 100 years of personal and social change we are perceived to crave fun, guns, alcohol, violence, combativeness, force, retaliation, and hostility.  Whatever happen to Santa Clara Rompope for Christmas?