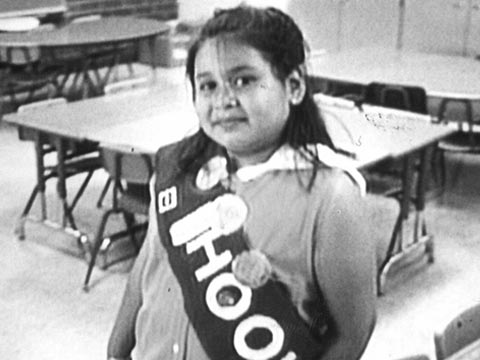 In order to refresh everyone's memory proposition 187 Â was passed 16 years ago this week on Nov 8, 1994.
More after the jump
Under proposition 187, illegal immigrants would be denied education, non-emergency health care and other government benifits. (Racism chg 187 A10)
Image from Mujeres Unidas y Activas
Simon made the film to depict how prop 187 affected her students and the community. The film focused on the children of  Hoover Elementary, a school a few blocks away from MacArthur Park.  Many of her students were undocumented, or had parents that were undocumented. The area,  as many might know has a large concentration of immigrants.  Mexicans and Central Americans make up most of the population in the area.  Most Central American's arrived in the 1980s seeking political asylum from their war stricken countries.   At the time the issues that plagued the  MacArthur Park area were at their peak. The images in the film portray the harsh reality of drugs, gang infestation, and crime in the 90s.
Simon also focuses on a motivated young girl named Myra this little girl had big dreams of being a lawyer and helping her community however, her status never let her pursue that dream. Simon really had high hopes for Myra and wanted her to succeed but the risk of proposition 187 at the time had many immigrants scared.
Myra and her family lived in a one room apartment across the street from MacArthur Park. Myra's  mother was a  Salvadorian immigrant who was struggling working several jobs just to pay the rent.
Myra was taken out of school a few times when her father got killed and again when her mother took her and the family possibly back to El Salvador where they were never heard of again. If you are interested in watching the film you most likely will have to get it at a University library or possibly Los Angles County Library.
Watching this film made me remember a time I had forgotten.  When proposition 187 passed I was 13-years old and in 7th grade.  Back then I actually did not really know what the proposition meant. I though it was against any Mexicans and could possibly lead to deportation. I did get to participate in a walk-out that occurred at the school. A huge group of mostly Latino kids left school and marched down the main streets for a few miles in protest.  Back then I was not aware how unfair the proposition really was. Fortunately in  late 1997  prop 187 was found to be unconstitutional and never enforced.



U.S. District Judge Mariana R. Pfaelzer has said again that regulating immigration is an exclusively federal responsibility. She made the pronouncement Wednesday in a final ruling that the ballot measure is unconstitutional. The judge's decision should be allowed to close a sad and divisive chapter in California's political history." Los Angeles Times" Â 15 Â Nov. 1997
My question is: Â Does anybody have any memories regarding prop 187?
P.S A special  MacArthur Park series coming sometime when school ends =)