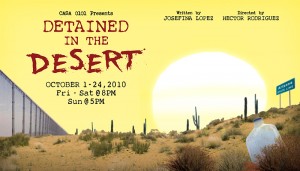 "Detained in the Desert" Heats Up Boyle Heights Stage
-Jessicas2cents
Yes, the country is riled up over immigration.
But for some of us, the issue of immigration is more than just a hot topic… it's our life, who we are, and how we came to be.
Boyle Heights' own Josefina Lopez ("Real Women Have Curves") had so much to say about the pending immigration statute in Arizona, she popped out a play speaking out on the issue in FOUR days.
So, with no doubt I reserved two seats to Friday's opening night at CASA 0101 Theater and sneaked in a couple snacks from next door's liquor (the non-alcoholic kind, although I thought I saw someone with a paper bag over their tall can, but I'm not judging).
A sold out show and no AC, I started to feel like WE were 'Detained in the Desert,' but as soon as the lights went out and the immigrant-bashing gringo barked his first lines, I was hotter than hot… I was HEATED!

"Detained in the Desert" is a story of two lives, a Latina U.S. citizen (Ivonne Delarosa) with a Canadian boyfriend (Tyler Cook) and a talk-radio show host (Carey Fox) who spreads hate on the airwaves. Set in present day Arizona, the tale causes characters with opposing views to cross paths as it develops with irony and human tragedy during a time when immigration laws are radical and violence against Latinos has risen.
"I think that there's something that's guiding me that's saying, 'speak up on this you must speak up,' " said Josefina at the show's after party held at Corazon Del Pueblo. "It's a dream come true to do something that hopefully makes a difference, that really tells the truth."
Now, I politely demand you go watch it; For the rawness and the realness, or for the pink underwear and barbeque sauce (you'll get it once you see it), whatever rocks your boat…
"Detained in the Desert" runs from Oct. 1 through Oct. 24
Fridays and Saturdays 8pm and Sundays 5pm
$15 general admission, $12 Students and Seniors with I.D., $10 Boyle Heights residents with I.D.
CASA 0101
2009 E. First Street
Los Angeles, CA 90033
For reservations call (323) 263-7684 or reserve online at Casa0101.org