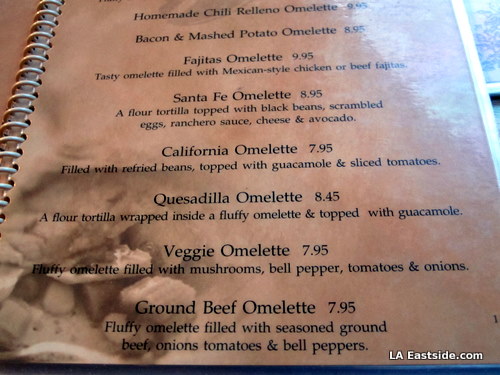 What is a Quesadilla Omelette? Well that's exactly what I was wondering! So let me do you a favor and get you two acquainted. Siganme los curiosos!
Where else but Foxy's, a thoroughly better-than-adequate diner in Glendale. Grilled cheese and fries? Perfect. Hash browns and eggs? As you'd expect. I've wanted to try their Huevos Rancheros forever but since they are topped with "chili" -one of those weird foods like cupcakes and pizza that I just don't understand- I ventured into even stranger territory. Will this be a fusion of American and Mexican styles of food? Will they sell it on a truck and have "foodies" (ugh!) search all over town for them? They do have a twitter account after all. What the hell, you die a little every day: Quesadilla Omelette please!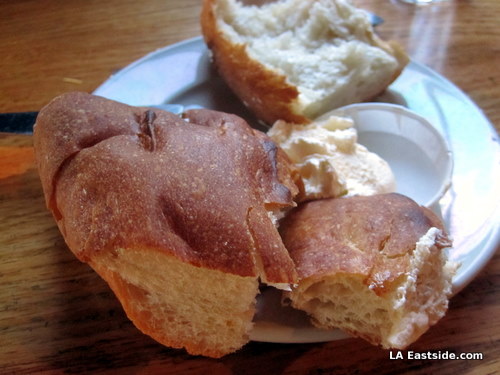 An appetizer of bread before our meal. No salsas though, just butter. American to the core.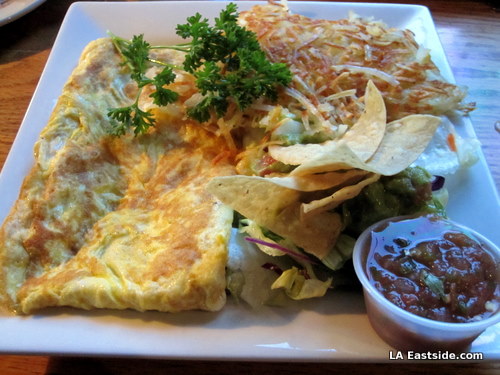 What the? This just looks like an omelette with some very tasty hash browns on the side. I wonder if they got my order wrong.
Oh wait, there's the quesadilla! Inside the omelette, just as they promised! Its like a breakfast burrito that puked out its innards turned inside out, but with the added modicum of manners that is the knife and fork. You want to know how it tastes? I mean, do you have to ask? Tortillas and egg are the foundation of a proper weekend breakfast (or weekday dinner as this case may be) so of course it was satisfying. Its the fancier equivalent of that affordable and functional tasty meal that is your basic 3 egg breakfast at Penny's, Pete's, Tom's, Dino's, or whatever your local burgery might be called these days. Technically speaking, I think they put a tortilla de harina on a grill, add cheese, and then cook the eggs on top of that, which then gets folded so that the tortilla stays inside the egg mix. And technically it wasn't topped with guacamole as it on the side but I will overlook that fact since they managed to pull off a decent meal out of what I thought would surely be a calamity. But it's really not something super special to post about.
Oh wait. Ah well, so be it. Maybe its time people started writing about the regular daily food they eat, that mundane fare that doesn't make the cut on "foodie" blogs (ugh!) but with which the writers are surely acquainted. Dishes that are pedestrian yet affordable.  It as if you have to supply expensive food with the weirdest or newest combination of ingredients in order to get people interested. Documenting our daily caloric needs and habits has been relinquished to those that get a sense of purpose from their weekend outings to spots for which they've already seen reviews, places that might consist of a drive or even a few minutes of financial contemplation. Food as spectacle. Food as celebrity. Food as something other than food.
Give us this day our daily bread. But add a tortilla somewhere to get a writeup!
Foxy's  818.246.0244
206 W. Colorado St.
Glendale, CA 91204
www.foxysrestaurant.net