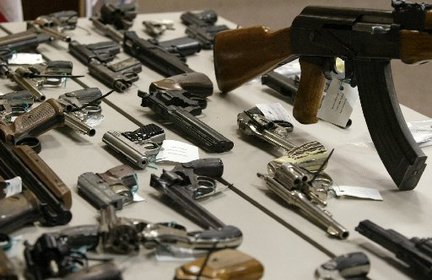 The City of Los Angeles is having their Annual Gun Buyback next weekend. If you turn in handguns, shotguns, or rifles you can get $100 in either a Ralph's or Visa gift cards. Or if you turn in any assault weapon you will receive $200 in gift cards. Now I say "broken" myself because with this crazy world we live in and the way it is becoming, you might want to keep working weapons in a safe place for protection…Now, that's just my opinion. Viva La Revolution, lol!
Will there still be guns on the streets? Most likely yes, but if you want to get rid of something that doesn't work, then why not? Whether it's a gimmick or not, we don't know, judge for yourself. No questions asked.
Saturday May 8, 2010
10:00 A.M.- 3:00 P.M.
East Los Angeles
Hollenback Area Legacy LA 1350 N. San Pablo St Los Angeles, Ca 90015
West Los Angeles
Hollywood area Farm Fresh Grocery Store 5520 Sunset Boulevard Los Angeles, Ca 90028
South Los Angeles
Harbor Area
Park and Ride Parking Lot 1300 West Pacific Coast Highway Wilmington, Ca 90744 77th Area Bethel African Methodist Episcopal Church 7900 South Western Ave Los Angeles, Ca 90047
Valley
Mission Area Facey Medical Center Parking Lot 11165 Sepulveda Blvd Mission Hills, Ca 91345
More info call the popo or not: 1-877 LAPD 247