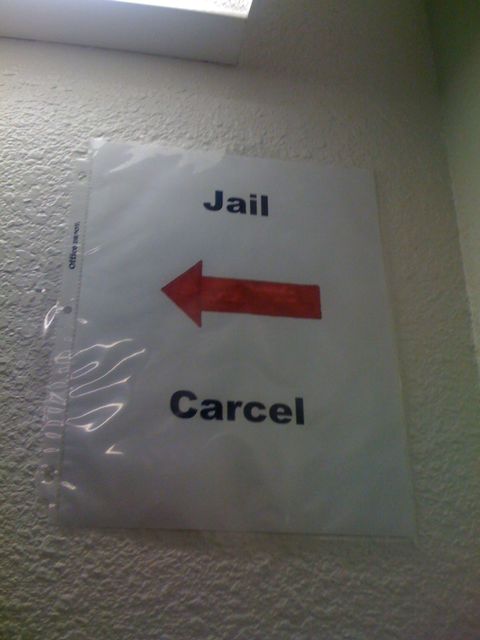 "You know they cannot do this, without permits, they cannot do this without making sure the Health Department is on board, and the impact it has on the community—you have restaurants that are there with permits and so forth, they have the proper equipment, they have sinks, they have restrooms and then you have people on the streets that are vending illegally and it's against the law. And now basically what the officers are doing is enforcing the codes," said Hollenbeck Division Police Captain Anita Ortega. ~ Quote from the EGP News Article "We were treated like common criminals."
"Although I can understand the plight of the illegal vendors, I am totally against the fact that they have been allowed to conduct business in Boyle Heights and other communities in Los Angeles. It is important to note that these individuals are taking away from the legal business owners who are doing everything that is require by law that includes paying taxes, insurance, rent and often employing others from the community. We need to take a stand and demand that the various agencies that should be taking steps to stop these vendors (police, city and local government taxing agencies, health department and local electeds) should be doing just that….ensure that all laws are enforced….no excuses. It should be noted that most of the City of Los Angeles does not have have this problem due to proper enforcement. We only ask for the same enforcement actions. We need to protect our business owners and the community members against the health hazards and fraud that is associated with illegal vending. Our neighborhoods deserve better. I look forward to our elected representatives to do the right thing and get a handle on this situation. There is no middle ground on this issue. This needs to be stopped NOW." ~ Comment posted from the same article by Renee Chavez
"Besides, even with this new found permanence, Antojitos Carmen still sets up on the sidewalk around the corner from its restaurant every night, the Ortegas bringing their food back to the people who helped put them in their current two-kitchen position. It's cooking with respect and gratitude." ~ Quote from the L.A. Times Article "Antojitos Carmen, street food inside four walls"
"Until recently, the center of the Eastside street-food universe was located in a small parking lot on Breed Street in Boyle Heights, a nocturnal band of vendors drawing customers from as far away as Riverside and San Diego, serving sticky, sizzling, crunchy, meaty snacks from all over Mexico; salsas hot enough to burn small, butterfly-shaped patches into the leather of your shoes; and quart-size foam cups of homemade orange drink. Over here were huaraches; over there Mexico City–style quesadillas; crunchy flautas; sugary churros; gooey tacos al vapor. The vendors never stayed open quite late enough, but Breed Street had become something of an institution, a place to take out of town visitors, a great quick dinner before a show. Sometimes there were even clowns." ~ Quote from Jonathan Golds article from the LAWeekly "Fried in East L.A. : Antojito's Carmen and the Breed Street Band of Mexican Vendors.
"Nina Garcia, who for the last two decades has served up Mexico City-style delicacies on street corners in Boyle Heights, took home top honors at the first-ever L.A. Vendy Awards on Saturday. Judges said it was her supple quesadillas and spicy pambazos that did the trick. Nina's Food beat out street vendor newcomers such as the Grilled Cheese Truck along with old favorites, including East L.A.'s Tacos el Galuzo." From the L.A. Now blog post, "Nina Garcia is L.A.'s top street food chef."
"In the hierarchy of immigrant occupations, street vending is near the bottom. It is for those who can't find work at a factory or in construction or who think that maybe they'll do better working for themselves. It's a job from which you can't be laid off, but you have to work long hours every day to make a living." From the L.A. Times Article "L.A. vendor pushes a balky cart through a precarious world"
"Her food never got anyone sick, she never left trash or a mess where she sold, in fact she cleaned the side walk because local store owners didn't. She works from 6 to 9-10 a.m. before all the local restaurants open up. Serving all the people that are on their way to work, running morning errands or like me, on their way to school. She buys what she needs from all the local mom and pop stores where we live. She makes what she needs and repeats the process and was able to make a living from that. She pays her taxes with an ITIN and relies on no one but herself to make that living. She is self sustainable. But the law is the law and she doesn't have a permit, she isn't above the law." Quote from my personal blog about her getting arrested.
There is no gray area when it comes to street vendors. On one side of the coin you have the people who love them and frequent them. On the other you have the people who hate them, want them gone and call the cops on them. This is a battle that I have been personally involved in for most of my life, but after my mom got arrested for selling her tamales this past Saturday, it took it to a whole new level. My intentions for this post aren't to change anyone's mind about accepting street vendors in Boyle Heights. I don't need to weigh the pros and cons because I've made it clear that I support all vendors.  Nor to garner sympathy from anyone for what happened.
My intentions are to give a voice to those who cannot have theirs be heard. Through my experiences as a community organizer, I realized long ago that putting  face behind an issue has a greater impact. This is what this blog space was created for. To create conversations and dialogue that isn't happening anywhere else and certainly not in the main stream media as often as it should. One thought that crosses my mind is that some residents just don't want immigrants in the community anymore. The kind of immigrants that are street vendors. The kind that are denied a space for rent because the landlord doesn't want them messing their house up and living with extended family. It could also be because there is an election coming up and the city needs to look like it's doing its job, clearing out all the riff-raff. Least that's what Victoria D. said to me.
The gentrification of Boyle Heights has already started. Street vendors go where they are needed and where they are wanted. This is the BH I know. Even with local vendors organizing the evening farmers market, it's still not enough. Council Member Jose Huizar knows vendors are part of life here, but he also has to make  sure the laws are enforced. There are tax paying  constituents and businesses to be mindful of. The police don't want to shoo away street vendors, but the calls to remove them are made.
In processing everything that happened and how the system is set up, there is no clear answer on how to go about solving this issue. There is no balance. Just chaos. For more than 20 years, my aunt and my mom after her, have been selling tamales in BH. They never got anyone sick. They always cleaned their space. They know the people in the barrio and they know them. And as I sit here thinking of what has yet to happen, I realize that I have to stop going to school to help the family. I have to throw away  part of my life and the sacrifices my parents made all these years to grant me the opportunity to go to school and not end up working a job like theirs.
I agree with people that everyone should play by the "rules." That we should have clean side walks and that peoples parking spaces not be blocked off by cars. I also agree with the people who want to be able to be self sustainable by selling food. To be able to live in a safe community and not have to starve to make ends meat. The gentrification of BH isn't going to come from outsiders who move here and raise property and rents prices. Rather, it's coming from the people that live within the community who don't want immigrants making their neighborhoods all trashy and Tijuana-like. By the time outsiders move here, BH will be ready for them because all the "Mexicans" have been driven out already. Who wants to live in a place that doesn't want them ? I know I don't. So, I'll move.