I mean really, who has money to go anywhere these days? The fake ass economists keep talking up the fact that stocks rich people own are doing slightly better, like it has any bearing on our miserable lives. Woohoo, GM turned a profit after they were showered with tax dollars! Fucking Yay! The surge of employment due to the temporary I'll-take-anything-now Census jobs  is suddenly a harbinger of good times ahead! Reading the news is inspiring.
Yet at my job there's talk that they will close up shop, or at least get rid of some of the expendables. (And we are all expendable.) It's all worries and rumors about the impending doom. Better start saving my nickels. And so my weekends are reduced to finding amusing things to do a bit closer to home, things that will keep me distracted from the precarious nature of our current means of survival. Hmm, now I understand why my parents brought me to this place all those years ago.
I present to you this cheap distraction, an institution that doubles as an old friend: Golfland!
If you drive on the Pomona Fwy, you'll have seen it. It's in S. El Monte. They have bush elephants out in front.
Leave your worries behind, Family Entertainment awaits!
I remember going to El Golfito when I was a kid only to play arcade games, which were much more affordable than the pricey rounds of fake golf. But now I have a few extra dollars, so a round of fake golf on me! Oh, what's this? 2 for 1 special on Weekend mornings for the next few months? Okay, I will take that deal!
$7 later, we have our dirty colored balls and some whacking clubs for two. Did you know that hitting a ball in golf is called putting? But not like in the sense of "I want to put this ball in that hole"? English is weird.
Back in their heyday, I think they used to be part of a larger Golfland network. But maybe they didn't pay the franchise fee and got the boot, cuz they're not listed on the website. Instead they got their own site going over at golflandsem.com seemingly back in 2005. But they still have the dragon-ish theme going.
Batter up! I mean putter up!
So basically you try and put some ball into a hole, with increasing levels of difficulty. But Golfland throws in some semi-interesting structures to keep things semi-fun. How easy is it?
Some people can't seem to do it at all! But they're just lame. Oh yeah, the blue ball had gotten stuck inside. Notice the soothing sounds of water and the river of automobiles in the background. Serene!
Uh, the putting greens are also blue, and not in the best shape. Its a mix and match style park.
Over in a corner outside the park, some woman trying to scrape together a living work on cleaning flowers and arranging them to sell as bouquets. No doubt on the freeway off-ramp. And here I am like the bourgeoisie playing a round of golf. What next, a fox hunt?
The double dip challenge. Try not to get the ball stuck on a carpet crack.
They offer you a scorecard, in case you want to know who "wins". But unless you waste time practicing the worlds second most boring sport (baseball being #1) then you'll be picking up the ball all day long. Best just to whack it around and later figure out who lost less.
The half-finished bullseye challenge. I made it in the second ring, in case you care.
A sign teaching you how to behave.
I am a player.
The exciting loopty loop! Yeah, it was kind of exciting.
I saw a family clearly violating this rule. They weren't asked to leave.
Before we knew it, our 18 holes were up. What the? But there's all those other contraptions we haven't seen? Oh, there's a few courses! I guess you are supposed to pick one. Careful with this last hole…
… if you make it your ball goes away into some secret tube network never to be seen again. Instead, skip this hole, pick it up and head to another course. Yer supposed to pay for each course but let's go crazy rebellious and pretend we did.
You can now try your aim at a Mission style  model.
There's a castle off in the distance, I didn't check it out.
The dragon cave.
The fancy windmill on top of another windmill. I'm pretty sure those blades used to rotate to block the shot.
Did you know there's also nature at this man made habitat? Look at the cute lizard putting around.
Who needs to go to the beach to enjoy the water? It's an oasis in the suburban desert!
Don't even think about jumping in the pool with your cutoff shorts. They will come get you. Oops.
Look at the cute country time store! They sell coffee, steak, pizza, soda, jeans, shoes, even milk! It's almost as good as the Lincoln Heights Mini-Mall!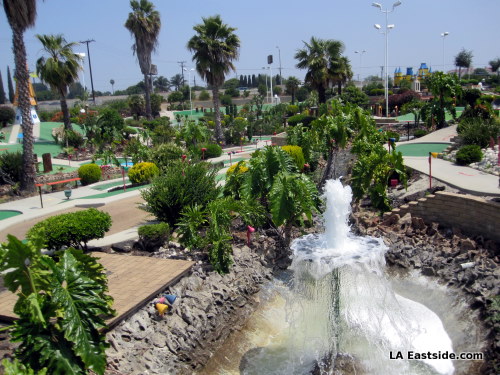 The Golfland grounds.
The lil' Pagoda.
Incredibly, even though golf is super boring, it was kinda mildly fun running around chasing errant balls. But it could've been a whole lot more fun if I'd brought some chelas, but that's a no-no. Boo! Hiss!
And when you're tired of all that communing with nature, head indoors to the arcade. This is some sort of virtual horse racing game.
The benefits of going early: no lines! Damn, even a bowling game.
And my favorite, air hockey. I hit puck. I block puck. I no block puck. Puck go in. I lose.
Or you can play against the Governor and his plan to terminate health clinics. Since he's a fucking robot he sees no need for maintenance of human bodies. I made sure to tilt this fool.
And some old timey shooting-at-shit-with-a-rifle game. Just like grandpappy used to do.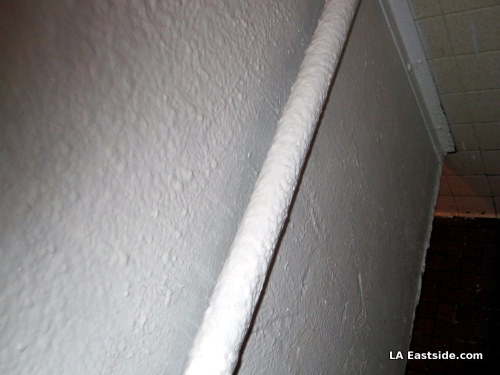 Even the bathroom has history: look at the generations of paint coat!
And good old fashioned faucets too! Not like those modern ones where you're waving your hands around like an ass just to get the thing to work. It's like a world where the robots have won. Tirade against the automatons coming soon!
All this excitement can be yours, at a bargain rate! Thanks to Golfland, Where The Fun Shines Bright!
Golfland South El Monte
1181 N. Durfee Ave.
S. El Monte, CA 91733
626.444.5163
www.golflandsem.com