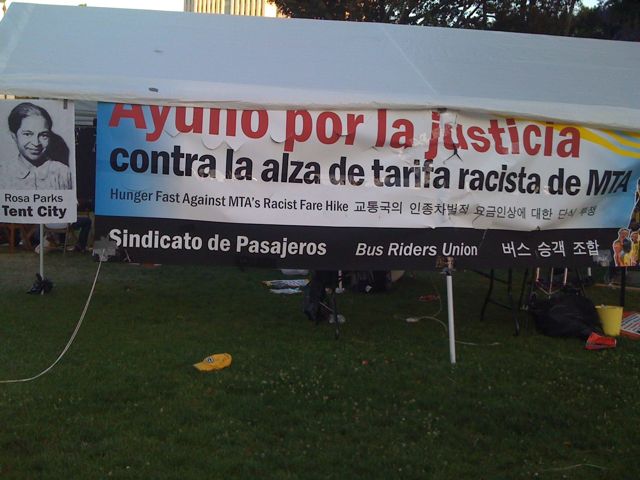 As of May 20, members from the Bus Riders Union began a hunger fast on the grass area of Placita Olvera to stop MTA from increasing fares from $1.25 to $1.50 for regular fare, a day pass will be $6, weekly passes will be $20, and a monthly pass will be $75. These fare increases are scheduled to take place during the summer.  MTA released their budget for the next fiscal year to the public breaking down where they would be making cuts, who much money is allotted to what and the increase in bus fares. Esperanza Martinez, one of the lead organizers for the union says that the increased fares are being passed down and targeting minorities, who are the majority of people that rely on the bus. All the poor people who depend on the bus for their livelihoods. People who commute everyday to work, school or just to get to doctor appointments and everyday commuting.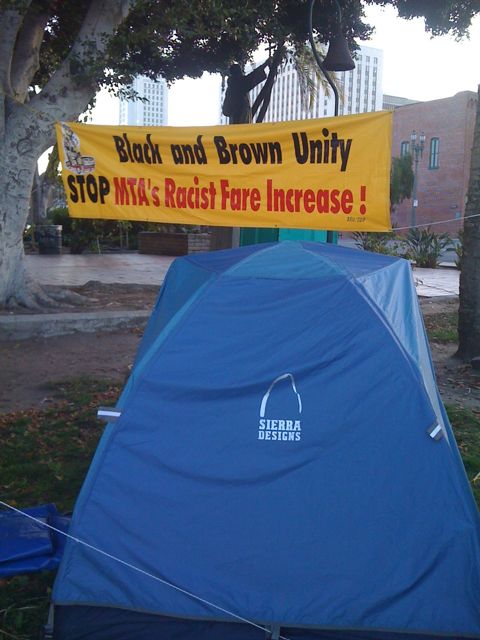 I was there yesterday during an drum circle to keep up the spirits of the people fasting and to check out the encampment since I've been passing by it the last week since they started the campaign. They all sleep in tents and are getting by despite the cold nights and the increased fatigue they're all experiencing. It was intense to be around so much great energy and surround by all the supporters of the fasters.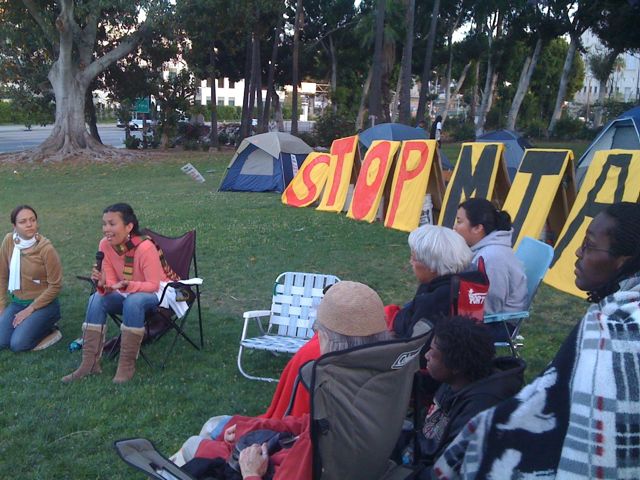 The increase in fares will force people who use public transit daily and have no other transportation option  make some hard decisions on whether they will pay for that monthly bus pass or cut back on food, bills and rent. L.A. Times columnist David Lazarus summed it up pretty well, "fare hikes aren't the whole solution to public transit's money woes. It's time that the dozens of city- and county-run systems that make up the region's transit network get together and hash out a plan to expand ridership, rather than repeatedly reaching deeper into the pockets of those who already ride the bus." The BRU have presented the MTA board with this and several other solutions that would help keep fares low and get them the money they need to continue projects and regular service. It doesn't make sense to charge people more to ride the bus when they should be getting MORE people to use public transportation.
This Thursday at 8:30 a.m. join the union and the fasters as they will be marching from the tent city to the MTA Board meeting and protest the fare hikes.