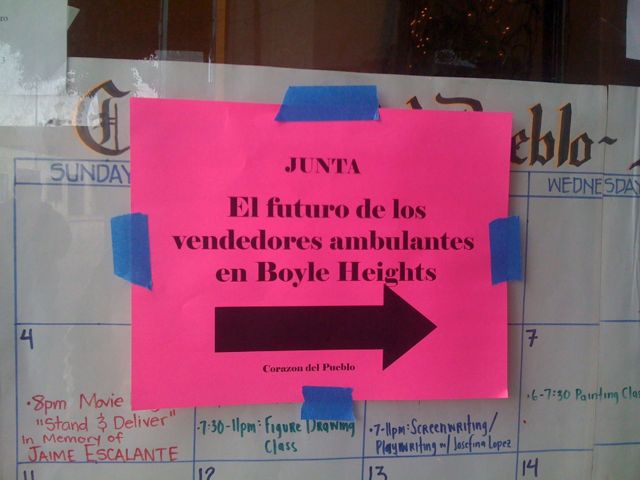 I am ecstatic to report that Boyle Heights is in the process of finally getting a place for food vendors to share their fabulous foods with the people once again. Harmony between the vendors, police and people calling the police on the vendors is one of the key problems that the food vendors faced when they were doing it alacart on Breed and Chavez. East Los Angeles Community Corporation and it's amazing organizers have done an amazing job in helping the vendors get this market going, meeting requirements that will give it the final ok from the L.A. City Council. Can I have my pancakes with cajeta now ?
For the meeting, people were treated to a special treat of barbacoa and consume from this guy, whose name I can't remember. Gracias senor, those tacos are delicious.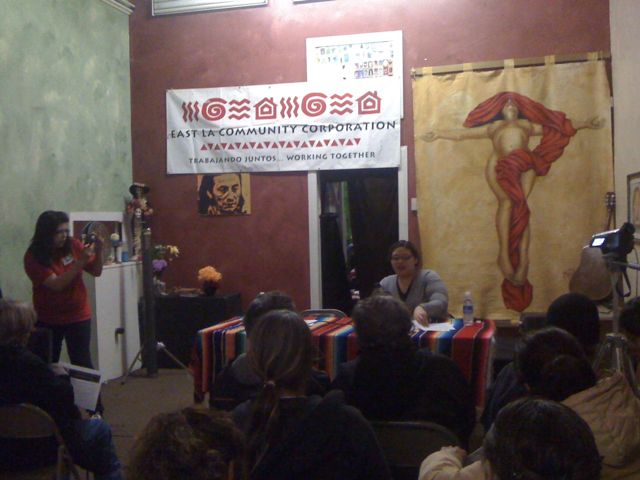 Once the meeting started, Isela Gracia and Janet Favela started discussing how the idea for the market came about, some of the on going changes in the community and what that means for everyone. I love how Gracia broke it down for everyone in the room, explaining that more than 4 billion dollars are being invested in Boyle Heights alone. How all the development would cause displacement of long time residents who should be enjoying all these new improvements. All the high points of gentrification. She also explained the history of the vendors in the community, their place in it and the support they have from the majority of residents. They have put in time and paid their dues, they have earned the right to have a business without being shut down by a few people who don't like them.
Once the market is up and running, it will most likely be on Chavez and Chicago. It will be self sustainable with the vendors paying a $30 fee to help pay for cleaning, the space, maintenance etc.  Only Boyle Heights residents/vendors will be allowed to have a spot to vend. They will have to go through a formal application process, meet requirements such as taking classes on how to safe food handlers and how to manage their business. These requirements will ensure that everything is done by the books, creating more jobs, stimulating the economy, helping create family friendly environments and just improving the over all ambiance here in Boyle Heights.
I for one am looking forward to the market getting the final approval and coming to fruition. BH is known for it's food vendors. Part of the success for the market getting through the perils of city bureaucracy is from Council Member Jose Huizar, who has been supporting this market since it's inception. Stay tuned for more information as it follows because it would seem that I'm the only person covering this important matter. Click here to see part 1 and part 3 of the forum. Now can I have my pancake with cajeta ?