It gets harder and harder each week to keep up with everything that's going on sometimes you know. I gotta deal with student life at taco tech, activism work with the team I'm a part of and of course keeping up with my community reporting. Then some how in between all that I gotta make time to earn some cash here and there moonlighting.  Such is the life and I am forever thankful for it. Idle hands are the devils play things you know. In fact, a friend commented to me that I was dropping the ball on my reporting, which is kinda true. So, with that being said, here's a list of things to do with weekend East of the river. I'll catch up on here when I'm on spring break next week. In fact, I should be studying rather than blogging. Fuck it.
While I haven't seen this show yet, it's on my to do list, I know it's a great show because the Frida Kahlo Theatre always puts on fantastic productions and because the Fresh Prince of Boyle Heights, Xavi Moreno is in it. I have a ritual of going to get tacos from a lonchera after a good theater show. Don't know why.
Ahh the census. Last time around they had to come to our house because we lost the form. I know everyone has their own personal opinion on the census, I keep cracking up at all the different jokes everyone comes up facebook about how to fill out the questions. Personally, I'm taking a cue from P3000 and putting in that I'm mestijo, but just in case anyone needed help filling theirs out, you can get the help you need this Saturday. I'm not entirely sure how many and where these questionnaire assistance centers are, but here in Boyle Heights they're going to have free food, entertainment, give-aways and arts and crafts. Least that's what the flyer on my door said.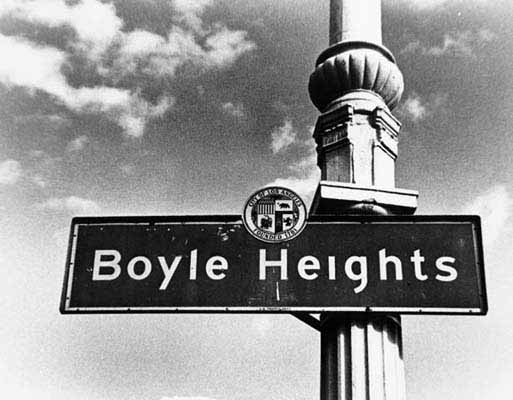 "Come & take part in a day filled with food, learning, and fun! the first ever Farmer's Market in the BH. There will be entertainment, Food, Dance Classes, Cooking Classes, Skateboarding, Gardening, Fashion Show, and much more. This event is part of the Mayor's Day of Service. Clean-up will take place before the event 8:00 am."
I know everyone has mixed feelings about events like this, I'll reserve my judgment if I end up making it out to the farmers market. It's going to be at Hollenbeck Middle School from 10 a.m. to 2 p.m. In the past I've said that farmers markets were in the works for BH, one of them being an evening farmers market for the breed st. food vendors, so we'll see how this works out. I'm sure that if this first one is a success, they'll be plenty more.
Event supported by A La Brava Producciones Revolucionarias, Inc.
BROUGHT TO YOU/CURATED BY CAXO OF AZTLAN UNDERGROUND & R.PONCE OF LA BESTIA.
Hosted by Salon De La Plaza & Conchita Sousa as MC to open the show
1866 E. First St. L.A. CA 90033 (corner of State)
March 20th, 2010 All Ages. 7:30pm, $10 admission
Music by:
AZTLAN UNDERGROUND, La Bestia, Push Play, Cara de Mil Putasos, Acoustic Performance by Scott Rodarte of Ollin
Art Work by:
Raul Baltazar, Pete Carillo, Eduardo Espinoza, Jose Cortez, TOLTECAYO ARTWORK OF JOE "PEPS" GALARZA & MARISOL TORRES
We would all like to thank Caxo/AU for bringing all the artists together. Thank You, man…..
http://www.myspace.com/LaBestiaMusic
Tamal bar will be available for the munchies
Saturday night is going to be a hard choice between this and this ….
Join us for the opening of Imix Bookstore's, T-SHIRT & PRINT Art Show, featuring new print designs by a diverse group of painters, designers, musicians, poets, graff & tattoo artists. The 13 Los Angeles based artists showcasing designs that will be printed onto T-shirts for a limited series of collectible T's, all available for purchase during the exhibit's run. 7 to 10 p.m.
Artists included (partial list):
Adriana Carranza (Kalli Arte)
Alfie Numeric
http://alfienumeric.com
Alfonso Aceves (Kalli Arte)
Dewey Tafoya (Social Machine, Self Help Graphics)
Ernesto Yerena (GANAS, Obey Giant)
http://hechoconganas.com
Fabian "Spade" Debora (ITS, Homeboy Industries)
http://fabianspadedebora.com
Felicia Montes (In Lak Ech, Mujeres de Maiz)
http://inlakech.net
Marisol Torres (In Lak Ech, Las Ramonas)
http://inlakech.net
Nena Soulfly
Nico Avina (Teocintli, Los Poets del Norte)
Rage.One
http://rageoneart.com
Ritzy Periwinkle (Unification Theory/LAEASTSIDE)
http://ritzyperiwinkle.com
Vyal (Crewest, LOD, COI)
http://vyalone.com
This Sunday from noon to 5 p.m. The Caracol Marketplace in partnership with Mujeres de Maiz presents LA MUJER MERCADITO & HOLISTIC HEALTH WORKSHOPS at Casa 0101 Annex
2012 E. First Street Los Angeles (Boyle Heights), CA 90033
MUJER MERCADO and Holistic Healing Workshops
In honor of the Spring Equinox celebrating community health and wellness!
Featuring various works of art by all Women Artisans
Art, Prints, Jewelry, T-Shirts, Teas, Natural Remedies,
Handmade Soaps, Bags, Healing Gifts and more
Holistic Healing workshops
for cultivating the mind, body and spirit!
Breathing Techniques for Cultivating Self Healing
Veronica Sanchez, OMD
Healing the Womb, Balancing the Endocrine System
Dr. Elena Esparza, Just Breathe Healing
Living Cultured Foods
Krissy Bear, Jax Fruit Foods
Herbal Pure Essential Formulas for Healing
Daisy Tonantzin, Yerberia Mayahuel
*Part of a month long series of Mujeres de Maiz
events and also in prayer with the women of Juarez.
A Prayer for Juarez Community Art Exhibit
will also be open for viewing
TESTIMONY: The Maria Guardado Story 7 to 10 p.m. at Corazon del Pueblo
In observance of Women's History Month, it is our pleasure and great honor to announce that Corazon del Pueblo  will be holding a free screening of the documentary "Testimony: The Maria Guardado Story", followed by a Q&A with the legendary freedom-fighter herself.
This gripping and complex documentary recounts the story of Maria Guardado, whose political activism stems from the horrific ordeal she suffered during the civil war in her native El Salvador. Kidnapped and brutally tortured by CIA-assisted death squads, she now lives in Los Angeles. TESTIMONY follows her odyssey and the trauma that provoked it.  Join us for what is guaranteed to be a truly inspirational night!