I don't know how many times I've passed by this spot either walking or on the bus and saying to myself, "self, you gotta go try that Japanese Taco place in Little Tokyo. And pick up some manga from the anime shop down the street. You know, the one with the 4 ft tall Zaku from Mobile Suit Gundam. Char's Red Comet. Yeah that one." I was in the hood this past Saturday night because I went to go see my friends band play. The lead singer was a former Power Ranger. Like I'm gonna pass that up.
I didn't go in with any expectations because I've never had a "Japanese Taco." Frankly, a taco is a taco. Korean, Mexican, Japanese lo que sea, if you put in between a tortilla and you fold it to eat it, it's fine by me. I'm not a picky eater. Besides the taco, they have Japanese burritos and J quesadillas, different chicken combination plates, chicken bowls, chicken curry and a good selection of side orders.
The tacos themselves were pretty good. The tortilla could have used a few more seconds on the comal, but the over all taco itself hit the spot. The chicken is diced and even though I didn't know what was in it, I tasted aguacate, cilantro, green sauce, lemon and juices from the meat that made for a juicy taco. Nothing to fancy or crazy, just a simple chicken taco with the restaurants own mix of toppings. Sorry for the bad phone cam pic.
I had some time to kill in between eating and the show starting so I walked down the street and ate my tacos with that statue of that guy that's in front of all those commercial stores that are gentrifying Little Tokyo. I was reading my book and I was people watching for a good 40 minutes. I saw Japanese tourist, a few Otakus, hipsters and some families walking and enjoying the cool evening. I also heard conversations in Japanese, English, Spanish and jibba jabber. Chisme is chisme in any language.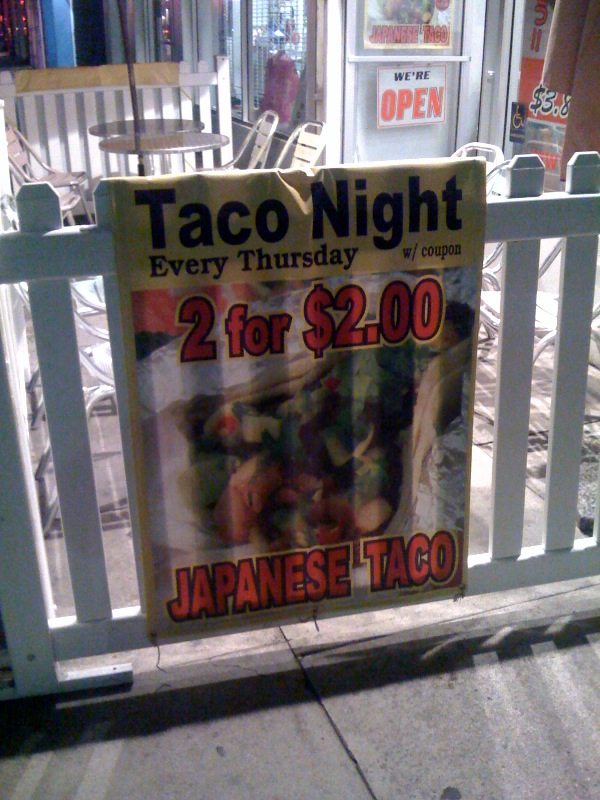 For those of you curious enough to try the place out, go on one of their specials nights. As you can see, Thursdays are a good time to try the tacos. They have coupons that you can print from their website and buy one get one half off specials every day of the week from 6 to 9:30 p.m. I recommend this place if you're in the area and wanna try something new for a change. I love carne asada, but not all the time. You gotta diversify yo bonds. Besides, this will hold me over until El Chavo decides to make his world famous tofu tacos. I imagine that these tacos will take over the town in 5 more years, probably less. Just like Japans tech gadgets. What's cutting edge here is sold on the streets 2 for $5 over there. Still, nothing like what Ritzy P saw when she was over there.
La Chicken is open Monday through Friday
228 E. 1st St., Los Angeles (near the corner of Los Angeles St. & 1st St.)
LA Chicken is the Japanese Pollo Loco where the Chicken Taste Like Lexus !!!