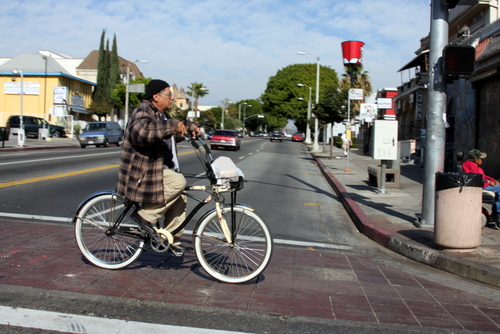 When I was growing up in the magical neighborhood of Boyle Heights, Soto street was an end, a line that defined the practical limits of my universe. A block or two more to the West and you'd be crossing the river into El Centro, and unless you were on the bus with a few dollars and a reason, you just didn't need to head in that direction. Everything you wanted to do was happening East of Soto. But  if you traveled along it, Soto St was also a way to quickly get to another part of the Eastside, namely up to Brooklyn Ave and that mitote of tiendas. Or you could head south to Huntington Park for even better deals on cheap clothes. In either case, Soto connected you to where you wanted to waste your weekend.
Nowadays I've mostly strayed away from this defining street but I'm quite sure it still functions as a psychogeographic barrier for those in BH. I still travel its distance quite often, noting the changes, trying to remember spots I should make a point to check out. Sometimes I bring along a camera.
Cross over to see some pics of life on or near Soto!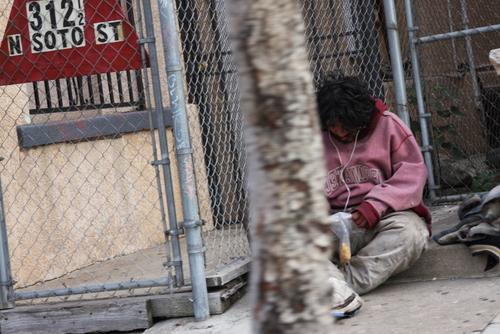 Opening up a meal of some sort of cereal.
Street corner standers, and a man with a funny hat that pushes a cart. This shot was taken a bit deep into City Terrace, a neighborhood I imagine just off Soto via Marengo. Sense of distance will vary based on familiarity.
The cornucopia at LA Market. Beer and Wine and phone cards a-plenty!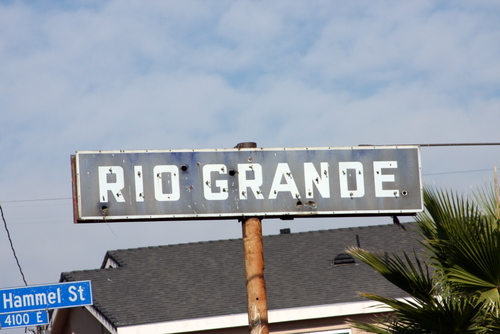 Old sign with bullet holes.
Musicos doing the fist bump. Fucking foreign assimilators.
Grand Opening for eastlaflowers.com a flower shop in Boyle Heights.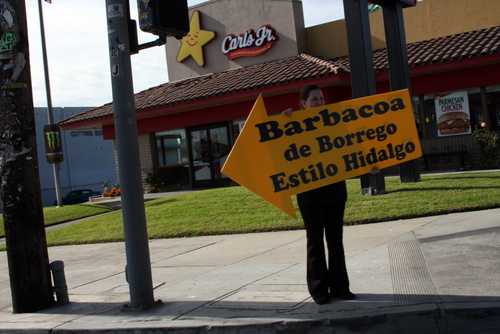 Headed towards Vernon, a sign for Barbacoa.
I've done both, but this is just weird.
A member of the Raider Nation. Except in his current Lakers garb. With a stylized LA tattoo (think Dodgers) on his neck just peeking out.
Decorating the train underpass.
Pastillas de no-chiquitolina. Entiendes?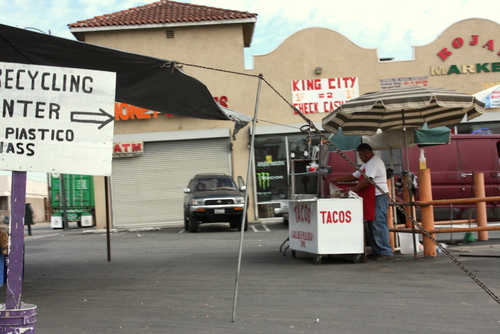 Taco vendor by the recycling center.
The pedestrian unfriendly stretch of Soto, by the freeway exchange. Yet another psychogeographic barrier to the landscape, effectively segmenting the BH neighborhood. Something you'll never see in wealthy neighborhoods.
Vendors outside of a church. Though it was near to my home, I only remember going into this church the one time we said goodbye to the muertito that was my tio Jose. There seems to be lots more eating options now.
Summer Camp Getaway. Under a freeway. Except its in the winter. And the rest of the year as well. Plus there's no getaway in sight. Life in Los Angeles. Staying alive in Los Angeles.
A few blocks away, a photo shoot for a goofy car accessorized by a naked lady goes on as scheduled.
Barbacoa in an auto glass yard. Of course it makes sense!
Oh Soto St!
Stream of exhaust fumes
Trail for piggies awaiting an end
Plaza de Soledad
Asphalt road of commerce
I use you
But I hate you
O, Calle Soto…