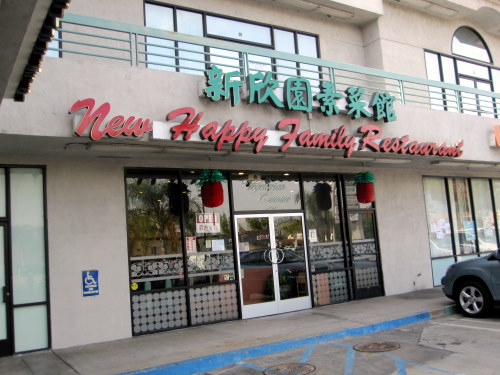 You know what I hate about vegetarian/vegan restaurants? They're expensive. For some stupid reason, the fact that you want a meatless option triggers a gouging response where they are allowed to shake you down for extra change. Yeah, maybe its a specialty, but it ain't that special anymore. I'll get into that some other time, I'm not here to fix this issue at the moment. Instead I want to point you towards a place that takes a different approach, providing delicious veggie food at reasonable prices. And as you'll soon see, sometimes incredibly reasonable prices! Click ahead  if you want to see why I think you should take a lunch break over in the charming city of Rosemead.
Many know about the Happy Family restaurant in Monterey Park, it has 119 reviews for a score of 4 stars over on yelp. Yet this sister restaurant is less known, despite the fact that its much better, with a total of 2 reviews and just 2 stars on yelp. Which just goes to show that people on yelp are sheep.
We ordered  the lunch special (11:30-2:30), which included some sort of melon soup. I'd prefer hot and sour, but this is good.
One dish they always do better: mustard greens with tofu sheets. Look how green it is, it has to be good for you no?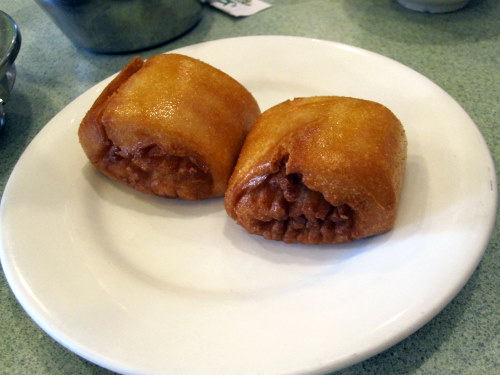 And then we cast aside those considerations by choosing the fried vs steamed bread.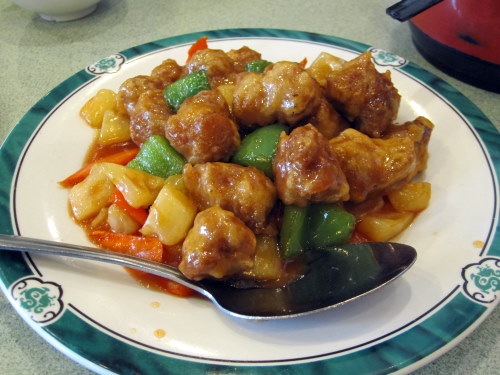 Vegetarian Sweet and Sour Pork, made with wheat gluten puffs. I know, this isn't a very creative choice, but it's what I was craving, ok? Happy Family uses a variety of analogues and its a good idea to try a few of them to see which you do/don't like. As for me, I don't particularly care for the mushroom "house chicken" that many seem to like. That's okay though, we have options!
What's this? A third dish for a two person lunch? Yup! And that's the reason for this post, to let you all know that New Happy Family has a 3-for-the-price-of-2 special. Great for trying out a new dish, or to pretend to "treat" a friend, or if you just want to save some extras for next day's lunch. You can't eat Tina's frozen burritos everyday at work. Err, or at least you shouldn't. The savory dish above is known as home style tofu, one of my favorites.
The total for this grand meal? Just $11.60! I can think of lots of places where that wouldn't even cover a measly meal for one. And did I mention you also get hot tea? And rice? Now that's the kind of pricing that makes sense in these desperate times.
Give it a try, how can you go wrong?
New Happy Family Restaurant 626.288.5786
8632 E. Valley Blvd #E
Rosemead, CA 91770