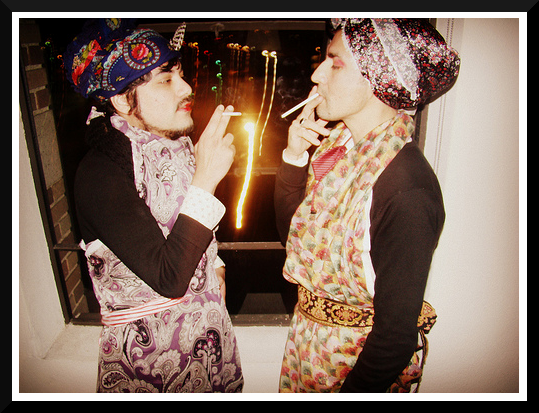 The arbitrary guidelines be damned! If you think you're a chican@ then you are one! Since not everyone these days wants to be one then can we say that Chicanismo (for lack of a better term) is a choice! Not a death sentence! At one point it was a choice, a banner to waved (or now a T-Shirt to wear). But now if you fall somewhere on the dead Left, then the assumption is that you are a Chicano through-and-through. One must wade through many proto-typical Chican@s to find someone that is playful with the term.
[Oh to be playful again! To understand that all is play, and that the work part is something that happens in your mind not reality.]

On the poverty of the Chican@ these days I have much to say! Chican@-esque gatherings not amounting to much more than a hodgepodge amalgamation of Mexican indigenous cultures and the vending of clothes that speak your mind(?) These gatherings/shows/events used to dwell on the Mexica (read: Aztec) but now it seems that the emphasis is on the Maya. But my family has lineages of indigenous cultures that were oppressed by both those two groups! What's a Chicano to do?!?
Those who say they are Chican@s must fess up to being a clash and that's it posturing more than anything! And La Raza Cósmica is as bunk an idea as the notion of Race itself! Give up the ghost and let José Vasconcelos' idea die! I know, I know…you really like saying "raza" and it does not mean the same thing as the English word "race" but it still stinks of wanting to create pride! Pride is for those with weak-feelings, weak-self-esteem and weaker-hearts: this is why it's not possible to reconcile the use of "Brown Pride" while we so reproach the use of "White Pride." Pride in who you are (which you had NOTHING do with) is ridiculous! Do not hate who you are but PRIDE is a term replete with the same feelings some have when they see the Stars & Stripes wave, or when someone says "America: Love it or Leave it!" Must we fight stubbornness with stubbornness?
I too love what some self-professed Chican@s have done through the years: whether in music, art, or literature. But that what I have loved most from these creative wanderers is that they not only delve into the phantasmagoric land of Chicanismo but they transcend it and fly into the ether.
So what does it mean to be a Chican@ today? I don't know. It meant a specific thing 30+ years ago, but now I don't know. Are we all really post-Chicanos? Does that even mean anything substantive? What say YOU?!
NOTE: All these pendejadas are the sole thoughts of the writer and probably do not reflect what anyone else thinks on LAEastside, so send the hatemail to me!