Notice anything out of the ordinary here? Well if you ate here, you would know that a few hundred people eating some of the greatest soul food around are missing. Over the last few weeks, the vendors at the street food oasis have been getting raided by the police. Normally, they would disappear for a while only to come back in full force as if nothing ever happened, but something did happen. Things got out of control and the oasis got burned, big time. First it was the L.A. Times a few years ago, as Chimatli tells me, and fellow bloggers putting it on blast and telling everyone to go check it out. And there's nothing wrong with that, but because this was an under the table operation, there was a need for a level of discretion that helped the vendors make a living and kept the cops at bay. That harmony is now gone and so are the vendors.
If you live in Boyle Heights you know that the street vendors are still around, but I'm going to keep it to myself where they are now. However, you can help out the vendors by signing the petition that Councilmember Jose Huizar got started to get an evening farmers market going in lieu of all the vendors setting up at random locations. Personally, the term farmers market is too stiff and boring, this is Boyle Heights. Why not name it "The Boyle Heights Tianguis" ?
Anywho, East Los Angeles Community Housing Corporation is stepping up in helping the vendors organize and be mediators between them and Huizar. They want to set up the farmers mar… I mean Tianguis in a parking lot on Chavez and Chicago. The vendors are getting a lot of negative feed back from the police because they have to allocate services to deal with the vendors rather than doing their jobs. That's how this petition got started. The vendors need the help of the community and everyone that visited them. The majority of them depended on food sales for their livelihoods and this fiasco is hurting them.
Because this is going to be under Huizar and in part the city, the vendors will have to pay some fees, meet certain levels of hygiene and other requirements that all the vendors said they would be more than happy to comply with if they just got the opportunity to make a living without being harassed by police. This is a win-win situation because the vendors get to sell and we can all go back to enjoying pancakes with cajeta. (Caramel made from goat milk) Complications will arise and things will happen, but with the vendors having a say in all this, rather than just letting Huizar and the city set their rules and standards. This Tianguis is better than nothing.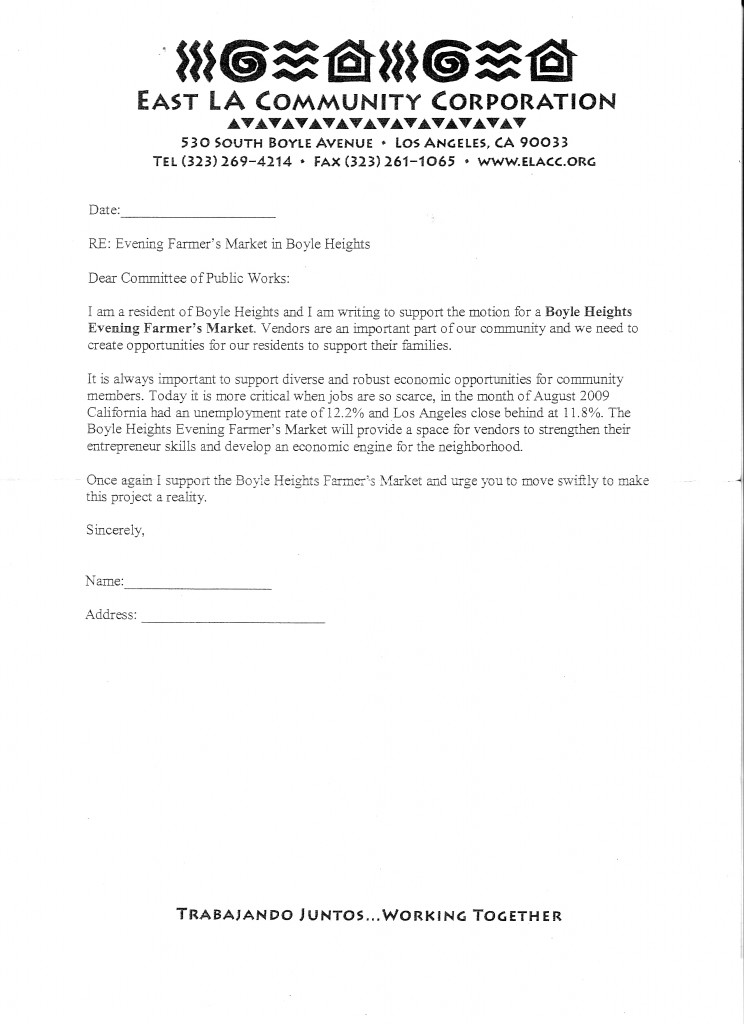 This is the petition. Janet Favela of ELACC is the one spearheading this and here is her contact information. If anyone wants to help out by getting more petitions signed or they want to turn in their petition in person, call ahead and set up a time with Favela. The more people help the more support the vendors will have when they take this up with the L.A. City Council. Fax, email, snail mail the petitions, whatever works for you.  They have to be turned in by the last week of this month. The last thing I want is for this situation to get as bad as the lunch truck fiasco that Gloria Molina mishandled.
East LA Community Corporation
jfavela@elacc.org